I'm out of breath, weaving through the crowds as gracefully as speed permits and trying very hard not to break an ankle on the cobbled Prague streets. My husband, James, is close behind; and just ahead I can make out the arm of our guide, Milos Cuřik, waving frantically above the heads of a group of tourists all wearing matching hats. He shouts something that could be, "I'm over here," or maybe, "I'll bet you could move a lot faster if you weren't wearing such a ridiculous pair of shoes," but the point is the same: I've got roughly 35 seconds before I'll miss the performance of the world's oldest, still-functioning astronomical clock.
James has caught up, and we duck beneath the awning of a small, covered, streetside café facing the Old Town Hall Tower and its clock with a full eight seconds to spare. The clock, dubbed the Orioj, is rather magnificent — and altogether magical. There are layered faces of gold and blue and cream with an outer movable ring of zodiac signs and so many moving hands, symbols and mysterious movements that it's easy to imagine it rolled out of the pages of a fantasy tale. Milos points out its features, explaining that the astrolabe dial and the mechanical components date all the way back to 1410. The calendar dial was added about a half a century later, and it was retrofitted with its moving figures of Christ, the Apostles and Death much later. Each hour on the hour, the figures parade into the open, with the grim skeleton figure of Death ceremoniously heralding the time by striking the hour.
After the skeleton retreats, a tiny golden bird leans forward to announce the show's conclusion, and I insist on wine. No one argues, and we relax into our seats while the world shuffles by, laden with cameras and briefcases and shopping bags.
Soon enough, we're back in the maze of streets that make up Old Town, with Milos in front leading us toward the historic Charles Bridge. We make a slight detour to walk by the Old-New Synagogue, said to be the final resting place for the ancient bones of the Golem, a clay creature brought to life for the protection of the city.
All seems peaceful and ordered, but our guide points out that it wasn't always so. A Prague native, Milos lived here during the communist regime, when his fierce intellectualism and personal association with the New York-based band Velvet Underground caused him to receive a good deal of unwanted attention from the Secret Police.
He's turned the discussion to existentialism, and we slip around a corner only to be thrust deep into Franz Kafka's medieval Prague, where he worked, lived and moved through the streets — broodingly, one assumes, given the body of his written work. I close my eyes and listen, wondering what Kafka might have heard. Probably not the combined voices of James and Milos, who are urging me to stop daydreaming long enough to look above my head at the wall of the building next to us. Protruding outward is a partially embedded cannon ball from a long-ago attack on the city, surreal in the tourist-filled sunlight of afternoon.
Prague is like that — intense in essence, with an exquisite union of architectural styles, natural beauty and a complex history that ranges from castles and royalty to the peaceful 1980s Velvet Revolution that unseated an entire government.
We cross the Charles Bridge, Prague's self-proclaimed heart, out of Old Town and part at the entrance to the Golden Well, a small luxury hotel housed in a 16th-century château conveniently located within the grounds of Prague Castle. Most interesting to us is the building's provenance. Not only was it the home of Bohemian king Rudolf II, it was also once the private residence of a Roman emperor and of the Danish astronomer Tycho de Brahe — a mystic who dabbled in alchemy and who kept a pet elk living with him in the château. The elk, alas, came to an inglorious end after becoming intoxicated on beer and falling down an interior stairway.
James and I revel in the views of the city over dinner on the rooftop terrace, toast the memory of the elk several times and enjoy some local specialties before heading down several floors to our sleek, modern room. In the morning, Milos finds us at the breakfast table fueling up on freshly squeezed pear and peach juices and a sweet, creamy yogurt made in the hotel that's infused with a delicious mixture of ripe forest berries.
Milos looks at my shoes, gives a nod of approval, and leads us to the splendid Wallenstein Palace, now home to the Czech Republic's Senate. Among the many interior rooms and grand halls are the enchantingly named Mythological and Astronomical corridors. We linger outside, facing the Baroque façade and admiring Prague Castle silhouetted against a distant, watery-blue patch of sky. Around us, sculpted gardens spread out in every direction.
A rare albino peacock wanders past, unconcerned by our presence, and we make our way to one of the garden's other unique features. A grotto running its length was formed by a manmade dripstone wall, twisted into fantastical shapes suggesting faces and figures, creating a dreamy sort of secret garden. The illusion is heightened by the outline of doors that lead nowhere while still managing a promise of access to somewhere enchanted. The style was a popular post-Italian Renaissance device, melding Mannerism and Baroque elements in a lavish and slightly unsettling manipulation of natural elements — something a brainstorming session among Gaudí, Dalí and Kafka might easily have produced.
I want to see the Lennon Wall, and Milos knows the way. Though the wall's art is ever-changing, several likenesses of John Lennon are usually visible, peering from a broad surface covered in splashes of color, messages and graphics. The graffiti began as an artistic expression of disagreement with the government, reaching a peak in 1988 when Czechoslovakian president Gustáv Husák was in power. Milos tells us that the wall, with its messages of nonviolence and love, was a particular thorn in Husák's side, and it was regularly monitored and whitewashed, only to be quickly painted again by local artists.
It's our last day in Prague, so we take the funicular up to the castle to visit its grand Gothic St. Vitus Cathedral. The enormous, round Rose Window and rows of stained glass windows alone are worth the trek. Alfons Mucha, perhaps the most famous Czech Art Nouveau artist, decorated the glass in the newer section of the north nave.
Afterward, we wander through the space where solemn tombs hold the dusty remains of once-powerful Holy Roman emperors and kings of Bohemia. We peek through the entrance to the small St. Wenceslas Chapel, delightfully ornate and glittering with more than 1,300 gemstones. Access is prohibited, and we're told it's because this is where the saint's relics are kept. Milos tells us the real reason is most likely because of the small door in the corner of the chapel, bolted with seven separate locks. Through the door lies the Crown Chamber, where the Czech crown jewels are stored.
After, we walk downhill along a paved path lined with fruit trees and lindens. For the late afternoon, we've booked a private boat tour along the Vltava River for a different view of the city. We're offered our choice of chilled Czech beer and ice cream as we wait for our boat to arrive, and choose both. Punting slowly between the water's banks while a smiling boatman dressed in a white sailor's suit does the work, we relax and watch the spires and arches and colorful roofs that form the skyline. Their reflections ripple in the river's surface, and the air moving across our arms and faces is cool and pleasant.
The sound of violin music drifts from an open window. "Perfect timing," James says, reaching for my hand. There's a pause, and then the notes repeat, lifting and falling away, and I realize it's not a recording but someone practicing. Somehow, that's even better.
Prague Info to Go
Václav Havel Airport Prague (PRG) is six miles from city center. There's no direct train or metro service, but regular and efficient Airport Express shuttle bus service connects the airport to the Prague Main Railway Station for metro lines into the city. Bus stops are located at Terminal 1 and at Terminal 2 in front of the Arrivals Hall. Tickets are sold in both terminals, for cash on board and at cash-only automats. Officially sanctioned taxis are identifiable by roof signs reading AAA Radio Taxi or Fix Airport Cars. The CEDAZ shuttle bus runs between the airport and city center every 30 minutes. Car rentals from most major companies are available.
Where to Stay in Prague
Aria Hotel A theater complex converted into a 5-star boutique hotel in the historic center, minutes from Charles Bridge, provides private egress into lush and lovely Vrtbovska Gardens. Tržiště 9 $$$
Golden Well Hotel Find swish romance in several 16th-century buildings that were once home to Emperor Rudolph II and Danish mystic-astronomer Tycho de Brahe. U Zlaté Studně 166/4 $$$
Mandarin Oriental, Prague Elegance, service, location — 99 guestrooms and suites, plus serious fitness equipment and a spa encompassing two floors in a space that once housed an ancient chapel. Nebovidská 459/1, Malá Strana $$$$
Restaurants in Prague
Céleste Restaurant The menu's French but the views are international from the top two floors of Dancing House, a Frank Gehry masterpiece; savor the rabbit trio while city lights dance on the water. Rašínovo nábřeží 1981/80 $$$
Nebozízek Restaurant Enjoy Czech and Bohemian specialties including steamed fruit dumplings, served in a glassed-in terrace with a gorgeous panorama of Old Prague; located at the middle station on the Petřín funicular. Pet řínské sady 411, Malá Strana $$
Restaurant Terasa U Zlaté Studně Atop the Golden Well Hotel, Executive Chef Pavel Sapik (a Czech national culinary team member) woos with international classics and traditional Czech confit of duck prepared sous vide. Golden Well Hotel, U Zlaté Studně 166/4 $$$
Read more about the arts in the Czech Republic.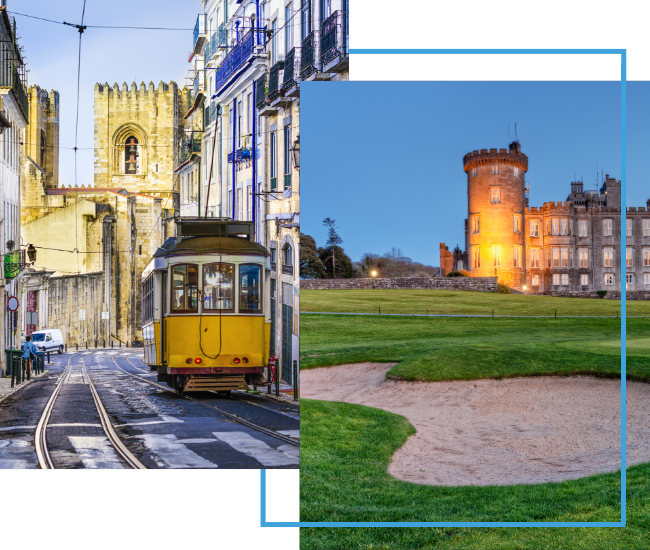 FX Excursions
FX Excursions offers the chance for once-in-a-lifetime experiences in destinations around the world.
Explore Excursions
Did the new film Oppenheimer rouse your interest in the nefarious world of international espionage? You can go straight to the real-life setting for covert actions this November (Nov. 10–12), when La Fonda on the Plaza in Santa Fe hosts a specially themed "Spies, Lies and Nukes" weekend. The hotel actually served as the retreat location for Manhattan Project scientists, who stayed at La Fonda on the Plaza to take a break from the stress of their work. During the weekend, the property's La Fiesta Lounge will make a tasty nod to those days by serving up a special Atomic Martini.
Sponsored Content
Many small- and medium-sized businesses face time and budget constraints when organizing corporate hotel travel for employees. To address this problem, IHG® Business Edge emerged as a cost-free business travel solution for small- to medium-sized enterprises, offering travel managers exclusive access to enticing perks, handpicked educational resources and comprehensive company travel metrics. IHG Business Edge connects our loyal customers to our portfolio of 5,800 hotels and resorts across 18 brands in more than 100 countries.
Ever want handcrafted martinis and freshly shucked oysters delivered straight to your room? The Read House's New Martinis & Pearls service has you covered. Shining in 1920s-themed decor, the historic hotel in the heart of Chattanooga offers a true Gatsby-esque experience, now further elevated with this upscale amenity. Guests can now indulge in their perfectly chilled martini, made to order, and "pearls" (oysters) in the comfort of their room.