Think of France, and visions of Paris, Provence or Normandy come to mind. Strasbourg? Not so much. Located on the Rhine River, the capital of Alsace maintains relatively low profile despite its roles as a university city, home to dozens of leading corporations and headquarters for several well-respected international organizations.
While it's French to the core — a taxi driver once welcomed me to "Strasbourg, the most beautiful city in all of France" — Strasbourg boasts a strong German influence due to its location in eastern France just two miles from the German border. Its location and resulting multiculturalism are two reasons for its success as a seat of government and industry. Plus, a whopping 75 percent of European Union buying power is located within a 450-mile radius of Strasbourg. In fact, its central location is one reason it is home to such major institutions as the Council of Europe, the European Court of Human Rights, the European Parliament and the European Ombudsman. Forty-six embassies and more than 30 consulates are also located here.
Perhaps the most visible of these international institutions, the Council of Europe is the continent's oldest political organization. Founded in 1949, the organization today boasts a membership of 46 countries. The council was established to defend human rights, parliamentary democracy and the rule of law; develop continent-wide agreements to standardize member countries' social and legal practices; and promote awareness of a European identity based on shared values cutting across different cultures.
More recently, it has turned its efforts to acting as a political anchor and human-rights watchdog for Europe's post-communist democracies; assisting the countries of central and eastern Europe in carrying out and consolidating political, legal and constitutional reform in parallel with economic reform; and providing information about human rights, local democracy, education, culture and the environment.
While admirable work is being done inside the building, its stunning facade — a gracefully curving reflective structure located on the riverfront in the city's European District — easily grabs the attention of passers-by. The building was designed by French architect Henry Bernard, who said his aim was "to affirm by its solid external form that unity is strength, while at the same time in its cheerful and pleasant curved interior reflecting the atmosphere of trust and cordiality necessary for the free confrontation of ideas."
In addition to its diplomatic ventures, Strasbourg is known for its contributions to the scientific community. In 1987, Strasbourg scientist Jean-Marie Lehn earned the Nobel Prize for Chemistry. Major international organizations based in Strasbourg include the European Science Foundation, the International Space University, the European Pharmacopoeia and the International Human Frontier Science Program. These organizations are drawn to Strasbourg by its wealth of intellect, which includes a population of 50,000 students, representing 100 nationalities, who attend institutions of higher learning in the city.
---
LODGING
RÉGENT CONTADES
A brightly sunlit breakfast room and dormered guestrooms highlight this 47-room lodging venue that's more like a guesthouse than a hotel. There's a small bar off one side of the lobby and a sitting area — with Internet-connected laptop computer — on the other. In-room amenities include dataport, minibar, hair dryer and safe. The Régent Contades is within easy walking distance of Notre Dame Cathedral. $$$
RÉGENT CONTADES
8 ave. de la Liberté
tel 03 88 15 05 05, fax 03 88 15 05 15
www.regent-contades.com
HILTON INTERNATIONAL STRASBOURG
This 243-room hotel is close to the major European institutions and within walking distance of the historical city center. All guestrooms in the four-star property have recently been renovated.  There are two restaurants and two bars on site. Executive and deluxe rooms offer high-speed Internet connections. $$$-$$$$
HILTON INTERNATIONAL STRASBOURG
tel 800 445 8667 or 03 88 37 10 10
fax 03 88 36 83 27
www.hilton-strasbourg.com
RÉGENT PETITE FRANCE
Housed in a former ice factory, Régent Petite France is a contemporary four-star hotel located on the banks of the River Ill. Clean lines and a pastel palette create a relaxing environment. There's a restaurant, bar and fitness club, in addition to 24-hour room service. $$$-$$$$
RÉGENT PETITE FRANCE
5 rue des Moulins
tel 800 223 5652 or 03 88 76 43 43
fax 03 88 76 43 76
www.regent-petite-france.com
---
DINING
BRASSERIE DE L'ANCIENNE DOUANE
Alsatian cuisine is the order of the day at this popular riverfront eatery. Weather permitting, the outdoor terrace is a good choice for seating. Street-side doors swing open to create an alfresco feeling in the indoor dining room. Onion pie is a local favorite. $$-$$$
BRASSERIE DE L'ANCIENNE DOUANE
6 rue de la Douane
tel 03 88 15 78 78
www.anciennedouane.fr
AU CROCODILE
Expensive yet worth the experience, this fine-dining venue operates under the watchful and creative eye of Chef Emile Jung. Menu highlights include lobster soup with masala-curry ravioli; roasted sea bass, manioc and oysters with turmeric; and French beef fillet with pinot noir sauce, gratin dauphinoise and marrow crouton. $$$$
AU CROCODILE
10 rue de l'Outre
tel 03 88 32 13 02, fax 03 88 75 72 01
www.au-crocodile.com/E/index.html
AU VIEUX STRASBOURG
With dark paneling and red-and-white-checked curtains, this wynstub in the shadow of Notre Dame Cathedral is the perfect place to hole up on a cold winter evening. Specialties include braised pork and sauerkraut and potato pancakes. Enjoy a glass of Alsatian wine than splurge on Au Vieux Strasbourg's signature tarte flambé for dessert. $$-$$$
AU VIEUX STRASBOURG
5 rue du Maroquin
tel 03 88 22 41 89
fax 03 88 23 01 42
www.dieterle-restaurantsstrasbourg.fr/E_index.html
---
DIVERSIONS
Notre Dame Cathedral, a stunning pink sandstone structure, presides regally over the city center. Proposed by Bishop Werner von Habsburg in 1015, the cathedral took six centuries to complete, ultimately incorporating Muenster German and French cultural influences with Romanesque features. Its north tower, completed in 1439, held court until 1874 as the tallest building in the world. On a clear day, visitors enthusiastic enough to climb its narrow, winding stairway are rewarded with views of the Rhine from the Vosges all the way to the Black Forest.
One of the cathedral's biggest attractions — its astronomical clock, built between 1547 and 1574 — draws crowds who gather daily to witness its show of allegorical figures at 12:30 p.m. On Sundays, Apollo drives his sun horses. On Thursdays, Jupiter and his eagle are the highlight. The body of the clock features a planetarium based on the theories of Copernicus.
Oeuvre Notre-Dame (www.oeuvre-notre-dame.org/index2gb.htm), located in the city center near the cathedral, is one of Europe's oldest cultural institutions. The organization employs the best craftsmen, sculptors and stonecutters to constantly and steadfastly maintain the cathedral against the ravages of times. It is home to an extensive architectural and photographic collection tracing the history of the cathedral.
Visitors seeking the charm of old Strasbourg will do well to focus on La Grande Île. This UNESCO World Heritage Site, an island embraced by two arms of the River Ill, is the historic center of the capital of Alsace. As such, it boasts an outstanding assortment of historically significant monuments and structures all within easy walking distance of one another. In addition to the cathedral, sites of note include four other ancient churches and the Palais de Rohan, an 18th century palace noted for its facades and exceptional rococo interior. It houses a fine-arts museum featuring works by Rembrandt, Renoir and Monet; a decorative-arts museum displaying some of the best ceramics collections in France; and an archeological museum containing artifacts dating to Roman days.
Regardless of where you begin your discovery of La Grande Île, you'll likely end up in La Petite France. The tiny quarter on the western tip of the island where the River Ill breaks into two arms is a joy to explore. Pedestrian bridges connect the neighborhood across canals reflecting the colorful, cross-beamed facades of 16th century Alsatian houses. Weather permitting, find a table at a canal-side cafe and absorb the district's ambience while enjoying a glass of Alsatian wine.
Truly a "walking city," Strasbourg boasts dozens of parks and public spaces. Parc de l'Orangerie, opposite the Council of Europe building, is the city's largest and oldest park. Highlights include a small zoo, a stork sanctuary, a lake and a waterfall. More recently, the city created Jardin des Deux Rives — a 135-acre park laid out on both sides of the Rhine with a footbridge enabling visitors to walk or cycle from France to Germany.
---
INFO TO GO
Strasbourg International Airport (SXB) is located nine miles southwest of the city. Most major car rental companies have offices in the arrivals hall. Shuttle buses connect the airport to the Baggersee tram station. There's an information center located in the arrivals area. Strasbourg is a major rail center with connections to cities throughout Europe. For more information, visit the Strasbourg Tourist Office at www.ot-strasbourg.fr.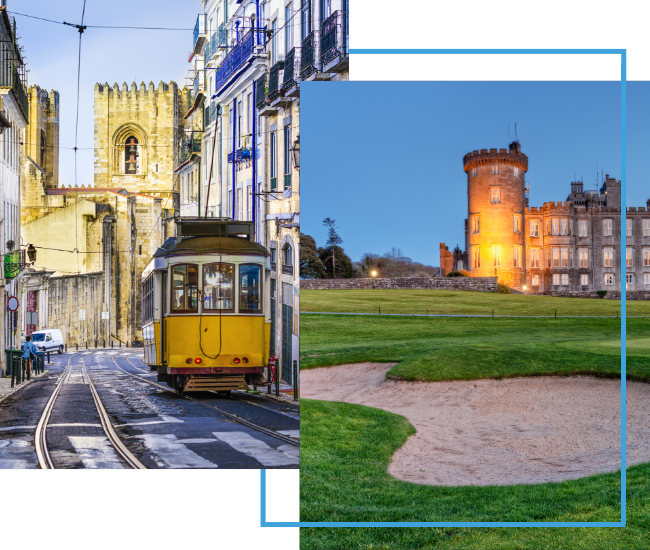 FX Excursions
FX Excursions offers the chance for once-in-a-lifetime experiences in destinations around the world.
Explore Excursions
Mazatlán, Mexico, has long been an attractive home destination for Canadian and American retirees, but, in recent years, young, digital nomads have also discovered the charms of this coastal city, finding inexpensive accommodations, beautiful weather and plenty of bandwidth for working remotely. The laid-back beach scene definitely eases the transition of relocating to Mexico's West Coast.
Sponsored Content
Whether it's the people, the craic (fun) or the coasts, travelers always find something to love about the island of Ireland. What fills your heart?
For its third year, Global Traveler awards the airline, cruise line and hotel brand best representing diversity, equity and inclusion within the travel industry. Over the past year Global Traveler analyzed many airlines, cruise lines and hotel brands to determine which companies prove most committed to changing the world through diversity and inclusion.