In 1867, writing in his diary about St. Petersburg, Lewis Carroll penned, "It is as though one walked through a city built for giants." Since the founder of St. Petersburg, Tsar Peter the Great, measured 6 feet, 8 inches, that might account for part of Carroll's observation. But the comment likely refers just as much to the grandeur and spaciousness of the Russian city — one conceived in culture and born of a desire to make it a capital city like no other.
Though St. Petersburg was the imperial capital when Peter the Great founded it in 1703, today it thrives as the heart of Russia and home to iconic ballets, operas, opulent palaces and football stadium-sized museums with no equal. It is also known as the most Westernized Russian city, owing in no small part to a construction largely inspired by Amsterdam.
Located on the Baltic Sea, waterways and canals define the city, leading to the moniker "Venice of the North." From Griboyedov Canal to the Neva River, St. Petersburg abounds with stately architecture, historic heritage and vivacious cultural happenings year-round. After all, many of Russia's greatest poets, writers and dancers called this place home. From Pushkin, Gogol and Dostoevsky to Rachmaninoff, Tchaikovsky and Shostakovich, they all hailed from cultural St. Petersburg.
Nowadays, more than 5.2 million people reside in St. Petersburg, making it the second-largest city in Russia and the fourth-largest in Europe. It remains one of the most important economic centers of the Russian Federation, with industry and tourism the backbone.
Industry thrived here because the city was the beneficial recipient of Soviet investment in heavy manufacturing, research and development, military-industrial production and military training. Even now it ranks as the largest Russian center of military and civil shipbuilding and repairs. Other endeavors include ferrous and non-ferrous metallurgy, chemical industries and medical equipment. Surrounding areas house automobile plants for Toyota, General Motors and Nissan.
And then there is brewing. Though vodka may be the national favorite of Russians since the 14th century, St. Petersburg is considered the Russian beer capital due to the supply and quality of water. As the largest center of beer brewing in Russia, the city boasts five brewing factories producing about 30 percent of all Russian beer.
Tourism flourishes as well. The World Travel Awards named St. Petersburg the best tourist destination in Europe for 2015, recognizing the city for its "exceptionally rich history, centuries-old traditions and bright future."
However, there is a different elephant in the room these days as the value of the Russian ruble continues to plummet due to falling oil prices and Western sanctions over the Ukraine crisis. Russia's struggling economy lost 37 percent of its value against the dollar since last year, making it quite the value for Western-world tourism.
Things to Do in St. Petersburg
It's impossible to think of St. Petersburg without envisioning sheer grandness and utter opulence as the basic building blocks of this European-looking city. Stroll along Nevsky Prospekt, St. Petersburg's main avenue, and you will be surrounded by superlatives everywhere.
Many first think of The State Hermitage Museum, with a splendor easily equal to Versailles. Once residence to the tsars, the Winter Palace now houses one of the world's most impressive art collections, numbering more than 3 million items with visitations by several million people annually.
Another must-do while in St. Petersburg is a visit to the Mariinsky Theatre. Take in a timeless classic such as Swan Lake. Then head to Peter and Paul Fortress, the city's original citadel, housing tombs of the Russian tsars. Within the walls, the Peter and Paul Cathedral features a golden spire topped with a cross-bearing angel, considered one of the main symbols of St. Petersburg.
The gilded dome of St. Isaac's Cathedral also dominates the skyline as the largest Russian Orthodox cathedral in the city.
For colorful onion domes and glorious mosaics, visit the Church of Our Savior on the Spilled Blood, built in the style of Romantic Nationalism architecture and finished in 1907. The church marks the site where Emperor Alexander II was assassinated in 1881.
Catherine Palace lies about 30 minutes outside the city in the Pushkin area and comprises two Baroque-style palaces and the world-famous Amber Room. The Nazis ransacked the priceless room during World War II , with the whereabouts of the treasured amber panels remaining a mystery. Meanwhile, the room was completely recreated in 2003, a process costing more than $12 million.
CHECKING IN WITH DAVIDE CASTELLUCCI AND ANASTASIA DRUZHEVSKAYA
Founders and Publishers, St-Petersburg-EssentialGuide.com
Why should travelers come to St. Petersburg?
Anastasia: St. Petersburg is the most beautiful and culturally rich city in Russia and probably in all of Europe. It has a huge amount of places to visit and admire. Russian people are friendly and the city is safe (relatively, as the world is unsafe at the moment).
What is your favorite thing to do in St. Petersburg?
Davide: St. Petersburg is a city for all seasons. My favorite thing is to combine a visit to the theater with Café Pyshechnaya, an old-style cafeteria. I also like to walk the famous and historical avenue Nevsky Prospekt. This is considered the heart of the city, where you can find hotels, bars, restaurants, shopping centers and clubs. It is split in two parts: the new Nevsky, the most modern area, where you can always find new hot spots opening, and the old Nevsky, where things remain a bit out of date for Soviet-nostalgic people.
Anastasia: As I was born in St. Petersburg, the cultural capital of Russia, I can't live without regularly visiting the museums, cathedrals, exhibitions, tsar residences, theaters and international film festivals. Of course, for tourists the best performances to see are the famous ballets at the Mariinsky Theatre. This theater will impress spectators not only with Russian ballets and music but also with the imperial interior.
Any new hot spots you particularly like?
Davide: Besides Café Pyshechnaya, my favorite hot spots include Caucasian Restaurant, Mamaliga and Cinema Rodina (the oldest cinema in the city, about 100 years old, located inside a wonderful palace and once a theater for the tsars). I also like the Russian Vodka Room No. 1 Restaurant, as the food and atmosphere are great. The Rossi Hotel and SPA is close to the canal and Nevsky Prospekt and is cool.
Anastasia: New this summer is the hop-on, hop-off boat tour on the Neva River and other rivers and canals. Other cool boat trips include dinner cruises on the Neva River and night cruises with live music.
If you had to leave St. Petersburg tomorrow, what would you remember most, and why?
Davide: I would remember The State Hermitage Museum and Palace Square; the evening canal boat tours along the Neva River; the variety of restaurants, parks and theaters; my walks on Nevsky Prospekt; and the Russian sauna.
St. Petersburg Info to Go
The new Terminal 1 of Pulkovo Airport, located in the southern part of the city, processes more than 17 million passengers per year. Additionally, St. Petersburg boasts five train stations along with highways that connect the city with Moscow and the borders of Finland, Estonia and Byelorussia.
St. Petersburg: Just the Facts
Time Zone: GMT + 3
Phone Code: Country code: 7 City code: 812
Currency: Russian ruble
Entry/Exit Requirements: To enter Russia for any purpose, a U.S. citizen must possess a valid U.S. passport and bona fide visa issued by a Russian embassy or consulate. It is impossible to obtain an entry visa upon arrival.
Official Language: Russian. A small percentage speak Estonian and Finnish.
Key Industries: Research, military and civil shipbuilding and repair, brewing, automobile production, tourism
Where to Stay in St. Petersburg
Four Seasons Hotel Lion Palace A previous residence for a princess, today the hotel offers classical luxury with 19th-century royal elegance just two blocks from The State Hermitage Museum. 1 Voznesensky Prospekt $$$$
Hotel Astoria Rocco Forte's Russian offering at one of the grandest addresses at St. Isaac's Square near The State Hermitage Museum features opulent public spaces and guestrooms reflecting contemporary elegance. 39 Bolshaya Morskaya $$$
Kempinski Hotel Moika 22 This restored Romanov-style property with 200 guestrooms and suites offers contemporary furnishings with understated luxury. The 5-star hotel also features antiques and Turkish steam baths. Moika River Embankment 22 $$$$
Restaurants in St. Petersburg
L'Europe The aristocracy used to meet at "Russia's oldest continually serving restaurant," which now delights connoisseurs with delicacies such as beluga and osetra caviar. The Neo-Baroque/Art Nouveau building is classified as a historic monument. Belmond Grand Hotel Europe, 1/7 Mikhailovskaya St. $$$$
Feodor Dostoevsky Restaurant Dostoevsky lived and worked in this neighborhood between 1842 and 1845. The restaurant serves renaissance Russian and European dishes with a hospitality and elegance inspired by the author's great literary works. Golden Garden Boutique Hotel, 9 Vladimirsky Prospekt $$$$
Palkin Palkin offers tsarist-era Russian opulence with food and décor designed for discriminating guests. Originally opened in 1785, the restaurant attracted patrons such as Tchaikovsky and Dostoyevsky in pre-revolutionary times. 47 Nevsky Prospekt $$$$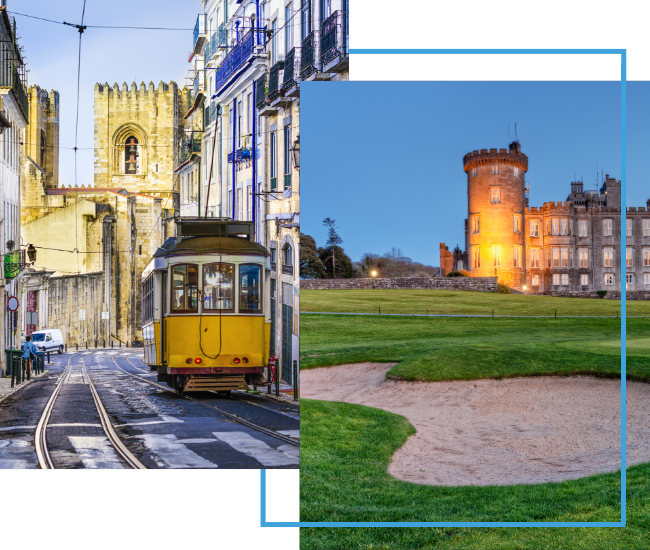 FX Excursions
FX Excursions offers the chance for once-in-a-lifetime experiences in destinations around the world.
Explore Excursions
If fabulous food and beverages are a must-have for any weekend getaway, then look no further than the City of Brotherly Love. Whether your palate has a penchant for vibrant Latin American fare or cozy French cuisine, whether you're an oenophile looking to swirl, sniff and sip your way around the globe or you'd rather sample farm-to-glass cocktails, Philly's got it all this fall. (With the exception of Bolo, which is a short taxi or Uber ride away and definitely worth the trip, the rest of these spots are all within walking distance of each other.)
Sponsored Content
Are you looking to enhance your business trip with a little leisure? Look no further than Portugal, a country renowned for its captivating blend of history, culture and natural beauty. And with TAP Air Portugal, you can effortlessly transform your business trip into an unforgettable bleisure adventure. Discover why Portugal and TAP Air Portugal are the perfect combination for an enriching and rejuvenating experience.
From Santoríni to Dubai to New York, some hotels just have that "it" factor that draws visitors far and wide. For some hotels it's their proximity to popular landmarks and attractions, for others it's their amenities. But these hotels have something few can claim: a true room with a view.