It's not even 9a.m. in the sleepy fishing village of Rawai on Thailand's famous Phuket Island, but already the turquoise waters of the Andaman Sea swarm with local fishermen casting their lines and releasing their nets from the bows of rustic long-tail boats. The scents of lemongrass, incense and sweet pandan leaves season the air as the villagers slowly rise from their beachside bungalows to start their day. In just a few more hours, the fishermen will return with their catches, filling the stalls of the iconic Rawai Seafood Market with buckets of shellfish and displays of fresh filets. Visitors line up each afternoon for the catch of the day, selecting their fish with care before hauling their purchases across the well-worn road to the restaurants opposite the market to have the fish cooked for 100 Thai baht per kilo.
The average day in Phuket starts and ends on the beach, where villagers and visitors alike spend hours enjoying the slow pace of Thailand's largest island and its nearly 25 miles of public shoreline. Only a short, one-hour flight from Bangkok, Phuket boasts numerous national and international flight options that make it an easy addition to a business trip in Thailand or even neighboring countries. If you're looking for nightlife, Phuket has you covered, as it's become known as Thailand's party island. But it's not just bars, clubs and EDM festivals in Phuket; the island offers many chances to kick back and enjoy some much-deserved rest and relaxation.
Phuket consists of one main island — separated from the mainland by Chong Pak Phra channel at the northernmost point of the island — and a series of several smaller islands that add about 27 square miles to the total size of the destination. The main island's rolling hills give the densely forested landscape an exotic flair, where hilltop restaurants and hotels offer vantages once reserved for the birds. Find some of the best views of the sea at Sri Panwa, a luxury boutique hotel perched in the hills of the Cape Panwa Peninsula at the southern tip of the island. Many of the family-owned resort's villas and estates offer panoramic views of the sea, but a handful even offer uninterrupted 300-degree views of the Andaman Sea and the surrounding islands. The villas are modern and fresh, designed to feel like private homes, with surround-sound entertainment systems, wrap-around plunge pools and chilled-out décor perfect for lounging in between adventures around the island.
The resort's stunning location and stylish décor made it a favorite among leading musicians, fashion icons and business legends, including Robert H. Burns, Chef Gordon Ramsay, David Rockefeller, Rita Ora, Flo Rida and the royal family of Thailand. The resort's 10 dining options feature everything from authentic Thai flavors to sushi and even local favorites like Chinese cuisine and hotpot. The resort's iconic Baba Nest is also the most requested sunset viewing point on the island, where reservations are mandatory and often book up weeks in advance. This sexy and stylish rooftop bar offers 360-degree views. Here guests sip on high-end Champagne or craft cocktails at the plush lounge, with pillows and low tables nestled inside the border of a black-bottomed infinity pool that seemingly drifts into the sunset each night.
Days spent on the island can include a round of golf at Phuket Country Club or Red Mountain, shopping for luxurious silks or pearls, or even taking a cooking class with a local chef. Sri Panwa's chef offers a cooking class on site, but Pat's Thai Home Cooking classes prove a favorite for many who want to be able to recreate their favorite Southern Thai dishes like tom yum goong and laab kai once they return home.
Adventurous souls can take to the hills for horseback riding excursions or mountain biking trips in the jungle, or stay closer to the city center for muay Thai boxing lessons at Tiger Muay Thai & Mixed Martial Arts. Phuket is also home to one of the last remaining virgin rainforests in the world, Khao Phra Thaeo Wildlife Sanctuary, where wildlife runs free and visitors can see langurs, barking deer, monkeys and even gibbons.
A guided walking tour of Old Town Phuket uncovers the lesser-known history of Phuket's tin industry beginnings, explaining why so much of the city's architecture shows influences from Chinese styles. The island's top beaches offer a launching point into adventure; the most popular beaches include Rawai, Patong, Karon, Kamala, Kata Yai, Kata Noi and Mai Khao.
Visitors looking to soak in the sea may need more than a week to take advantage of all the aquatic offerings on Phuket, with countless sea canoeing excursions, scuba diving adventures, fishing trips, paddle boarding tours and more occurring throughout the day. John Gray set the standard for sea kayaking and canoeing around the islands of Phuket, and his highly acclaimed company, John Gray's Sea Canoe, provides a range of full- and half-day and overnight sea kayaking adventures. His Hong by Starlight trip is a must-do while in the area, as it offers one of the only chances to kayak inside the caves and hidden lagoons lurking within Phang Nga Bay.
The trip begins with a guided kayaking tour inside the caves and lagoons John Gray himself discovered back in 1989, where guests take advantage of the low tides to navigate through the rock structures to enter into secluded blue lagoons for the chance to swim in the heart of Phuket's craggiest rock formations. After a quick lunch on board, guests begin constructing their own floating kratong from flowers, which they will later light and launch from sea kayaks once the sun goes down during a beautiful spiritual ceremony on the sea.
Once the sun sets, Phuket really begins to shine, with great dining options and tons of fabulous night markets. The Chillva Market Phuket is the trendiest of the night markets, and its bohemian vibe attracts Phuket's more stylish set for shopping and dining at its bustling market stalls.
Some of the best restaurants in the city do not offer Thai food, as they are run by celebrated chefs from around the world, including L'Arôme by the Sea, featuring French contemporary fine dining in a modern seaside setting. For more local flavors, restaurants like Kan Eang@Pier and Three Monkeys have become favorites for both locals and visitors with discriminating taste. Kan Eang@Pier's laid-back vibe fits in well with its cool Chalong Bay location. The name "Kan Eang" literally translates to "easy-going." Its indoor and outdoor seating provides the perfect backdrop for the restaurant's menu of classic Chinese-Thai seafood and traditional Thai cuisine. Don't miss the tom kna gai or the Phuket lobster when it's in season.
Although the day starts on the beach, it often ends on the beach as well, as the bright night stars shine down on the glittering seawater and shadowed beaches while the gentle breeze acts as a reminder to chill out while standing on the shores of this dreamy destination.
LODGING
Jw Marriott Phuket Resort & Spa
This beachfront resort is ideal for families traveling with kids, with 248 rooms and 13 suites, including numerous family suites with private pools.
231 Moo 3 Mai Khao, Thalang
$$$
Sri Panwa Phuket Hotel
This trendy 82-villa boutique luxury hotel, the top choice for the stylish set, features one of the highest-rated rooftop bars in the world.
88 Sakdidej Road, Vichit Muang, Chang Wat
$$$$$
Trisara
Trisara translates to "the garden in the third heaven" in Sanskrit, and the 38 villas and suites spread throughout this tropical resort offer heavenly views of the resort's private bay.
60/1 Moo 6, Srisoonthorn Road, Cherngtalay, Thalang
$$$$
DINING
L'arôme By The Sea
An extensive list of French wines complements the contemporary French cuisine in this fine dining establishment. The restaurant and rooftop bar boast an elegant, modern design and lovely ocean views.
247/5 Prabaramee Road, Patong, Kathu
$$$$
Kan Eang@Pier
One of the oldest restaurants in Phuket, this seaside venue offers stunning views and the freshest seafood in town.
44/1 Viset Road Moo 5, Rawai, Muang
$$
Three Monkeys Restaurant
Located among the jungle greenery of Hanaman World adventure park, Three Monkeys presents Southern Thai cuisine, a grill and a raw bar along with unique cocktails.
105 Moo 4, Muang Chaofah Road, Wichit
$$$
INFO TO GO
Most guests arrive at Phuket Airport, the second-busiest airport in Thailand. Phuket reopened to fully vaccinated international tourists July 1, 2021, under its Phuket Sandbox protocols, and the island claims a 74 percent fully vaccinated population. The best time to visit is between December and March, before the hot season starts in April and after the wet season ends in November. ATM machines are widely available, but note Thai ATMs eject cash before returning the card.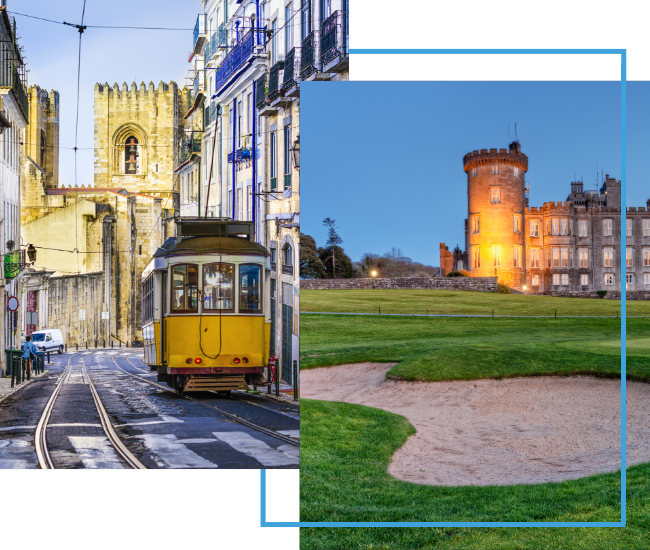 FX Excursions
FX Excursions offers the chance for once-in-a-lifetime experiences in destinations around the world.
Explore Excursions
There's no doubt the northern lights are awe-inspiring and spectacular. Unfortunately, they're also fickle and fleeting, and despite your best-laid plans of checking this item off your bucket list, sometimes Mother Nature's luminescent show just doesn't cooperate. But one cruise line has a new fail-safe in place.
Sponsored Content
Are you looking to enhance your business trip with a little leisure? Look no further than Portugal, a country renowned for its captivating blend of history, culture and natural beauty. And with TAP Air Portugal, you can effortlessly transform your business trip into an unforgettable bleisure adventure. Discover why Portugal and TAP Air Portugal are the perfect combination for an enriching and rejuvenating experience.
Think you need a degree in sailing to enjoy a yachting holiday? Dream Yacht Worldwide, a leader in yacht charters, wants you to relax and enjoy the journey. Newly expanded to include the British Virgin Islands, Martinique, Tahiti and the Seychelles, the "Easy Crewed" offered by Dream Yacht Worldwide also include charter options in Greece and Croatia.