When Wilbur and Orville Wright made history lifting their manned, powered — and slightly awkward — aircraft off the ground on Dec. 17, 1903, their goal was pretty straightforward: Remain in the air in sustained, controlled flight until returning to terra firma by design, rather than by a gravity-inspired plummet. Since that day on a scrappy stretch of sandy real estate in Kill Devil Hills, N.C., advances in aviation and technology have lurched and leapt forward, sometimes smoothly and sometimes in a tumultuous crescendo of roll, yaw and pitch.
For the Wright brothers and other pioneers of flight, excessive speed wasn't part of early working equations. Perhaps more than any other single factor, warfare changed this. By the advent of World War II, the need for equipment that could consistently outpace and outperform the competition was an objective of supreme importance.
Advances in design saw the introduction of swept wings and jet engines, with Germany leading the field with craft that included the Messerschmitt Me-163 rocket fighter and Me-262 jet fighter. Not only were these planes speedier than most Allied challengers, they were more maneuverable and could climb and roll with increased stability. The race was on; and though Great Britain's squadrons of Gloster Meteors, propelled by Rolls-Royce Welland 1 engines, made it into the war arena before the German surrender, the United States trailed behind.
That changed Oct. 1, 1942, at Muroc Dry Lake in California (present-day Edwards Air Force Base), when Robert M. Stanley, a civilian test pilot for the Bell Aircraft Corp., took the Bell XP-59A into the air. The single-seat, all-metal, two-engine monoplane had a shoulder-mounted wing and was powered by a General Electric engine.
"The XP-59A Airacomet was designed to be our first jet fighter," explains F. Robert van der Linden, Ph.D., chairman of the Aeronautics Division and curator of air transportation and special purpose aircraft at the Smithsonian Institution's National Air and Space Museum, and the author of The Boeing 247: The First Modern Airliner and The Nation's Hangar: The Aircraft Collection of the Steven F. Udvar-Hazy Center, Smithsonian National Air and Space Museum. "The project was given to Bell, with the result being a conventional, safe design with thick, straight wings. Swept wings were unproven at that point, so they built a very strong wing on it to create better performance at higher speeds. It was a very stable craft, designed to carry two engines. The engines were built by GE in September of 1941, part of a small batch of 15 that was based on an engine invented by British designer Sir Frank Whittle."
The day after the civilian Airacomet test at Muroc, the plane was taken up for its first military flight by then-Col. Laurence C. Craigie, making him the first U.S. Armed Forces pilot to fly a jet plane. For the previous year, Craigie had watched as the plane took shape in Buffalo, N.Y., and in Lynn, Mass., where the engines were being built by GE. John H. "Jack" Craigie shares the following excerpt from his late father's writings about the first official flight:
I was thrilled, naturally, in having this distinction of being the first military pilot to fly it, but actually I was familiar enough with airplanes to realize that an airplane itself doesn't really care whether it's being pulled through the air by a propeller, or being pushed by a jet. All the airplane wants is a certain amount of thrust, which can be generated in either of several ways. It can be pulled by a propeller, pushed by a propeller, or pushed by a jet, and this airplane was being pushed by a jet. … An interesting and intriguing thing about it really was — on those early tests, both Stanley's and mine, we had very experimental engines … we were feeling our way so gently, so gingerly, with those early I-16 engines … we determined by actual measurement on a big spring scale that we were only developing 800 pounds of thrust out of each of these two 1-16 engines. … So we were flying this airplane in a very underpowered condition. This wasn't particularly noticeable after you got it up in the air, because the higher speed a jet engine goes, the more efficient it is. Down at take-off speeds the jet engine is inherently an inefficient device, and of course operating these two 1-16 engines on 800 pounds of thrust each, we were down to a very inefficient level. So it took about two miles to get this plane off the dry lake. … I got two very distinct impressions; as I think back on that first flight, I always think of those two. One, I was tremendously impressed, just in the process of taking off, with the smoothness and the quietness, because all my flying life I'd been used to propellers, and the take-off with a propeller airplane, of course, is the noisiest period. You're beating the air terribly, the tips of your propeller are going fast and creating a lot of noise and vibration. So you're conscious of that. It's become part of your background, so that you don't think of it any more, but when you suddenly find yourself flying with this absence of vibration and noise, it's tremendously impressive. This was probably the greatest sensation I had.
Craigie's second memory was that a new, untested device meant to siphon heat from the engine and redistribute it between the layers of glass forming the windshield to reduce fogging instead poured hot air directly into the cockpit. The engine heat, combined with the hot desert day and his flying attire, made for a sweltering flight.
The flight and the plane itself were shrouded in secrecy. On its way to the test runway, the plane was disguised with a fake wooden propeller. Security was paramount, and secrecy was maintained at such a high level not even those closest to Craigie knew what was taking place. This included his wife, Victoria, who collected news clips about the American jet aircraft programs and sent them to her husband overseas via V-mail, a military mail system that copied censored letters to film, printing them back onto paper once they'd reached their destination. Knowing of her husband's fascination for all things aircraft-related, she sent him a daily update on progress being made in jet development. About a week after she'd begun sending the updates, she came across the news release that revealed her husband had actually flown the plane 15 months before. Her reaction, recorded in the elder Craigie's writings, revealed that her next letter to him was a "short and caustic note."
Jack Craigie first learned of the Bell P-59 planes from Model Airplane News in late 1943 or early 1944, while his father was overseas commanding a P-47 wing in the Mediterranean. Like his father, he chose a career as an aviator — not because of his famous father but because of his own love of flying. Both father and son are members of the exclusive Caterpillar Club, founded in 1922 by Leslie Irvin of the Irvin Airchute Co. of Canada. The club's name pays tribute to the humble silkworm whose labors were capitalized upon to create the silk threads of the parachute, while the club's motto, "Life depends on a silken thread," succinctly sums up the sole benchmark of membership: Each member must have leapt from a plane by parachute with the direct goal of saving his or her own life.
For Jack Craigie, his experience of punching out — pilot lingo for bailing out of a plane with a parachute — came on June 4, 1955, while escorting a younger pilot. Both were flying F-84Fs, with Craigie on the younger pilot's wing.
"The clouds were so thick and the turbulence was so great that right while I was looking at the other aircraft it disappeared," he says. "I informed the other pilot that he was now flying solo, and that I was dropping down and heading to the left so that we would not have a mid-air collision. All that ceased to matter very quickly when my J-65 engine turned into a brake drum."
He checked his engine instruments, noting that the exhaust gas temperature was climbing fast. When he read an overheat warning light, he pulled back on the throttle. When he looked back at the flight instruments, specifically the artificial horizon (a flight instrument that shows the attitude of the aircraft when there's no outside visibility from the cockpit), the horizon was nowhere to be seen.
"I was in a cloud that — I learned later — had a tornado in its center," he recalls. Within the next few seconds, he realized he must make a decision. He informed air traffic control that he was going to eject when he reached 10,000 feet. Because he was ready when he reached 13,000 feet, he decided to go ahead — a decision that saved his life. He ejected, still firmly fastened to his seat.
"I was trying to unfasten the seat belt so that I could pop my parachute, but my arms were being flailed about and I was spinning so fast I could not even bring my head forward to look at my belt. Finally, I realized that I was getting nowhere. I very carefully brought my right arm under control and placed my right hand on my right leg, pressing it firmly enough so that I could feel it. Then I carefully moved it by feel until I felt my seat belt handle. The instant I pulled that handle, the centrifugal force of the spinning movement separated the seat and me. Since I knew I was clear of the seat, I immediately pulled the ripcord, felt the opening jolt, looked up and saw the parachute. I hit the ground while I was still looking up at the chute. If I had been in the seat another half second, you wouldn't be reading this."
On Oct. 12, 1945, Orville Wright and Laurence Craigie stood beside one another at an air show at Wright-Patterson Air Force Base, looking up at the sky. It was the first time Wright had ever seen a jet aircraft in flight. Today, as we fly through the air with the greatest of ease, sipping Champagne and flipping through a high-tech, touch-screen selection of first-run releases, it can be easy to lose sight of how it became possible for us to jet around the planet.
"When he was inducted into the National Aviation Hall of Fame," reminisces musician John Craigie, grandson of Lt. Gen. Laurence C. Craigie and son of Jack Craigie, "my dad accepted the honor on his behalf. Astronaut Buzz Aldrin was inducted on the same night, and suddenly, I understood the significance of my grandfather's achievements."
Shortly before his death in 1994, Lt. Gen. Laurence C. Craigie journeyed to Kill Devil Hills, strapped himself into a hang glider, and soared off the same hillside where Orville and Wilbur Wright had soared so many years before. He was nearly 91 years old — every bit the adventurer he was when he climbed into the cockpit of that first U.S. jet — gliding into history, full circle.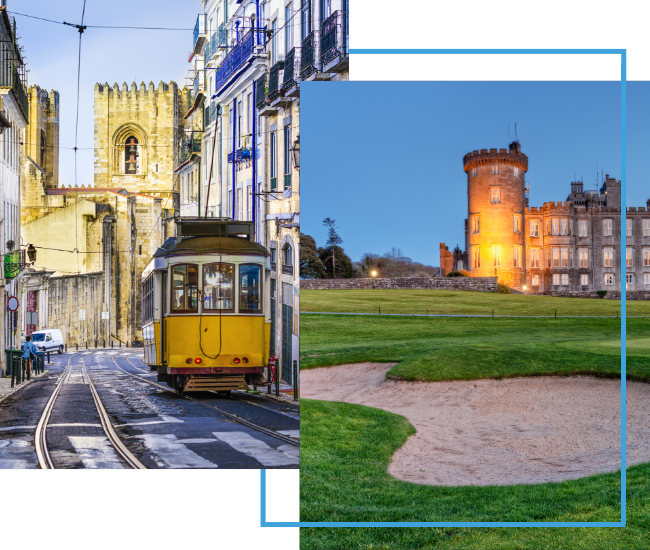 FX Excursions
FX Excursions offers the chance for once-in-a-lifetime experiences in destinations around the world.
Explore Excursions
There is something magical about sipping a glass of local wine while watching the sun slip into the Aegean Sea as the afterglow tinges traditional, white-washed Cycladic houses with glorious shades of rose, purple and gold. Ancient Greeks believed Helios, the Sun God, caused sunsets by driving his fiery chariot into the sea. Standing at water's edge in Mykonos, watching the sky slowly turn from purple to inky black, you almost believe it.
Sponsored Content
One affordable plan can protect an entire year of trips: business or pleasure, short or long, domestic or international.
The prospect of a post-visit treasure hunting session inside the shops of landmark museums such as the Louvre in Paris, the Uffizi Gallery in Florence and The British Museum in London can be irresistible. However, some of Europe's smaller and more unusual museums boast retail spaces with a surprising "wow" factor, often as well-curated as the galleries.