Locals — business executives and fishermen alike — love to say that it's always a perfect day for something on Grand Cayman, whether it's banking, fishing or simply strolling the island's Seven Mile Beach after a day of meetings. The largest and most populous of the three islands that make up the nation of the Cayman Islands (the other two are Little Cayman and Cayman Brac), it's hard to imagine that the success of Grand Cayman's international tourism and finance industries has happened in little more than 50 years. Tourism really took off with the opening of the Galleon Beach Hotel at the southern end of Seven Mile Beach in 1950 and of Owen Roberts International Airport in 1953.
Grand Cayman's growth continued when legendary dive operator Bob Soto established recreational diving on the island in 1957, and it remains a world-class diving and snorkeling destination today. Two important events in 1966 cemented Grand Cayman's 50-plus years of growth: the founding of the nation's first tourism board and the passage of the first banking and trust laws that laid the foundation for the modern financial industry.
Incredibly, there are approximately 450 banks and 115 trust companies with offices on Grand Cayman, including more than 40 of the 50 largest banks in the world. Most operate on an international basis only, but some work with both local and international clientele. Offshore banking is obviously big business, thanks to minimal or no tax on foreign investments, but other popular financial center activities include captive insurance, hedge funds, structured finance, securitization and more.
Tourism is the strong second driver of the economy, with resorts, restaurants, water sports, museums and other attractions all contributing to the mix. The tourism business has historically been centered along Seven Mile Beach and in George Town, but it's now found throughout the island.
A British Overseas Territory, the Cayman Islands are part of the Cayman Ridge that extends westward from Cuba. The three islands are situated on the edge of the Cayman Trench, which is the deepest part of the Caribbean Sea at a depth of more than four miles. Grand Cayman is 480 miles south of Miami, just 150 miles south of Cuba and 180 miles west of Jamaica. The island is about 22 miles long and eight miles across at its widest point.
About 95 percent (approximately 50,000 people) of Cayman Islanders live in Grand Cayman's five distinct districts: George Town, the capital, financial and main population center; the historic village of Bodden Town, the island nation's original capital; East End; North Side, site of popular Rum Point; and West Bay, which includes Seven Mile Beach, the town of Hell (great for pictures and postcards) and Boatswain's Beach, home of the Cayman Turtle Farm.
This financial and tourism destination is working toward nationwide Green Globe Certification, with a recent effort bringing electric vehicles and solar charging stations across Grand Cayman. There will be at least 12 locations with solar charging, and the island is the first in the Caribbean to feature 100 percent electric trucks and vans. Eco-friendly Wheego vehicles are also now available at Andy's Rent-a-Car.
Underwater, the "Dive 365" program seeks to develop dive sites for every day of the year so that all sites stay pristine for everyone to enjoy. After all, on Grand Cayman, it's always a perfectly pristine day to be in a bank, on a beach or even underwater.
Diversions
The capital city of George Town means more than finance. You'll find world-class duty-free shopping; excellent dining options; and several historical and cultural possibilities, including the Cayman Islands National Museum (Shedden Road and Harbour Drive, tel 345 949 8368, http://www.museum.ky) and the National Gallery of the Cayman Islands (Harbour Place, tel 345 945 8111, http://www.national gallery.org.ky).
For visitors looking to lounge in the Caribbean sun, Seven Mile Beach, with its white sand and turquoise waters, is frequently recognized as one of the Caribbean's best beaches. For a more active beachside visit, guests can head to Rum Point by boat or rental car, where they'll find a peaceful retreat, abundant water sports options and the classic island beach bar, the Wreck Bar & Grill.
While across-island at Rum Point, visitors can delve into the past to discover the birthplace of democracy in the Cayman Islands at the historic home known as Pedro St. James (Sandy Ground Drive, tel 345 947 3329, http://www.pedrostjames.ky). Or they can explore 750 acres of untouched forest along the Mastic Reserve & Trail (Mastic Road and Further Road trailheads, tel 345 749 1121, http://www.nationaltrust.org.ky/info/ mastic.html), which is part of the extensive offerings of the National Trust for the Cayman Islands.
Those inspired to explore by sea can swim with the stingrays at popular Stingray City with Red Sail Sports (tel 345 949 8745, http://www.redsailcayman.com) and other outfitters; explore the even deeper depths of the Caribbean with Cayman Islands and Atlantis Submarines (30 S. Church St., tel 345 949 7700, http://www.caymanislandssubmarines.com); or enjoy sunset or another special sailing on Grand Cayman's own pirate ship, The Jolly Roger (south terminal, tel 345 947 1845, http://www.caymanactivityguide.com/Jollyroger.htm).
First-time and veteran Grand Cayman visitors seeking a new underwater option will want to book a trip to the island's recently added diving and snorkeling site, the USS Kittiwake (http://www.kittiwakecayman.com), sunken off the coast of Seven Mile Beach in January 2011. Divers can explore the former submarine rescue ship inside and out — and discover the marine life that now calls the wreck home. Plus, the relatively shallow depth and crystal-clear waters make it enjoyable for snorkelers.
Kids and kids at heart will love touring Boatswain's Beach (825 North West Point Road, tel 345 949 3894, http://www.boatswainsbeach.ky), which features the world-famous Cayman Turtle Farm, a one-of-a-kind marine park that includes a 1.3 million gallon saltwater snorkel lagoon and much more. There's also Queen Elizabeth II Botanic Park (Frank Sound Road, tel 345 947 9462, http://www.botanic-park.ky), with some of the Caribbean's most beautiful floral gardens, a woodland trail and the popular Blue Iguana Recovery Program — home to the endangered blue iguana.
Foodies who want to mix business with tasty pleasure will want to schedule a trip to Grand Cayman during Cayman Cookout (http://www.caymanislands.ky/cookout), held each January. Hosted by Eric Ripert with The Ritz-Carlton serving as headquarters, this event features food and wine tastings, demos, tours and dinners.
Those with time should seriously consider an easy-to-arrange trip over to Cayman Brac or Little Cayman, or both. These two quiet getaways feature even more world-class diving, other water sports, lots of nature and varied resort options.
Info To Go
Frequent international flights arrive at Owen Roberts International Airport (GCM), a few miles west of downtown George Town. Taxis wait just outside immigration and customs, though many visitors choose to rent a car with Coconut Car Rentals (480 Shedden Road, tel 345 949 7703, www.coconutcarrentals.com) or Andy's Rent-a-Car (325 Owen Roberts Drive, tel 345 949 8111, www.andys.ky). For more information, visit www.caymanislands.ky.
Lodging
THE CARIBBEAN CLUB Combining Caribbean glamour with the comforts of an opulent home, the exclusive condominium hotel offers 37 spacious three bedroom villas overlooking Seven Mile Beach. Seven Mile Beach, tel 345 623 4500, http://www.caribclub.com $$$$
THE RITZ-CARLTON, GRAND CAYMAN Situated on 144 acres stretching from the Caribbean to North Sound, the property includes an Eric Ripert restaurant, a Silver Rain spa, tennis and golf. Seven Mile Beach, tel 345 943 9000, http://www.ritzcarlton.com/grandcayman $$$$
THE WESTIN CASUARINA RESORT & SPA, GRAND CAYMAN Swim up to the bar in the beach-front hotel's outdoor pool or dive and snorkel just off the beach with on-site Red Sail Sports. Seven Mile Beach, tel 345 945 3800, http://www.westincasuarina.com $$$
Dining
THE BRASSERIE U.S. chef Dean Max's contemporary cuisine focusing on fresh ingredients puts The Brasserie at the forefront of Grand Cayman's field-to-fork movement. 171 Elgin Ave., Cricket Square, George Town, tel 345 945 1815, http://www.brasseriecayman.com $$$
MICHAEL'S GENUINE FOOD & DRINK GRAND CAYMAN James Beard award-winning chef Michael Schwartz's dinner menu offers small, medium, large and extra-large plates with creative wine, beer and spirits pairings. Canella Court, Camana Bay, tel 345 640 6433, http://www.michaelsgenuine.com/grand-cayman $$$
UPSTAIRS RESTAURANT Enjoy Chef Laurence Tham's contemporary European-Caribbean cuisine, patio dining, tasting menu and a rare rum bar. Open for dinner Thursday to Sunday. North Sound Beach and Marina, 585 Water Cay Road, tel 345 947 9975, http://www.kaibo.ky $$$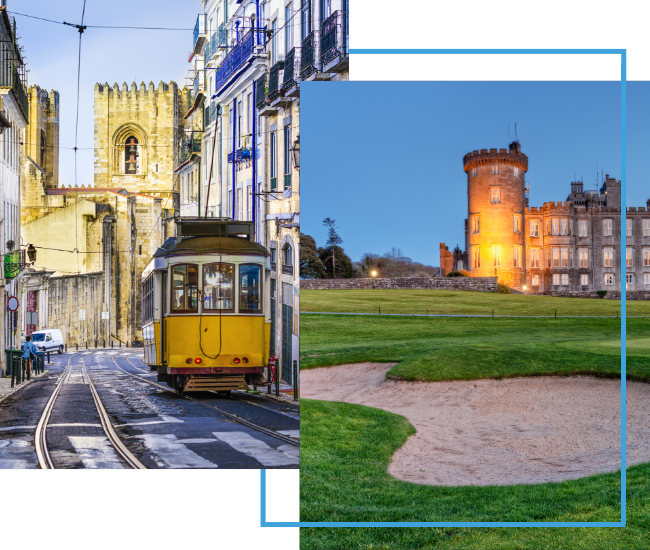 FX Excursions
FX Excursions offers the chance for once-in-a-lifetime experiences in destinations around the world.
Explore Excursions
Did the new film Oppenheimer rouse your interest in the nefarious world of international espionage? You can go straight to the real-life setting for covert actions this November (Nov. 10–12), when La Fonda on the Plaza in Santa Fe hosts a specially themed "Spies, Lies and Nukes" weekend. The hotel actually served as the retreat location for Manhattan Project scientists, who stayed at La Fonda on the Plaza to take a break from the stress of their work. During the weekend, the property's La Fiesta Lounge will make a tasty nod to those days by serving up a special Atomic Martini.
Sponsored Content
Don't risk losing all the money you've spent if you must cancel your trip at the last minute. Allianz Travel Insurance can give you:
Ever want handcrafted martinis and freshly shucked oysters delivered straight to your room? The Read House's New Martinis & Pearls service has you covered. Shining in 1920s-themed decor, the historic hotel in the heart of Chattanooga offers a true Gatsby-esque experience, now further elevated with this upscale amenity. Guests can now indulge in their perfectly chilled martini, made to order, and "pearls" (oysters) in the comfort of their room.