Pride Month is in full swing and to celebrate the community, make a colorful cocktail everyone will enjoy. These colorful ingredients will get the party started during Pride or any time of the year. Start this recipe the night before to create the rainbow ice cubes.
The Rainbow Rumba Recipe
Drink ingredients:
1.5 ounces tequila, vodka or gin
0.5 ounce coconut rum or liqueur
0.75 ounce simple syrup
1 ounce lime juice
3 ounces Essentia water
2 dashes cardamom bitters
Combine all ingredients into a shaker or small carafe. Pour over rainbow ice cubes (recipe below) and garnish with a lemon.
Rainbow Ice Cubes:
Red
2 bags of hibiscus tea
1L Essentia water
Steep the tea bags in water at room temperature for five minutes. Remove bags and pour the liquid into silicone ice cube trays. Freeze overnight.
Violet
1/4 cup loose butterfly pea flowers
1L Essentia water
Steep flowers in room temperature water for five minutes. Strain the loose flowers from the liquid and pour into ice cube tray. Freeze.
Yellow
0.5L orange juice
0.5L Essentia water
Mix juice with water until fully combined. Pour into ice cube try and freeze until frozen.
Green
4 large cucumbers, cubed with peels on
1L Essentia water
Blend the cucumbers and water until smooth. Using a mesh strainer or cheese cloth, remove the pulp from the liquid. Freeze the liquid in an ice cube tray.
The Harvey Milkshake
Drink ingredients:
5 ounces vodka
5 ounce Crème de Cacao liqueur or Kahlua
5 ounce simple syrup
2 ounces Essentia Cold Brew Coffee (recipe below)
1 ounce Essentia Almond Milk (recipe below)
5–7 ice cubes
Combine all ingredients in a blender until smooth. Pour into tall glass and garnish with rainbow sprinkles and a cherry.
Essentia Almond Milk
1 cup almonds, soaked overnight
3 cups Essentia water
Combine soaked almonds and water in a blender on high until smooth. Strain the liquid of any lumps.
Essentia Cold Brew Coffee
Cold brew concentrate of your choosing
Essentia water
Mix one part concentrate with two parts water.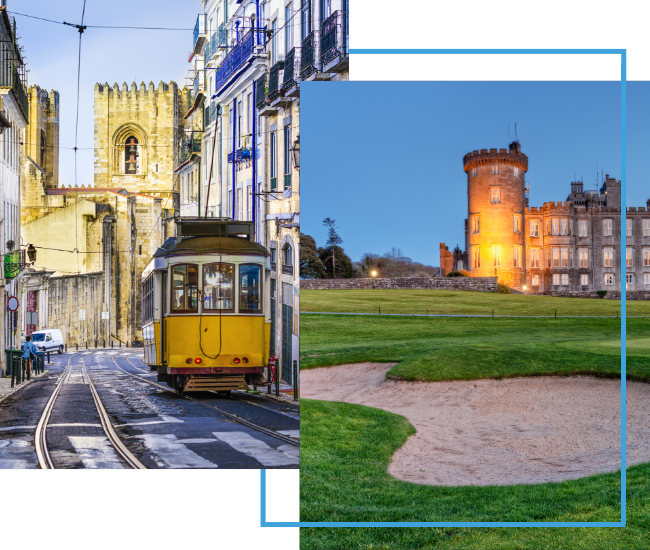 FX Excursions
FX Excursions offers the chance for once-in-a-lifetime experiences in destinations around the world.
Explore Excursions
Did the new film Oppenheimer rouse your interest in the nefarious world of international espionage? You can go straight to the real-life setting for covert actions this November (Nov. 10–12), when La Fonda on the Plaza in Santa Fe hosts a specially themed "Spies, Lies and Nukes" weekend. The hotel actually served as the retreat location for Manhattan Project scientists, who stayed at La Fonda on the Plaza to take a break from the stress of their work. During the weekend, the property's La Fiesta Lounge will make a tasty nod to those days by serving up a special Atomic Martini.
Sponsored Content
Experience the life-changing destination of Greece by exploring its island gems in the Ionian Sea. Scattered off the western coastline of Central Greece, to the south of Peloponnese, the Ionian Islands are an island group comprising large and small islands.
Ever want handcrafted martinis and freshly shucked oysters delivered straight to your room? The Read House's New Martinis & Pearls service has you covered. Shining in 1920s-themed decor, the historic hotel in the heart of Chattanooga offers a true Gatsby-esque experience, now further elevated with this upscale amenity. Guests can now indulge in their perfectly chilled martini, made to order, and "pearls" (oysters) in the comfort of their room.