Name: Rick Smith
Title: Owner, Rick Smith Golf Academy
Company, city: Treetops Resort; Gaylord, Mich.
Number of employees: 400
Recent project: Several projects are underway in China.
First job: Teaching professionally at Toledo Country Club in 1979
Little-known fact about you: I hold the record for the PGA's playing ability test.
Your Business
Essential business philosophy: Have a plan — a plan you believe can work — and implement that plan, which requires adjustments, until you reach your goal. Without a plan, you can't do anything.
Best way to keep a competitive edge: Preparation and awareness are the best ways to compete. Be aware of the mistakes you are making, be aware of what you have to do. The more prepared you are, the easier it is to accomplish the objective, rather than to go in unprepared. And that's all you can expect.
Yardstick of success: Don't look back and don't read your press clips. Continually set new goals as you accomplish the old ones.
Rick Smith as a Traveler
What is the most important item you take when traveling? My shaving kit, with toothbrush, toothpaste, Ibuprofen and razor
How do you spend your time on board? On my flights to China, I've got it to where I have my glass of Champagne and then try to catch up on my rest. If I have some work to do, I will do it; but I've found it's best to rest up.
What is your favorite restaurant in the world? In Hong Kong, Top of the Roof. In Shanghai, French Laundry.
What is your favorite destination in the world? Kauai if I want peace and Hong Kong if I want activity
About Rick Smith Golf Academy, Treetops Resort
As an instructor to golf pros and a course architect, what makes the courses at Treetops stand out?
We offer a world-class practice facility for all seasons, and the variety and beauty of our 81 holes of golf are second to none. All five courses are different, and each is great in its own right, from my Signature, Tradition and Treetops courses to the Robert Trent Jones, Sr.-designed Masterpiece to the Premier Course (the only Tom Fazio-designed course in Michigan). We recently added 18 holes of foot golf, combining the best of soccer and golf, available on the front nine of the Traditions Course after 4 p.m.
What's on offer at Treetops and in the surrounding area?
The resort offers a variety of activities for families — including skiing and snowboarding in winter — and the best golf. With several dining and lounge venues, food and beverage options are good. At the end of an active day, guests can relax and unwind at the Treetops Spa. There are also dining options in town, such as Bennethums and the Alpine Tavern, and the area offers great hiking and biking trails. The resort is only 45 minutes from Lake Michigan.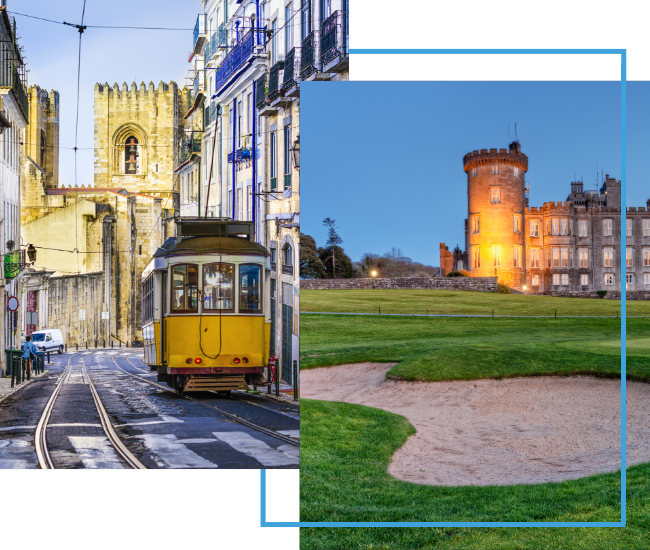 FX Excursions
FX Excursions offers the chance for once-in-a-lifetime experiences in destinations around the world.
Explore Excursions
It's time to start dreaming of your next trip. Here's some destination inspiration for you. Take a visual journey through these U.S. Christmas markets with us.
Sponsored Content
Learning more about our readers' travel habits and preferences ensures Global Traveler delivers the content you desire. As the travel industry has adapted and changed over the last few years, it's more important than ever to connect. To best meet your short- and long-term travel content needs, please help us!
Everyone loves a good Christmas tree, but these iconic hotels around the world take it one step further with designer-styled trees illuminating lobbies and public spaces, wowing all who enter. From Lela Rose to Louis Vuitton, don't miss these ultra-luxury trees redefining tree decorating as we know it.