Iceland seems an unlikely destination for business travelers looking to unwind, but even a short trip to its hip capital, Reykjavik-haunt of "the beautiful people," will impress the most circumspect. Forged by fire and ice, Iceland is the ultimate nature trip. Situated on the Mid-Atlantic Ridge, this hot spot of geothermal activity has 30 postglacial volcanoes that have erupted in the past two centuries. Natural hot water supplies much of the population with cheap, pollution-free heating; rivers provide inexpensive hydroelectric power. About 40 percent of the island nation's 288,000 people live in its pollution-free capital, Reykjavik, the political, intellectual, cultural and commercial heart of Iceland. Reykjavik, either a small city or a large village, has earned the appellation "cleanest capital in Europe." Icelanders also enjoy one of Europe's highest standards of living: Literacy, longevity, income and social cohesion are first-rate by world standards.
---
In the Beginning
Beginning as a loose collection of farms, Reykjavik was founded indirectly by pagan gods. When Norwegian Viking Ingolfur Arnarson, named First Settler of Iceland, brought his family from Norway in A.D. 874, he also brought his cattle and pillared high seat, symbol of the homestead. In accordance with Viking custom, Ingolfur tossed the seat's wooden pillars overboard, declaring that wherever they washed ashore he would deem the most propitious spot for his new home. The pillars came to rest on the shores of the capital, and he named his new home Reykjavik, which means "smoky bay," a probable reference to the steam prevalent in Laurgardalur's hot springs area. For centuries Reykjavik remained a small agricultural settlement. At the turn of the 19th century, a census counted merely 300 residents. A century later, the city barely had 5,000 residents. Today, Reykjavik's modern, forward-looking society is bolstered by its connection to the majestic and dramatic beauty nearby. The world's northernmost capital is presided over by imposing Mount Esja and azure Faxafloi Bay.
Iceland was settled primarily by Norwegian and Celtic immigrants during the late ninth and 10th centuries. After having been independent for more than three centuries, Iceland was ruled by Norway and then Denmark. Fallout from 1875's Askja volcano devastated Iceland's economy, causing such widespread famine that, during the next quarter century, 20 percent of the island's population emigrated; most of them went to North America. Denmark granted Iceland limited home rule in 1874 and complete independence in 1944. In the 1930s, the city starting piping geothermally heated water into houses for heat, and today all of Reykjavik's houses use geothermal heat, which is plentiful and inexpensive-an important benefit in a nation that can be so frigid.
---
A Friendly, Hip Capital
Icelandic, spoken in Iceland today, has changed little during the past seven centuries. Visitors will find that Icelanders, particularly younger people, speak and understand English, but German and Danish also are widely spoken. Iceland is a friendly, welcoming nation with a tremendous national pride and eagerness to share its rugged natural beauty. Reykjavik is a relatively short flight from most of the American East Coast, lying halfway between North America and Europe. The city caters to upscale travelers, offering facilities for all kinds of recreation. There are museums, galleries, theaters, excellent shopping venues and fashion boutiques. This thriving city features an impressive array of restaurants, pubs and nightclubs, too.
Visitors to Iceland-at the top of the world-hail from all around the globe. Increasingly sophisticated cultural offerings and pulsing nightlife have made Reykjavik one of Europe's most happening hot spots. Today's Reykjavik is thoroughly modern-portions far from the city center even seem drab-but the gaily painted old quarter centering around Aoalstræti near Lake Tjörnin and the harbor makes an interesting contrast. Reykjavik is Europe's hottest capital and, while slick ad campaigns champion its nonstop nightlife, there is far more to Reykjavik than pubs and clubs. Reykjavik held the prestigious title "European City of Culture" in 2000. Its energetic, distinctive cultural scene makes it a desirable stopover and a destination in its own right. Reykjavik is home to a nationally acclaimed symphony orchestra, two major professional theater companies, numerous independent theater groups, an opera company, a national ballet company and national and municipal art galleries. There are literally dozens of independent, smaller galleries and venues offering exhibitions, recitals and performances. Ideal for business meetings, romantic interludes, family holidays, shopping excursions,weekend getaways and stopovers, Reykjavik offers a breadth of experiences so captivating that visitors can't help but become enthralled by the city's refreshingly different, engaging and exciting milieu. A weekend stay in Reykjavik (including flights, lodgingand meals) easily costs less than comparable stays in New York or San Francisco while offering more excitement, diversity and a distinctively unusual and lively itinerary of activities.
---
After Hours
Let's talk about nightlife. Jet-setters, ever eager for something new and exciting, have discovered Reykjavik's different and exciting nightlife. Iceland's pop star Björk and an international roster of stars, celebrities and glitterati who have made visiting Iceland de rigueur have also made it (and Reykjavik in particular) one of the world's hottest up-and-coming destinations. Reykjavik's legendary nightlife is for those with energy and stamina; there are more than 100 bars downtown. The city's "in" spots vary: Today's "hot spot" becomes passé tomorrow. There are nightclubs to suit a variety of tastes in decor and music. If you're looking for the hottest spots, beeline to the longest lines. Discos, clubs and bars rock all night and, as winter days remain dark until noon, there is little motivation to depart. Revelers congregate in Reykjavik streets until the wee hours. In summer, 24-hour daylight makes Iceland particularly appealing.
Reykjavik Nightlife Friends (tel 011 354 690 1003, www.nightlifefriend.is) offers guided tours through the city's nightlife. Nightlife Friends knows the "in" spots and can get visitors through long lines at the hottest clubs, introducing its customers to many fun Icelanders along the way.
---
Where to Stay
Reykjavik has a wide range of lodgings, from a Relais & Chateaux property to full-service hotels to dozens of guesthouses. Everywhere, reception is characterized by the warm hospitality
one expects from residents of a small nation. Main hotels in Reykjavik offer access to everything downtown has to offer. High season is May 1 to Sept. 30.
Hotel Holt
An intimate hotel, Hotel Holt is a member of prestigious Relais & Chateaux. Rooms, lounges, conference facilities and hallways are hung with original Icelandic art-more than 300 pieces in all-representing the largest privately owned collection in Iceland. The 42 rooms, including 12 suites, are well-equipped with amenities, including high-speed Internet access and satellite TV.
Hotel Holt, Bergstadastraeti 37, Reykjavik 101, Iceland
tel 011 354 552 5700, fax 011 354 562 3025, www.holt.is
101 Hotel
A commanding presence in the heart of downtown, 101 Hotel is next to the Opera House and everything is nearby. The décor is sophisticated and elegant with stylish comfort throughout the spacious 38 rooms and suites-a serene haven of luxury and beautiful, modern design offering the full spectrum of amenities (king bed, CD, DVD, satellite TV, wireless Internet, voicemail)
plus turndown service and fine Quagliotti bed linens. Bathrooms are small, but the clever design optimizes the space. Those enjoying a balance of body and mind will appreciate 101 Hotel's proximity to the business district, nightlife and geothermal pools. The meeting facility accommodates 15 and there is a gym and a Jacuzzi. In-room massages are available.
101 Hotel, Hverfisgata 10, Reykjavik 101, Iceland
tel 011 354 580 0101 or 866 270 2847, www.101hotel.is
Luna Guesthouse
Located in the city center, two blocks from the hip Laudavegur, the main shopping and dining street, Luna Guesthouse comprises four floors with six luxurious, fully equipped apartments. There is one three-room penthouse with two bedrooms, bath with tub, living room, kitchenette (fridge, oven), dining area; four two-room apartments; and one studio. The penthouse is comfortable for three to four guests and has a balcony with panoramic views of Reykjavik. The apartments and the studio each features bath, kitchenette and living room with telephone, cable TV, radio and modem jack. Laundry facilities are available. Friendly, helpful proprietors offer quiet, clean and comfortable lodgings with heavy drapes to block midnight sunlight. The kitchenettes help make eating in Reykjavik more affordable.
Luna Guesthouse, SpÌtalstÌgur 1, Reykjavik 101, Iceland
tel 011 354 511 2800 or 011 354 896 1263
fax 011 354 511 2801, www.luna.is
Hotel Ódinsvè
Hotel Ódinsvè takes its name, which means "dwelling of Ódinn," from ancient Nordic mythology. Ódinn was the highest of the Norse gods. The Hotel stands on Ódinstorg Square, where streets are named after the ancient pantheon. With its prime location in the residential quarter of the old city center, Hotel Ódinsvè makes an ideal base for people who want to experience Iceland's capital fully. Virtually all services and activities are located within five minutes' walk: museums, theaters, opera, restaurants, pubs, swimming pool, harbor, shopping, banks and tourist information center. The bus station is nearby and a golf course is only a few minutes' drive away.
Hotel Ódinsvè, Ooinstorg, Reykjavik 101, Iceland
tel 011 354 511 6200, fax 011 354 511 6201
www.hotelodinsve.is
Nordica Hotel
Located midtown, Nordica Hotel is Reykjavik's newest, largest hotel, offering 284 guestrooms,
an excellent spa and fitness and conference facilities. There are 58 business and executive
rooms, an executive lounge, a presidential suite and a bar. The hotel's restaurant features dishes created by Chef Hákon Örvarsson, a bronze medalist from the prestigious gastronomical
contest Bocuse d'Or.
Nordica Hotel, Suourlandsbraut 2
Reykjavik 108, Iceland
tel 011 354 444 5000, fax 011 354 444 5001
www.icehotels.is
---
Where to Dine
Restaurants are plentiful and some have reasonable prices. Restaurants displaying the
sign "tourist menu" offer set summer menus including soup or appetizer followed by entrée and coffee for a fixed price. Visitors who want to keep expenses down should eat a large lunch ($10 to $20 per person compared to $16 to $28 for dinner). Viltu kaffi? (Would you like some coffee?) Coffeehouses have been part of Reykjavik's social scene since the first espresso was brewed at Mokka Kaffi in the 1950s. Today there are dozens of cafés in Reykjavik and each has its own personality and following.
Gallery Restaurant
Hotel Holt's Gallery Restaurant is unforgettable, offering superb cuisine inspired by French culinary tradition and an impressive selection of vintage wines, including the grands crus of Médoc, 1855 classification. Priceless Icelandic art covers this restaurant's walls. Jón Steffansson's Picnic (1939) is displayed, and the cocktail lounge and bar feature drawings by Jóhannes Kjarval. Near downtown, Gallery is in the forefront of Icelandic restaurants, with impeccable service, mouthwatering wild game and seafood dishes and a reasonably priced three-course fixed lunch. Favorites include gravlax and reindeer. Dinner costs about $34 to $48; reservations advised.
Gallery Restaurant, At Hotel Holt, Bergstaoastræti 37
Reykjavik 101, Iceland, tel 011 354 552 5700
www.holt.is
Vio Tjörnina
Located in an early 20th century house, Vio Tjörnina features an intricately hand-carved bar and chairs, embroidered tablecloths and crocheted drapes. This charismatic café is one of the best places in Iceland for seafood, which is creatively prepared and displayed. The owner, epicure Rúnar Marvinsson, runs the kitchen, creating imaginative dishes like tindabikkja (starry ray) with grapes, capers and Pernod. Lunchtime dish du jour is a bargain. Dinner entrées cost about $13 to $28.
Vio Tjörnina, Templarasund 3, Reykjavik, Iceland
tel 011 354 551 8666
Perlan
Built in 1988, Perlan (The Pearl) is a remarkable building, unique in the world. Six mammoth hot water tanks support a huge, upside-down glass bowl structure in which resides an exclusive
restaurant offering guests peerless views from a rotating floor (one revolution takes two hours). The structure also houses a cafeteria with access to a platform with brilliant panoramas of Reykjavik. This is also the site of The Saga Museum, which tells Iceland's history and allows visitors to "meet" historical figures. Out front, a synthetic geyser, Strokur, is a wonder, functioning as a natural geyser but erupting on a schedule. Outside, on Öskjuhlío Hill, 180,000 planted trees create a restful environment. The award-winning menu emphasizes fresh Icelandic and international cuisine. Succulent lamb is a must, and seafood dishes, prepared with the freshest Icelandic fish, change often. Average entrée costs $28.
Perlan, Öskjuhlí, Reykjavik 105, Iceland
tel 011 354 562 0200, fax 354 562 0207, www.perlan.is
Múlakaffi
Múlakaffi probably has Reykjavik's best deal for dining, offering true home-cooked meals at incredibly reasonable prices. It is a popular spot frequented by both residents and visitors, both blue collar and white, especially at lunchtime. Múlakaffi is a great place to take in some local color. Average dinner entrée costs about $14.
Múlakaffi, Hallarmúli, Reykjavik 108, Iceland
tel 011 354 553 7737, fax 011 354 553 7702
www.mulakaffi.is
---
Traditional Fare
Epicures will be delighted with Reykjavik's dining scene and find a plenitude of choices. Icelandic cuisine, as all things Icelandic, reflects the open-mindedness of the country's people, their willingness to cater and adapt to foreign tastes. Traditional cuisine centers on fish and highland lamb, Iceland's culinary staples. Icelandic lambs spend summers in the wild feeding on natural herbs and grasses. Rarely do Icelanders waste anything, thus oddities like cod cheeks and roe are available.Visitors could try blood pudding, singed sheep's head and pickled rams' testicles at Oorrablót, a traditional February feast. The truly daring can sample rotted shark or sheep's head jelly and, while these are rarely restaurant fare, supermarkets offer them. Some species of seabirds, such as puffin or guillemot, were once staples but are now delicacies. More traditional cuisine includes smoked lamb served with red cabbage and sugared potatoes, haddock and halibut served with prawn sauce or butter, trout served fresh or smoked (usually using dung) and smoked, pickled or tinned herring.
---
Where to Go
Finding Nirvana at the Blue Lagoon
Founded in 1992, the Blue Lagoon is Iceland's most recognizable and beautiful landmark. Blue-green algae and white silica mud give the water its soft, milky, aquamarine color. Located midway between Leif Eriksson International Airport and Reykjavík, the lagoon is one of Iceland's most popular attractions, with a 70 percent tourist market share. Often, visitors stop here for a swim upon arrival or before departure. The water is mineral-rich, which gives it a strange smell, but the calming, therapeutic effects of the pool more than make up for a whiff of brimstone. Geothermal spa options include the Blue Lagoon waterfall, which provides an energizing massage and a steam bath located in a lava cave. Therapeutic massage and spa treatments are also offered.
Blue Lagoon, Box 22
Grindavik 240, Iceland
tel 011 354 420 8800, fax 011 354 420 8801
www.bluelagoon.is
---
What to Do
Iceland is perhaps one of the most beautiful, exciting destinations on earth. As the world's youngest continent, it is geographically active, offering the earth's most dramatic,
breathtaking scenery and terrain. Iceland is worthy of one or several return trips to experience the magnificent and majestic landscape, glaciers, waterfalls, mountains, lava fields
and islands. Day excursions from Reykjavik will merely whet visitors' appetites for return trips to this visually sumptuous island nation. There are bounteous recreational opportunities
in Iceland, the majority available outside the city of Reykjavik. Once the realm of backpackers, this increasingly sophisticated country offers unbelievable recreation set against backdrops that are surreal and dramatic. Here is a sampling:
Bicycling
Rental bikes are readily available in Reykjavik as are biking tours; hotel concierges or tourist information centers can help.
Bird Watching
Iceland is a paradise for birdwatchers. Tours are offered in early summer. Visit ni.is/bliki/listar/1111.htm for a list of Icelandic bird species.
Sport Fishing
Iceland is famous for salmon and trout fishing. Ice fishing is quite popular in winter. Contact the National Angling Association for information, tel 011 354 553 1510, www.angling.is.
Whale Watching
Iceland is Europe's whale watching "hot spot," with astonishingly high sighting rates. Tours spot minke, blue, humpback, sei, fin and killer whales plus dolphins, including white beaks and harbor porpoises. Boats depart from Hafnarfjördur, near Reykjavik; season runs May through September.
Glacier Tours
Glacier tours with snowmobiles or snow-cats are thrilling.Visit www.icelandtouristboard.com/frfunglacier.html for information.
Hiking
More than half of Iceland is over 1,312 feet above sea level, and lava, glaciers, lakes and sand cover a large part of the island. Few places have marked walking paths, but hiking is a favorite pastime. Many travel agencies organize hiking tours duringwinter and summer alike.
Golf
Iceland has more than 50 golf courses-some with outstanding vistas. Golf can be played from May through September; summers, the midnight sun permits golf to be played around the clock. Greens fees range from $15 to $30. Some courses offer rental clubs. Contact Icelandic Golf Association for information, tel 011 354 568 6686, www.golf.is.
Swimming
Swimming is very popular here; most towns and villages have outdoor or indoor pools filled with natural, hot spring water. This water's mean temperature is about 84 F. In many places, there
are also saunas, Jacuzzis and solariums with temperatures ranging from 97 F to 111 F
---
Want to Go?
Icelandair (www.icelandair.com) has a regular schedule of well-priced, daily nonstop flights
to Reykjavik (REK) from many major European and North American gateways. Iceland Express
(www.icelandexpress.com) connects Iceland on a daily basis with both Copenhagen (CPH)
and London (STN).
For more information visit www.icelandtouristboard.com or www.goReykjavik.com.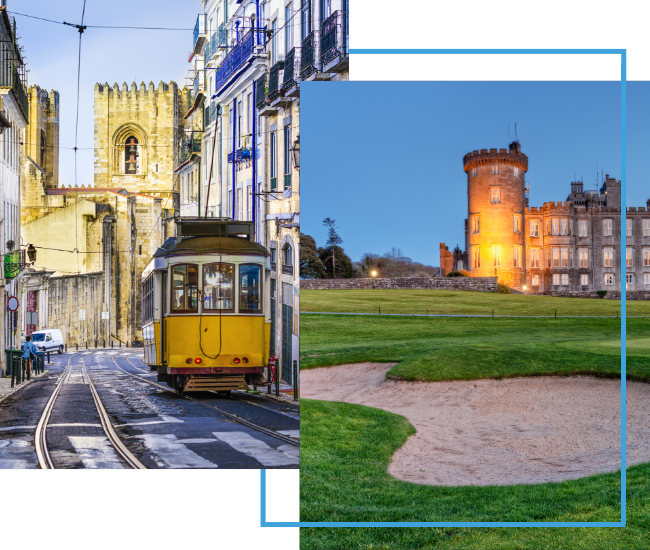 FX Excursions
FX Excursions offers the chance for once-in-a-lifetime experiences in destinations around the world.
Explore Excursions
There may not be snow in Los Angeles this season, but Waldorf Astoria Beverly Hills is certainly full of the holiday spirit, with Christmas, Hanukkah and New Year's events happening in the hotel's gorgeous event spaces.
Sponsored Content
The Saronic or Argo Saronic Islands of Greece call travelers to explore its seven small islands and islets brimming with history, natural sites and more. With most easily accessible by boat, the islands' proximity to ports of Athens make the Saronic Islands an ideal destination for those preferring shorter boat rides. In fact, trips from Athens ports to the islands take only between 10 minutes and two hours, depending on the island you choose, making them perfect for day or weekend trips. From Piraeus port, you can access Hydra, Spetses, Aegina and Poros directly. Come explore these stunning islands with us and find the inspiration to plan your next trip to these islands. Hydra Hydra town curves around a slope overlooking the Argosaronic Gulf like an amphitheater and is considered one of the most romantic destinations in Greece. Most unique to the island is its lack of vehicles. People on the island get around on mules and donkeys as well as water taxis, making for a peaceful and laid-back day. Hydra lies a two-hour ferry ride from Piraeus port in Athens.
Looking for fun things to stuff into the toe of a few holiday stockings? Here are some great choices: