There is something magical about sipping a glass of local wine while watching the sun slip into the Aegean Sea as the afterglow tinges traditional, white-washed Cycladic houses with glorious shades of rose, purple and gold. Ancient Greeks believed Helios, the Sun God, caused sunsets by driving his fiery chariot into the sea. Standing at water's edge in Mykonos, watching the sky slowly turn from purple to inky black, you almost believe it.
After dark, world-famous DJs mix tracks in clubs that stay open well past dawn. A-listers who've arrived on mega-yachts and private jets head for VIP tables and private parties. But this is Greece — the birthplace of democracy — and (almost) everyone is welcome on the dance floor, which can be a simple sandy beach or one of the ultra-hip venues like Void or Cavo Paradiso. Just follow the music. Dress code ranges from smart casual to elegant and chic. A nice smile, a good tan and a stylish kaftan will usually get you in.
Shopping is big. Designer brands like Louis Vuitton and Chanel sit cheek by jowl with made-in-Greece souvenir shops. Stroll the narrow and picturesque streets to discover hidden gems: Jardin (in a converted mansion) for iconic Greek brands, Liontis for classic leather sandals in every imaginable color, Dio Horia Gallery — three floors of art and a rooftop bar. Everyone shops at Luisa at Nammos; you'll walk out wearing what you buy. Most shops stay open late.
For dinner (typically starting after 8 p.m.) consider family-run Kiki's Tavern on Agios Sostis Beach, M-eating for a wide variety of fresh-caught seafood, and Kastro's (in colorful Little Venice) overlooking the sea and the island's iconic windmills.
During the day enjoy the calm, relaxing vibe: clear-as-glass water; long, golden beaches (more than two dozen); toes-in-the sand tavernas; and water sports like snorkeling, kayaking, parasailing, windsurfing and diving to underwater caves.
Often called the Ibiza of Greece, Mykonos boasts a vibrant LGBTQIA+ scene. Katarina's and Babylon are chic and trendy bar choices, as are JackieO' and Super Paradise Beach Club.
For cruise ship passengers, Mykonos Town (1.5 miles from the dock at New Port) is easily accessible via sea bus or water taxi, and most cruise lines offer free shuttles.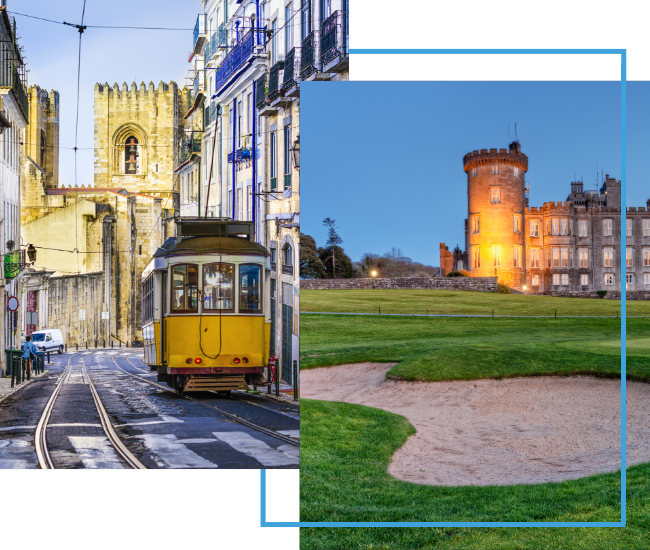 FX Excursions
FX Excursions offers the chance for once-in-a-lifetime experiences in destinations around the world.
Explore Excursions
More than 22 million visitors pour into Bangkok each year, adding to the roughly 11 million residents of the Thai capital famous for its bustling streets. Packed with food carts, markets and cultural spectacles, life in Bangkok is unusually defined by its vibrant street scene, both day and night. That means you don't necessarily need a solid plan when heading out on any given evening.
Sponsored Content
The Saronic or Argo Saronic Islands of Greece call travelers to explore its seven small islands and islets brimming with history, natural sites and more. With most easily accessible by boat, the islands' proximity to ports of Athens make the Saronic Islands an ideal destination for those preferring shorter boat rides. In fact, trips from Athens ports to the islands take only between 10 minutes and two hours, depending on the island you choose, making them perfect for day or weekend trips. From Piraeus port, you can access Hydra, Spetses, Aegina and Poros directly. Come explore these stunning islands with us and find the inspiration to plan your next trip to these islands. Hydra Hydra town curves around a slope overlooking the Argosaronic Gulf like an amphitheater and is considered one of the most romantic destinations in Greece. Most unique to the island is its lack of vehicles. People on the island get around on mules and donkeys as well as water taxis, making for a peaceful and laid-back day. Hydra lies a two-hour ferry ride from Piraeus port in Athens.
As first-time restaurateurs, but with plenty of hospitality-related experience, Ria and Kevol (Kev) Graham were not entirely comfortable opening their first restaurant in the Brooklyn neighborhood of Williamsburg, where several upscale restaurants and 5-star hotel dining is just a block away. And to make matters worse, they opened in July 2020, when New York City was in the middle of the COVID-19 pandemic.