Arrival/Check-In: After an enjoyable couple of days in Oahu, we looked forward to our short flight to Lanai from Honolulu. Representatives of the hotel met us at Lanai's small airport, collected our baggage and drove us, with other guests, to the resort. A former pineapple plantation, Lanai is a less-traveled island; in fact, I found no residents in Honolulu who had been to Lanai. Upon arrival we were greeted with juice and leis and checked in by Xavier, who quickly escorted us to our room, No. 7552. Instead of keys, guests receive wrist bands that can get wet and still remain active; they open your suite door. Larry Ellison, founder of Oracle, purchased nearly 98 percent of the island in 2012 for $300 million. As one of his first projects, he invested $75 million in Manele Bay Hotel and turned it into the Four Seasons Resort Lanai.
Guest Quarters: Getting to the room was a bit of a walk, which was fine as it took us past the bird cages whenever we went to dinner or the beach. I enjoyed listening to them copy my whistling … or was I copying them? In our suite, a hallway from the front door took a left turn to the massive bathroom and straight to the main bedroom just before a fully stocked minibar. The marble-tiled bathroom featured double sinks and a large tub plus an equally massive shower with a rain showerhead and an individual sprayer attachment. The Aloha ʻĀina bath amenities featured kukui nut oil from Alberta's Farm. The bedroom held a Four Seasons-branded king-sized bed and a built-in mini desk where I set up my laptop and worked between activities. At the end of the room, floor-to-ceiling sliding glass doors opened to a lanai overlooking the gardens and the ocean below. On the opposing wall, a built-in closet offered lots of room and a safe plus a handy beach bag to take to the beach and pool. At the foot of the bed a sofa proved a convenient place to lay out clothing. Opposite the bed a large, flat-screen TV hung from the wall, but you won't want to spend much time in the room with all the great activities at the resort.
Services/Amenities: Service, dining and activities were tops, and we did our best to hit all the highlights. Recent upgrades included the restaurants; we really enjoyed Nobu Lanai. Our upbeat and friendly server, Grace, displayed charm and humor while coming up with custom sushi and Japanese scotch to complement my birthday dinner. We had our first meal at Malibu Farm, one of the first restaurants Ellison brought in when he took over. Perched above Hulopo'e Bay with ocean views, the outside venue offers fresh, farm-to-table cuisine near the pool. One Forty, the main dining facility, takes its name from the island's 140-square- mile area. The restaurant, which also serves breakfast, features American steaks and a Hawai'ian seafood dinner menu with an emphasis on local ingredients. Be sure to try the Lanai venison. (There are more deer than people on Lanai — watch out for the deer when traveling in the evening.) The Lobby Bar with its outside lanai offers sunset entertainment of traditional Hawai'ian songs and chanting, worth listening to before dinner.
Of course, the golf is spectacular; I played a round on my birthday (read my review in the December 2019 issue). Last but not least, we took a tour of the island in a Jeep 4×4, completing the circumference and stopping at several key beaches and in Lanai City. The last stop, Lanai Cat Sanctuary, proved surprisingly interesting. This playground for cats keeps them under control and away from nesting birds. Most of Lanai's birds are ground nesters, and the cats were decimating the population. The sanctuary feeds the cats well and ensures they receive medical care, all within enclosed boundaries.
TOP TAKEAWAYS:
◆ Enjoy a fantastic golf experience — never overcrowded.
◆ Lovely beach with attendant offers great surf action; the waves can be huge.
◆ Be sure you make it to the Lanai City Bar & Grille, usually half full of hotel guests and locals. The hotel offers shuttles.
FOUR SEASONS RESORT LANAI
1 Manele Bay Road Lanai City, HI 96763
tel 808 565 2000
fourseasons.com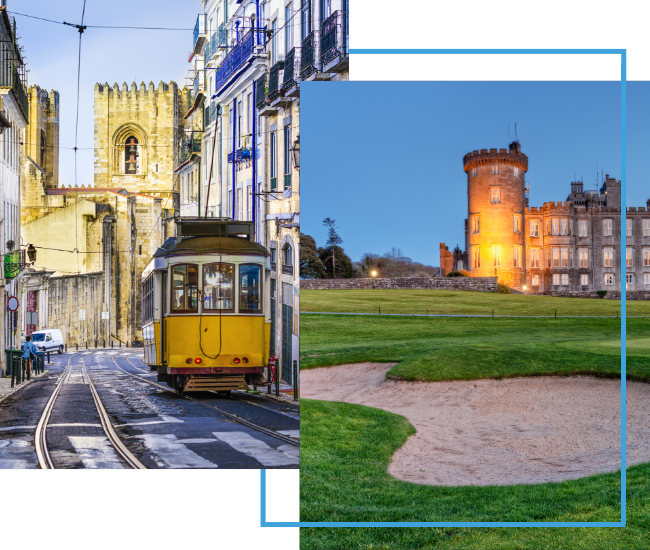 FX Excursions
FX Excursions offers the chance for once-in-a-lifetime experiences in destinations around the world.
Explore Excursions
A new and expanded campus at the Buffalo AKG Art Museum has been completed, reopening this summer and featuring new architecture designed by the architectural office of OMA New York, led by partner Shohei Shigematsu and project architects Lawrence Siu and Paxton Sheldahl, with Cooper Robertson (executive architect). The new expansion includes the Jeffrey E. Gundlach Building and extensive renovations to existing buildings. A $20-million commitment from New York State and Governor Kathy Hochul helped fulfill the expansion's budget and completes the $230 million capital campaign, the largest campaign for a cultural institution in the history of Western New York State.
Sponsored Content
Learning more about our readers' travel habits and preferences ensures Global Traveler delivers the content you desire. As the travel industry has adapted and changed over the last few years, it's more important than ever to connect. To best meet your short- and long-term travel content needs, please help us!
Ever since opening in 2021, Nobu London Portman Square has served as the focal point for many gatherings, stays and experiences. This fall the hotel's Nobu Bar adds four more reasons to visit with an exciting array of offerings, menus and events.