AS WE WANDERED THROUGH busy art galleries and locally owned shops and boutiques on High Street in Columbus, Ohio, it was hard to imagine this vibrant area was a decaying, squatter-filled, crime-ridden section of town not so long ago.
The 18th-century brick buildings in the Short North Arts District housing shops, restaurants and residences intersperse with sleek new condo buildings, brand-new high-tech hotels and high-rises under construction. A recent infusion of millions of dollars from the city for streetscape improvements made the area greener, safer and more walkable. What began as a burgeoning arts district in the 1980s now blooms as one of the hottest, trendiest neighborhoods of this fast-growing city.
The district boasts an arts trail, three parks and dozens of places to eat and shop. Visitors can take art, brewery, food and dessert tours or enjoy live music at bars and nightclubs, where they can see the city's popular drag queens. Short North also has some of the city's best happy hours and rooftop bars, a relatively new addition to Columbus. The jam-packed events calendar features fitness classes, festivals, tastings, live music and performance art. Giant interactive kiosks help visitors find information on transportation, restaurants, parks, hotels and stores.
Short North, located directly north of downtown Columbus, proves easily accessible by walking or taking the CBUS, a free circulator bus service that runs through downtown and Short North every 10–15 minutes. You'll know you're in the right neighborhood when you spot the giant colorful murals on the buildings and lighted metal archways over High Street. These were installed in tribute to the dozens of gaslit wooden arches that first spanned the street in the 1880s, earning Columbus the nickname of "Arch City."
Betsy Pandora, executive director, Short North Alliance, said, "Short North has grown to be a premier 18-hour area where people love to live, work and visit. We have close to 400 businesses here, double the amount in 2012. It's a unique, diverse area filled with entrepreneurs."
The area benefitted from the rapid growth of Columbus, the state capital, considered one of the top places to do business. With more than 2 million people, the city now ranks No. 14 in the country in terms of population.
"Short North is seeing a significant amount of development," Pandora said. "More than 1,000 hotel rooms have been added or are under construction." These include the new Graduate Columbus and the Moxy Columbus Short North.
Joel Pizzuti is president of the Short North Alliance and president of Pizzuti Companies, a commercial real estate company that moved its headquarters to Short North when it was build- ing a mixed-use project in the area. "Our folks wanted to be here. It's walkable, active, fun and accessible — it's a fun place to spend the day."
While urban development is happening everywhere, Pizzuti said Columbus is fortunate because the Short North neighborhood was already growing on its own.
"While it was a place people spent time before, it didn't have the office and residential component it has now. Over the last 10 years it has really evolved as a community. Being located between the core of downtown and the Ohio State campus has been instrumental. While most of the activity has been along High Street, we now see it moving [three to four] blocks on either side."
All this development and excitement about Short North bodes well for the city of Columbus. As Betsy Pandora said, "We have a saying: So goes Short North, so goes Columbus. A lot of activity tries itself out here then spreads across the city.
SCENIC DRIVES
Columbus' location close to the center of the state provides easy access to Ohio's 27 scenic byways. One of the best for scenery and fantastic hiking opportunities is the Hocking Hills Scenic Byway in southeast Ohio. This 30-mile byway makes a loop around Hocking Hills State Park, considered one of the best in the country. It has several hiking trails with rugged cliffs, huge waterfalls and ancient caves.
Travel through some of the most scenic countryside in Ohio on the Covered Bridge Scenic Highway, which parallels the Little Muskingum River south of Columbus. Stops on the self-guided tour include the 192-foot Knowlton Covered Bridge, constructed in 1887; an old country store; and a Mail Pouch barn. These were barns painted with ads for the Mail Pouch chewing tobacco company in the early 20th century.
Estimates say one in six Amish people live in the Holmes County area northeast of Columbus. You'll most likely share the road with horses and buggies on the Amish Country Byway, featuring plenty of shops selling handmade wood products, baked goods, quilts and Amish food. Make a stop in Winesburg, a historic village settled by four German men in 1827.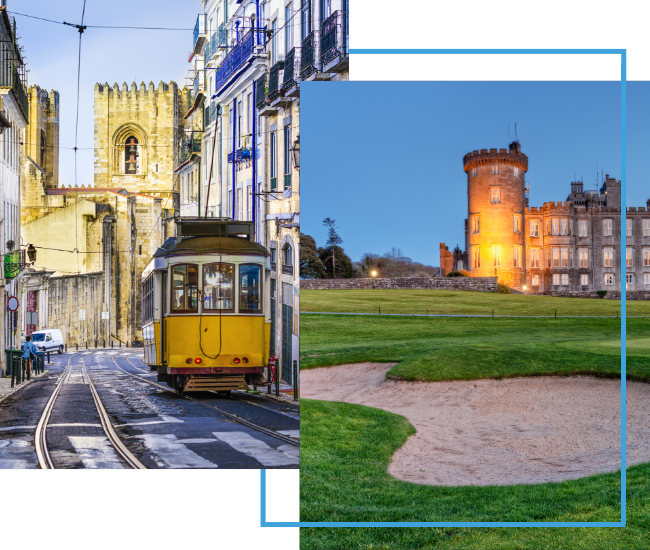 FX Excursions
FX Excursions offers the chance for once-in-a-lifetime experiences in destinations around the world.
Explore Excursions
Did the new film Oppenheimer rouse your interest in the nefarious world of international espionage? You can go straight to the real-life setting for covert actions this November (Nov. 10–12), when La Fonda on the Plaza in Santa Fe hosts a specially themed "Spies, Lies and Nukes" weekend. The hotel actually served as the retreat location for Manhattan Project scientists, who stayed at La Fonda on the Plaza to take a break from the stress of their work. During the weekend, the property's La Fiesta Lounge will make a tasty nod to those days by serving up a special Atomic Martini.
Sponsored Content
IHG Hotels & Resorts is thrilled to announce the launch of a new mobile product feature for members: IHG Wi-Fi Auto Connect. This feature is now available exclusively in the IHG One Rewards mobile app for both iOS and Android users and will automatically connect IHG One Rewards members to WiFi upon arrival at more than 5,000 IHG hotels worldwide — no separate passwords or log-ins needed. This is in addition to the exciting benefits of being an IHG Business Edge member. IHG Business Edge provides small- and medium-sized businesses access to a user-friendly portal that displays comprehensive spending and savings data while providing the convenience of direct booking with a guaranteed discount.
Ever want handcrafted martinis and freshly shucked oysters delivered straight to your room? The Read House's New Martinis & Pearls service has you covered. Shining in 1920s-themed decor, the historic hotel in the heart of Chattanooga offers a true Gatsby-esque experience, now further elevated with this upscale amenity. Guests can now indulge in their perfectly chilled martini, made to order, and "pearls" (oysters) in the comfort of their room.