WITHOUT SWIFT, EXPANSIVE CHANGES to the way humans currently tread on planet Earth, we will be dealing with the effects of climate change on a grand scale. Greenhouse gases — naturally occurring but increasing significantly due to human activity — from the burning of fossil fuels contribute to a warming climate that is wreaking havoc worldwide. Driving a car, heating your home and turning on the lights can all increase your carbon footprint, which has direct ties to climate change.
There are a slew of ways to reduce your carbon output, both at home and while traveling. Overall, reducing the energy you use can make a big difference, and steps like decreasing the amount of meat you eat, changing the type of light bulbs you use and choosing public transportation over driving a personal vehicle can all help lower your impact.
Let's start with some home remedies. First, switch your light bulbs to LEDs, up to 80 percent more efficient than incandescent bulbs. You'll reap the benefit of a lower electricity bill, and the bulbs last longer. Compact fluorescent lights, or CFLs, the spiral-shaped bulbs, have a similarly positive effect but are falling out of favor with consumers and becoming harder to find compared to LEDs.
The next time you buy a new appliance, whether it's a refrigerator, washing machine, hot water heater or microwave, opt for new models that come with an Energy Star rating, awarded to products that prioritize energy efficiency.
Get smart with your thermostats. Consider lowering them by a degree or two in cold months and raising them slightly in warm months to cut back on energy use. Shut them off when you leave the house. Smart home devices, including thermostats, can help you monitor electricity usage via smartphone and help automate this process.
Wash your clothes in cold water, and line-dry them — both considerably lower your energy use.
Recycle and compost, whether through municipal programs or otherwise. The Environmental Protection Agency reports keeping products like glass, aluminum, plastic and paper out of the landfill can keep 582 pounds of carbon dioxide out of the atmosphere a year, equivalent to driving 600 fewer miles per year.
Installing solar panels at your home will not only lower your energy bills but, depending on where you live, trade nonrenewable energy for renewables. You may even be able to make some money by selling your excess electricity back to your local power company.
When you're shopping for your next vehicle, consider buying a hybrid, electric or fuel-efficient car. Again, depending on where you live and what energy sources your grid taps into, you may be able to significantly lower your carbon footprint by forgoing your use of gas or lowering the amount you need to run your car. You can also maximize your fuel efficiency by keeping your tires properly inflated; ditching the extra stuff you keep in your trunk or backseat; and trading driving for walking, biking, carpooling and using public transit.
At the grocery store, buy less meat and opt for local, sustainably grown items wherever you can. Raising meat is significantly more carbon-intensive than growing vegetables; some estimates show eating a pound of beef holds the same carbon intensity as burning a gallon of gasoline. Buying local goods can also help lower your carbon footprint as they don't have to be transported as far to the store from where they are grown or harvested. Ditch packaged drinks for tap water, buy from the bulk section to reduce packaging, and bring your own reusable shopping bags rather than take the store's plastic and paper.
Get an energy audit. Find a local company to assess your home, finding areas where you can make efficiency improvements. Chances are you'll decrease your carbon footprint while also saving money on energy costs.
Traveling, particularly if you're clocking in a long distance via airplane — and even more so via private jet — can be a carbon-heavy endeavor. But there are ways to reduce that footprint. If you can't avoid flying altogether, consider reducing your footprint by opting for more efficient airlines when you can. Among the most reputable international airlines when it comes to efficiency are Norwegian Air and Aer Lingus. Domestically, Alaska Airlines, Spirit and Frontier rank highly.
Though it's not as effective as cutting back on carbonheavy activities, you can buy carbon offsets, which involves donating money to projects that can help compensate for the carbon emitted during certain activities, like flying. Several companies offer this service, but they're not all created equal, so you'll have to do some legwork to determine their authenticity. Projects you can pay into may include tree planting, methane capture at farms and hydro and wind power facilities. The organization Green-e.org has a solid set of guidelines if you're looking to go this route.
When traveling, check out carbon-neutral or less impactful activities like kayaking, hiking and exploring on foot rather than renting a powerboat or going skydiving.
Reduce the amount of stuff you pack, thereby lowering the amount of fuel it takes to transport you and your belongings. More weight means more fuel in transport, whether you fly or drive, so packing light will help lower your carbon output.
If you're really willing to make a sacrifice, don't book a business- or first-class seat and opt instead for economy. A study by the World Bank showed the carbon footprint of flying business class can be three times that of flying in economy. For first class, that gap jumps up to nine times.
When booking a hotel, pick an ecologically minded company with sustainability programs that help lower the impact across the board, from the kitchen to housekeeping to the construction of the building. Hotel websites may feature sections on environment or corporate responsibility, which can clue you in to what the company is doing to reduce its impact. And be sure to take advantage of programs that allow you to save water by opting not to have your linens changed daily. Even better, use the "Do Not Disturb" sign on your door so housekeeping will skip the cleaning altogether, reducing energy use. And be sure to turn off your lights and adjust your thermostat when you leave the room.
If you're taking a tour, pick a company that highlights environmental responsibility. Some may opt for green practices, like using hybrid vehicles, while others tout certain ethical practices that help lower the overall impact of touring. Doing some research can help you uncover these aspects.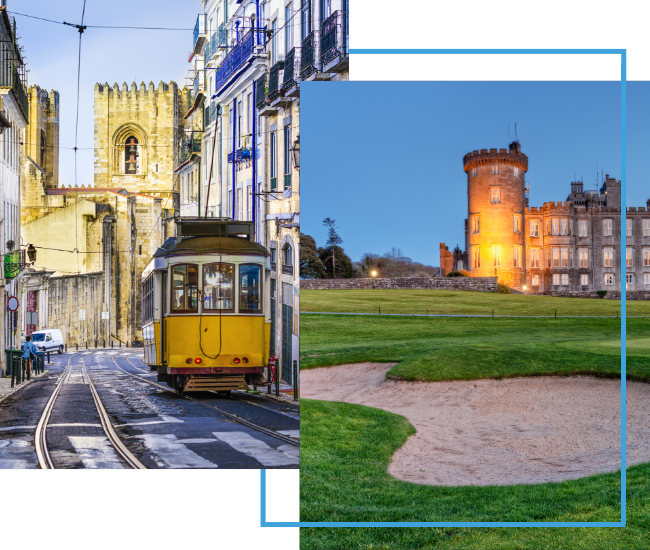 FX Excursions
FX Excursions offers the chance for once-in-a-lifetime experiences in destinations around the world.
Explore Excursions
Did the new film Oppenheimer rouse your interest in the nefarious world of international espionage? You can go straight to the real-life setting for covert actions this November (Nov. 10–12), when La Fonda on the Plaza in Santa Fe hosts a specially themed "Spies, Lies and Nukes" weekend. The hotel actually served as the retreat location for Manhattan Project scientists, who stayed at La Fonda on the Plaza to take a break from the stress of their work. During the weekend, the property's La Fiesta Lounge will make a tasty nod to those days by serving up a special Atomic Martini.
Sponsored Content
Exclusive Sailing with Global Traveler
Ever want handcrafted martinis and freshly shucked oysters delivered straight to your room? The Read House's New Martinis & Pearls service has you covered. Shining in 1920s-themed decor, the historic hotel in the heart of Chattanooga offers a true Gatsby-esque experience, now further elevated with this upscale amenity. Guests can now indulge in their perfectly chilled martini, made to order, and "pearls" (oysters) in the comfort of their room.