SINGAPORE IS SERIOUS ABOUT protecting the environment, preserving natural resources, conserving energy and creating plenty of green spaces for quality living. Even though it has a population density of about 18,000 people per square mile, nevertheless it ensures environmental and energy measures go hand in hand with greenery and gardens. This winning combination is a telling tribute to the efficiency and ingenuity of the melting pot of cultures that calls Singapore home.
Furthermore, Singapore takes its carbon footprint seriously. The solar panels at Marina Barrage serve as an example of Singapore's energy conservation commitment. A showpiece of environmental sustainability, the Solar Park has 405 panels to supplement daytime electricity in the gallery and offices in the barrage. The panels produce the equivalent monthly electrical consumption of 180 average Singapore households.
Renowned veteran wildlife consultant and nature guide Subaraj Rajathurai has been an environmental activist and instrumental force in preserving several of Singapore's ecosystems: Sungei Buloh, a mangrove forest in northwest Singapore slated for redevelopment, and 300 acres of forest at Lower Peirce Reservoir. Campaigning relentlessly for the last 35 years, Raiathurai is an ardent proponent for blending urban landscapes with the preservation of hidden ecosystems.
And green spaces are everywhere. With four nature reserves and more than 1.3 million trees growing in the island city-state, Singapore rightfully earned the nickname of City in a Garden. It is estimated nearly 50 percent of Singapore is laced with greenery.
CHECKING IN WITH SUBARAJ RAJATHURAI
Naturalist and wildlife consultant
With comments from Singapore Tourism
What makes Singapore a great destination for business travelers?
RAIATHURAI: In Singapore you can get from a 5-star hotel to a rainforest in 20 minutes. Since many consider Singapore the gateway to Asia, it is as much a gateway for nature.
What's new in terms of development and foreign investment?
RAIATHURAI: There are a few developments in the works including the new Mandai nature district that will have the bird park and a new rainforest safari join the existing zoo, night safari and river safari at Mandai. On the conservation and eco-tourism end, Pulau Ubin has been set aside as it is and being enhanced and preserved for its iconic pillars of nature, culture, history, adventure and education aspects.
Why is Singapore going green?
RAIATHURAI: Singapore has always realized, starting with Mr. Lee Kuan Yew, constant urbanization will impact our daily lives. Starting with tree planting back in the 1970s, the creation of parks and green connectors and the preservation of worthwhile nature areas important for biodiversity represent ways to keep the delicate balance between development and conservation. Singapore is, after all, a City in a Garden. More than that, as a developed nation, we have a global responsibility to retain and protect biodiversity.
Why is Singapore thriving?
RAIATHURAI: There are many, many reasons, including keeping in touch with the rest of the region and world as well as ensuring partnerships regionally and globally.
SINGAPORE TOURISM: Singapore continues to thrive thanks to our ability to constantly innovate beyond our constraints, making the city-state increasingly important on the global stage. Overall functional strengths like commitment to safety and world-class infrastructure are equally matched by a unique and ever-growing foodie culture, diverse cultural offerings and the never-settling spirit and resilience of those who call Singapore home.
What's on the horizon?
RAIATHURAI: New attractions, better infrastructure and more success!
SINGAPORE TOURISM: As a global retail city, popular MICE destination and palate-stimulating paradise for foodies, Singapore is constantly evolving to offer even more experiences to travelers who visit from across the globe. In 2017 alone, new attractions including AJ Hackett Sentosa, Changi Airport's Terminal 4, Dover Street Market and the Ethnobotany Garden at the Singapore Botanic Gardens brought new life and experiences to the city-state. New attractions, restaurants, hotels, business innovations and more success are constantly on the horizon in Singapore, and the same will ring true in 2018.
Why do people travel to Singapore?
RAIATHURAI: Singapore is a small nation that has much to offer in terms of a safe environment. It is the gateway to Asia in more ways than one, including nature. It is a great place to have a holiday and do business. Business travelers consider it a safe place with a stable economy, excellent infrastructure and transportation.
Things to Do in Singapore
Don't miss The National Orchid Garden, the largest tropical orchid garden in the world. It is one of several gardens within Singapore Botanic Gardens. Situated at the fringe of Singapore's Orchard Road shopping district, the tropical gardens were designated as a UNESCO World Heritage site in 2016, the country's first.
The Singapore government designed and built Gardens by the Bay to transform Singapore from a Garden City to a City in a Garden. It's part of the government's strategy in recognizing quality of life is enhanced by blooms and greenery. The gardens are essentially an urban jungle based in Marina Bay. The most iconic landmark is The Supertree Grove, with 18 supertrees supporting a panoramic aerial walkway. The Flower Dome is the largest greenhouse in the world and showcases numerous types of plants and flowers grouped by country, while the Cloud Forest features the world's tallest indoor waterfall.
Dedicated to sustainability, Changi International Airport offers more than a transit hub. The Terminal 1 Cactus Garden, a rooftop garden with a bar, features more than 100 species of cacti and arid plants from the deserts and dry areas of Asia, Africa and America. The Water Lily Garden features its namesake in a natural aquatic garden environment. Terminal 2 boasts more than 700 orchids of 30 species in the Orchid Garden, grouped by colors and shapes, representing the four elements of nature. The outdoor Sunflower Garden features several sunflower varieties grown in Changi Airport's nursery. At night, special lighting transforms the rooftop haven. In Terminal 3, visit the world's first airport Butterfly Garden, designed as a tropical butterfly habitat with flowering plants, lush greenery and a grotto-waterfall. The garden hosts more than 1,000 tropical butterflies from as many as 40 species during different seasons of the year.
On Marina Bay, Merlion Park hosts Singapore's iconic Merlion statue. The head of a lion with the body and tail of a fish, the mythical beast spouts water into the bay. The park's panoramic view of the bay is a crowd favorite, even more so at night.
Opened in 1994 next to the Singapore Zoo, the Singapore Night Safari is the world's first safari park for nocturnal animals. Managed by Wildlife Reserves Singapore, this world-class attraction is dedicated to conservation, rescue and research to help improve the lives of animals in captivity and the wild. The safari provides an unusual glimpse into the nocturnal animal kingdom and is home to more than 2,500 animals representing more than 130 species. Walking trails and trams connect eight geographical regions.
Singapore Info to Go
Singapore has two commercial airports: the world-class Changi (SIN), where most international flights arrive, and Senai International Airport (JHB), servicing international and domestic flights from Senai, Malaysia, about 38 miles from Singapore. Changi Airport lies about 12 miles from the center of Singapore and is consistently voted one of the best airports in the world. Also one of the busiest and bestconnected, Changi serves more than 100 airlines flying to 380 cities in 90 countries and territories. The train station is accessible by foot from Changi's Terminal 2 or Terminal 3. To get to the city, transfer to the westbound train at Tanah Merah station. Taxis are available at taxi stands at the arrival levels of each terminal. A ride to the city takes about 30 minutes and costs $20–40. Fares are metered; expect an additional airport surcharge.
COMING AND GOING
U.S. citizens must possess a passport valid for at least six months beyond entry to Singapore. A visa is required for stays of 90 days or longer.
OFFICIAL LANGUAGE
The national language is Malay but Tamil, Mandarin and English are also spoken.
Where to Stay in Singapore
ANDAZ SINGAPORE The recently opened Andaz is strategically located near Marina Bay at the crossroads of the Kampong Glam, Little India and Bras Basah Bugis cultural districts. 5 Fraser St. $$$$
FOUR SEASONS HOTEL SINGAPORE Less than half a mile from nearby Orchard Road, this 5-star hotel combines timeless luxury with modern conveniences. The Botanic Gardens, luxury boutiques and gourmet restaurants all lie within walking distance. 190 Orchard Blvd. $$$$
SHANGRI-LA HOTEL SINGAPORE Located less than a mile from nearby Singapore Botanic Gardens, Shangri-La Hotel offers a 5-star oasis set amid 15 acres of lush greenery and is consistently voted as one of the best hotels in the world. 22 Orange Grove Road $$$$
Restaurants in Singapore
ALMA BY JUAN AMADOR Enjoy European cuisine with an Asian twist at this Michelin-rated restaurant helmed by one of the world's best: Chef Juan Amador, a German of Spanish descent. Goodwood Park Hotel, 22 Scotts Road $$$$
CANDLENUT As the world's first Michelin-starred Peranakan restaurant, Candlenut serves refined Peranakan cuisine — a mix of Chinese, Malay and other influences — in a casually elegant setting. Singapore's oldest fusion cuisine is considered by many its finest. 17A Dempsey Road $$$$
COLONY Enjoy an acclaimed international buffet in a British colonial setting. Eight different conservatory kitchens incorporate live cooking, offering Singapore heritage cuisine: Singaporean, Chinese, Japanese, Indian, seafood, European, Malaysian and Indonesian dishes. Vegetarian-friendly. The Ritz-Carlton, Millenia Singapore, 7 Raffles Ave. $$$$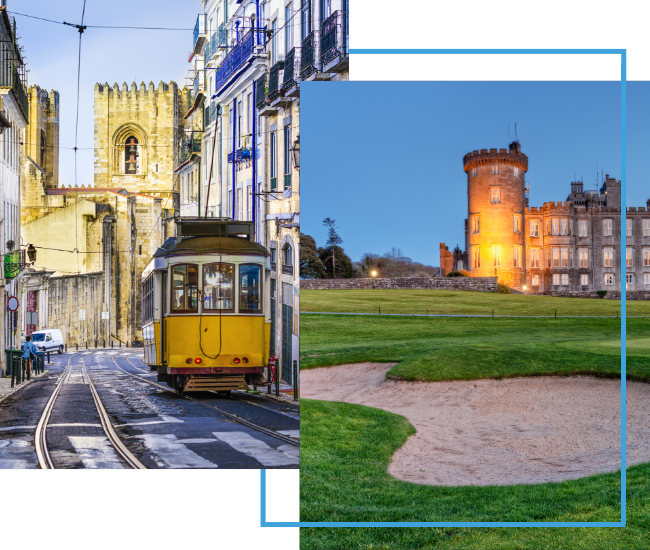 FX Excursions
FX Excursions offers the chance for once-in-a-lifetime experiences in destinations around the world.
Explore Excursions
Imagine yourself lounging in a stone cottage suite with a fireplace and freestanding tub, sipping hot chocolate in a rustic game and reading room with a raftered ceiling, and ice skating and cross-country skiing in the crisp mountain air. Sounds pretty perfect, doesn't it? Especially when you add in seasonal touches.
Sponsored Content
The Islands of Tahiti offer a range of captivating activities for travelers with diverse interests, from hiking to breathtaking waterfalls, riding horses on secluded beaches; swimming with sharks; or immersing in Polynesian culture through traditional dance, music and art. For watersports enthusiasts, the crystal-clear lagoons offer exhilarating experiences like surfing, kiteboarding and paddleboarding. And if you're looking to relax, the pristine beaches, overwater bungalows and tropical sun offer the perfect setting. With 118 islands and atolls to explore, island hopping is an excellent way to experience the full diversity of The Islands of Tahiti. With its blend of adventure, culture and relaxation, The Islands of Tahiti offer a truly unique travel experience.
For the first time in Olympic history, when the 2024 Summer Olympics kick off on July 26, 2024, they will not do so in a stadium. Instead of an Olympic venue, the entire city of Paris will become the Olympic stadium, hosting the games among monuments, on bridges and on the grounds of some of the world's most historic sites. The Opening Ceremony will take place on the River Seine, where athletes will drift along on a flotilla of boats as spectators wave them on from the quays and bridges throughout the city.