Name: Pablo Chiozza
Title: Vice president, USA, Canada and Caribbean
Company, city: LATAM Airlines Group; Miami, Fla.
Number of employees: 1,654 in the United States; 54,000 worldwide
Recent project: Overseeing the merger of LAN and TAM airlines in the United States, Canada and the Caribbean and managing the synergies resulting from the merger
First job: I worked in the strategy department of BankBoston in Argentina.
Little-known fact about you: I have four wallets in my travel backpack: one for Europe, one for my home country of Argentina, one for the rest of South America and my day-to-day U.S. wallet. I often combine business and personal travel, so I may use more than one wallet in one trip.
Your Business
Essential business philosophy: It is a bit cliché, but I really believe in "Work hard. Play hard."
Best way to keep a competitive edge: Flexibility and relevancy. If you are agile enough to evolve with the demands of your industry and the needs of your clients to stay relevant, you are already one step ahead of the competition.
Yardstick of success: Develop and mold a team that can hold down the fort with or without you. As a manager of more than 1,500 people, that is my true yardstick of success.
Pablo Chiozza as a Traveler
What is the most important item you take when traveling? I never leave home without my Bose headphones, my North Face fleece, a scarf, socks and a Tumi eye mask.
How do you spend your time on board? For business travel, my routine consists of getting rest. Before takeoff, I read the in-flight menus and flip through the in-flight magazine. As soon as we take off, I put on my headphones, fleece, scarf, socks and eye mask — and it is lights out. When traveling for leisure, I enjoy the in-flight service more and download movies and TV shows to my iPad.
What is your favorite restaurant in the world? Pepino in Buenos Aires serves the best hamburger in the world. No one can beat my father's asado (barbecue). If he had a restaurant, it would be my favorite.
What is your favorite destination in the world? I am a proud porteño from Buenos Aires. People say Buenos Aires is the Paris of South America; I say it is even better.
About LATAM Airlines Group
What upcoming changes can travelers expect from LAN and TAM in 2014? Travelers can expect a more consolidated and seamless experience from start to finish, as well as fleet, onboard service and loyalty program changes. TAM will withdraw from Star Alliance and join oneworld March 31. We begin receiving our new Airbus A350 fleet in 2015.
We are well positioned to serve those attending the 2014 World Cup in Brazil. TAM offers the best connections inside Brazil, and we fly to all 12 of the World Cup venue destinations. Between June and July, Brazil expects 3.7 million visitors, nearly 80 percent domestic; Brazil's domestic passenger market represents 34 percent of LATAM's total capacity.
What makes your new Boeing 787 Premium Business class unique? The South America experience begins the minute you step on board, with an award-winning wine list handpicked by South America's only master sommelier, Hector Vergara, and a menu of cuisine infused with flavors from the region by Head Chef Hugo Pantano.
Premium Business on the 787-8 features a 2-2-2 layout with 30 fully flat, 180-degree seats with a 75-inch pitch and a 23-inch width. I would be lying if I said that as an executive in the industry for more than 10 years flying hasn't lost its glamour. The Dreamliner brings back the magical awe many of us felt when we were first introduced to flying.
What does the route network of the newly merged LAN and TAM offer U.S. travelers? LATAM Airlines Group flies to more than 40 destinations in Brazil and 76 in the rest of South America. Our daily flights from JFK to Rio de Janeiro on brand-new Boeing 767-300 aircraft feature fully flat seats; daily service from JFK to São Paulo on new Boeing 777-300s feature Brazil-inspired interiors designed by Priestmangoode. Our new TAM route from Miami to Belém began operation in February.
We offer non-stop and connecting service to every major city in South America from the United States from New York, Los Angeles, Miami, San Francisco and Orlando in addition to more than 50 North American cities through our airline partners. We connect South America to the world — and we do it better than anyone else.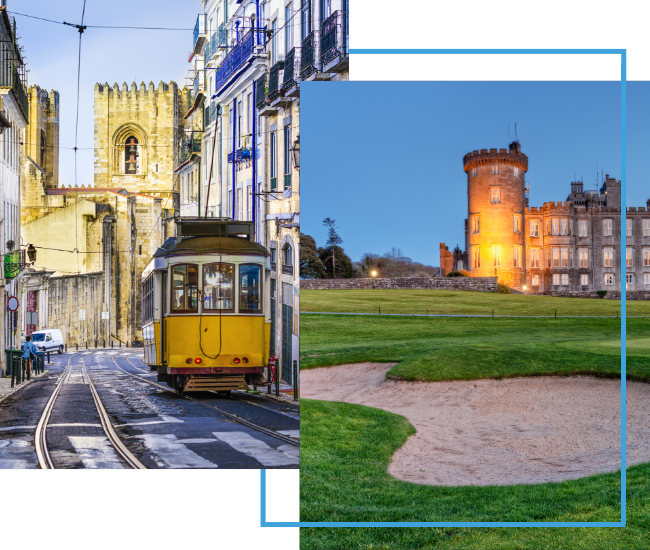 FX Excursions
FX Excursions offers the chance for once-in-a-lifetime experiences in destinations around the world.
Explore Excursions
Less than five years ago the world's first hybrid cruise ship, Hurtigruten Expeditions' MS Roald Amundsen, set sail for Antarctica in November 2019 with 450 passengers. The battery-hybrid-powered ship, named for the first man to cross the continent and reach the South Pole, was built specifically for voyages in polar waters. Its battery-hybrid power reduces the ship's consumption and CO2 emissions by 20 percent compared to equally sized ships.
Sponsored Content
One affordable plan can protect an entire year of trips: business or pleasure, short or long, domestic or international.
A few months ago, I flew Polaris business class on a United flight from Dulles (IAD) to Paris (CDG). It was only when I got to my hotel in Paris I realized that I didn't have my iPad or its bag or accessories. Since I had been working on it in the restaurant in the Polaris lounge and then went directly to the gate, I knew I either left it propped up on my table when I packed up or in my business-class seat. But what was the best method to alert the airline about my careless mishap and (hopefully) retrieve it? With spotty data and WiFi, searching for information on my phone was frustrating and slow. Here's what I learned from the anxiety-inducing experience (and unexpected ending) about what to do if you leave something behind on your flight: