ARRIVAL/CHECK-IN: In town for an event, my overnight stay at Hard Rock Hotel New York came on the heels of the hotel's spring 2022 opening. You can sense the buzz of excitement at the hotel, which could be attributed to its newness; to its Times Square location; to its musical roots; and to its abundance of memorabilia at every turn, always offering visitors something new and unique to stop and take in. Unfortunately, my visit in the Big Apple was busy, so I didn't have as much time as I would have liked to pause and ogle all that was on display — a great excuse to plan a return visit — but I was pleased to see New York City seemed to once again be humming post-pandemic. Upon my late-afternoon arrival, I was pleasantly surprised to learn I'd been upgraded to a suite. After a quick check-in, it was into the elevator and up to my suite. I had to quickly get ready for that evening's reception, but I couldn't miss the opportunity to first explore my generously sized guestroom. Music greeted me, playing from the TV, as soon as I entered the room.
GUEST QUARTERS: Hotel room space is usually at a premium, especially in New York City, but my suite at Hard Rock Hotel New York defied the norm. Upon entry I found myself in a small foyer with a half bathroom to the right. A short hallway, with a minibar area to the right, led into the dining/living area. A large dining table with a wraparound, attached bench and several chairs could seat eight comfortably. This room led into the living area, with a sleeper sofa across from a mounted flat-screen TV and a corner of floor-to-ceiling windows boasting views of the lights and bustle of Times Square.
The bedroom felt huge, with a king-sized bed flanked by two nightstands, another large flat-screen TV, a closet and another wall of floor-to-ceiling windows. The full bathroom, off the bedroom, was stunning with white marble and gold accents. The newness of the hotel really shone through here, and I yearned for more time at the hotel to soak in the gorgeous stand-alone tub. A separate water closet, an ample shower with rainfall showerhead, two sinks and a spacious vanity completed the space.
SERVICES/AMENITIES: My colleagues and I enjoyed breakfast at on-site Sessions Restaurant, just off the lobby. We opted to eat outside on the terrace, but, inside, diners enjoy meals surrounded by art and music memorabilia. Sessions also serves lunch and light bites. Unfortunately, RT60 Rooftop Bar & Lounge was closed for a private event the night of my stay, so I did not have the chance to check it out. It offers two outdoor terraces with city views alongside a menu of cocktails and appetizers. NYY Steak, with a signature wall boasting autographs from 86 iconic Yankees players, screams New York, serving lunch and dinner daily. Constant Grind, open daily 7 a.m.–7 p.m., and in-room dining round out the property's culinary offerings.
At a Hard Rock hotel, music is, of course, a way of life, and the amenities match. Guests can listen to tunes on a Crosley record player with Wax, listen to music with Tracks' playlists, request a Fender guitar in their room and more. In-room Rock Om sessions combine yoga and music, with Manduka yoga mats offered. Body Rock features Technogym equipment. Various meeting and event spaces await to host any type of function.
TOP TAKEAWAYS:
Hard Rock Hotel New York is dog- friendly, and the hotel offers pet amenities like sWAG bags and velvet memory foam beds.
At the on-site Rock Shop, travelers can peruse clothing, accessories and music- inspired items.
Thanks to my suite upgrade, a colleague was able to also stay overnight rather than head back to Pennsylvania after the late-night event. She slept on the sleeper sofa in the living room and used the half bathroom, and it was basically like we had our own guestrooms.
HARD ROCK HOTEL NEW YORK
159W.48thSt.
New York, NY 10036
tel 212 970 1200
hardrockhotels.com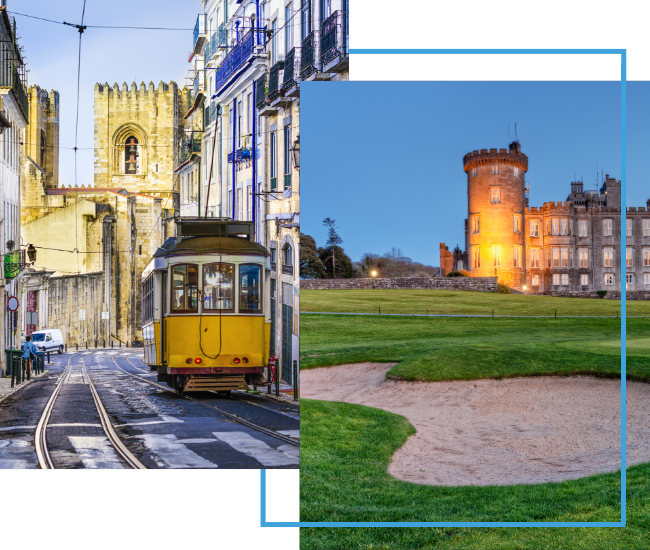 FX Excursions
FX Excursions offers the chance for once-in-a-lifetime experiences in destinations around the world.
Explore Excursions
Pleasant weather, autumn foliage and vibrant flowers are among the many delights awaiting nature lovers at botanical gardens and arboretums across the United States. However, some of these green spaces take on additional color this month and through Halloween when enterprising gardeners, landscape architects, management and other creative minds cast a spell with themed environments running the gamut from spooky to utterly bewitching.
Sponsored Content
Are you looking to enhance your business trip with a little leisure? Look no further than Portugal, a country renowned for its captivating blend of history, culture and natural beauty. And with TAP Air Portugal, you can effortlessly transform your business trip into an unforgettable bleisure adventure. Discover why Portugal and TAP Air Portugal are the perfect combination for an enriching and rejuvenating experience.
For travelers who love all things autumn, Crystal Springs Resort, New York City's closest destination resort, features special offers and experiences to meet the demands of everyone's fall bucket list. Located only 80 minutes outside New York City in Sussex County, New Jersey, Crystal Springs Resort offers a quick getaway to enjoy fall foliage. Are any of these new offers or experiences on your bucket list?