Arrival/Check-In: I arrived at Sagamore Hotel at around 11 p.m. After a day of work, a flight to Miami, the rental car process and a drive from the airport, I was thrilled to experience a seamless and quick check-in process. Upon my arrival, staff greeted me outside the property and directed me to the front desk. As I entered the lobby, I immediately felt more relaxed in the quiet and calm atmosphere. The friendly receptionist checked me in within three minutes. A hotel employee carried my luggage and escorted me to my room. Before leaving, he provided a thorough tour of the room, which I appreciated.
Guest Quarters: My oceanfront suite was ideal, being one of the most spacious rooms I have ever stayed in. My first reaction was to open the curtains and take in the view. The balcony overlooked the ocean and beach, which sat right behind the gorgeous pool area, a wonderful place to enjoy a morning cup of coffee. The bedroom was separate from the living room area, which included a full-sized sofa bed, a plasma TV, a kitchenette area and a large desk with easy-to-access plugs and working space. Two white glass doors opened to the bedroom, which featured a luxurious and comfortable king-sized bed, two end tables and an additional plasma TV. The room had a crisp, clean feeling, primarily decorated in white and neutral colors. On the opposite side of the bedroom was the entrance to the bathroom. I appreciated the spacious bathtub, which featured whirlpool jets and a shower.
Services/Amenities: The property's spa, situated on an upper floor, offers an amazing view of the ocean. The spa includes outdoor and indoor space to accommodate the high-heat season in Miami. The gym is located right outside the back of the hotel near the pool area. Although small, it is well-equipped. For those who prefer to exercise outside, like me, there is easy access through the pool gate to a path running along the beach — ideal for an early-morning run or walk. I enjoyed breakfast from the in-room dining menu as well as in the Gallery Dining Room restaurant.
The Experience: I had a wonderful stay at the Sagamore. Also known as The Art Hotel, the property displays art throughout, which I appreciated. The white walls are lined with beautiful paintings and some of the greatest photographs I've ever seen. In addition, you'll find sculptures as well as artistic videos projected on the walls. There's even a standard gray staircase transformed with each step beautifully painted by a different student from the New World School of Arts. It's not surprising the property is family-owned, as it exudes a different atmosphere from your standard hotel and has a lot of character. I had no complaints during my stay at the Sagamore, and I hope to return again.
GT CHECKLIST
[checklist]
[item check=yes]Doorman/valet[/item]
[item check=yes]Less than 10 minutes for check-in[/item]
[item]Separate tub and shower[/item]
[item check=yes]Large vanity[/item]
[item check=yes]High-quality towels[/item]
[item check=yes]Powerful, unattached hair dryer[/item]
[item check=yes]High-quality bed linens[/item]
[item check=yes]Large, flat-screen television[/item]
[item check=yes]Large desk with convenient outlets[/item]
[item check=yes]Large, complimentary laptop safe[/item]
[item check=yes]Complimentary in-room WiFi[/item]
[item check=yes]Complimentary bottled water[/item]
[item check=yes]Stocked minibar[/item]
[item check=yes]Ample lighting[/item]
[item check=yes]In-room coffeemaker[/item]
[item check=yes]Iron and ironing board[/item]
[item check=yes]On-site restaurant[/item]
[item check=yes]24-hour room service[/item]
[item check=yes]24-hour state-of-the-art fitness center[/item]
[item check=yes]Turn-down service[/item]
[/checklist]
Sagamore Hotel
1671 Collins Ave.
Miami Beach, FL 33139
tel 305 535 8088
sagamorehotel.com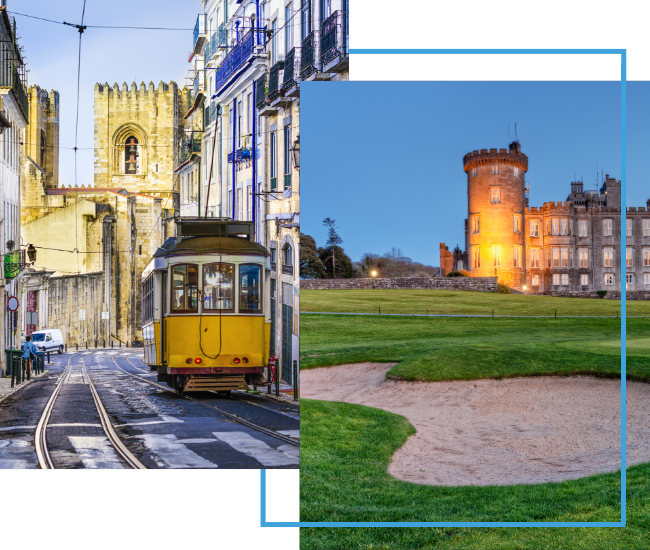 FX Excursions
FX Excursions offers the chance for once-in-a-lifetime experiences in destinations around the world.
Explore Excursions
Did the new film Oppenheimer rouse your interest in the nefarious world of international espionage? You can go straight to the real-life setting for covert actions this November (Nov. 10–12), when La Fonda on the Plaza in Santa Fe hosts a specially themed "Spies, Lies and Nukes" weekend. The hotel actually served as the retreat location for Manhattan Project scientists, who stayed at La Fonda on the Plaza to take a break from the stress of their work. During the weekend, the property's La Fiesta Lounge will make a tasty nod to those days by serving up a special Atomic Martini.
Sponsored Content
Are you looking to enhance your business trip with a little leisure? Look no further than Portugal, a country renowned for its captivating blend of history, culture and natural beauty. And with TAP Air Portugal, you can effortlessly transform your business trip into an unforgettable bleisure adventure. Discover why Portugal and TAP Air Portugal are the perfect combination for an enriching and rejuvenating experience.
Ever want handcrafted martinis and freshly shucked oysters delivered straight to your room? The Read House's New Martinis & Pearls service has you covered. Shining in 1920s-themed decor, the historic hotel in the heart of Chattanooga offers a true Gatsby-esque experience, now further elevated with this upscale amenity. Guests can now indulge in their perfectly chilled martini, made to order, and "pearls" (oysters) in the comfort of their room.