THE BASICS
Name: Andrew Yiu
Title: Vice president, Product
Company, city: Air Canada; Toronto, Ontario
First job: Customer service agent at Northwest Airlines in Vancouver, British Columbia
Where to next: Anywhere in Asia
A LITTLE BIT MORE
What actor or actress would play you in a movie of your life?
Jackie Chan — a great combination of sense of humor and talent What would you be doing professionally if you weren't in your current industry? In the hotel or cruise industry, leading product and marketing
What is your favorite book, movie or television show?
The Amazing Race; I love how the show travels around the world, and it's always great to see relatable airport and airplane scenes.
What historical figure, dead or alive, would you love to have dinner with?
The Wright brothers
THE BUSINESS
What is your most recent project, and what was the inspiration behind it?
COVID helped us think about what's important to customers, and our CleanCare+ Program grew from it. We were the first airline to implement such a program and the mandatory requirement of wearing masks on board. Safety will always be our top priority, so it was important for Air Canada to develop a program that gives our customers and employees confidence in a safe and secure travel environment. As we emerge from this pandemic, we are restarting many aspects of our products and services, and I think the CleanCare+ Program is one change that will stay with us.
What is your favorite aspect of the job?
Working with a dedicated team focused on designing innovative products for our customers; it's rewarding to see a product go live and be well-received by customers and employees. What's the biggest business risk you've ever taken? In 2016 the planning began to create an exclusive product for customers paying full fare for premium cabins. As a result, in 2017 we launched the Air Canada Signature Suite for our premium customers at Toronto and Vancouver, effectively opening a full-service restaurant within an airport environment. We did not have anyone on the team with restaurant startup experience, let alone within an airport and all its constraints. I cannot stress enough how well the team came together, and we pulled it off! It was well worth the risk.
Who is someone you admire professionally in the travel industry?
Someone I admire professionally and worked well with is Ben Smith, CEO, Air France- KLM. Ben was my mentor; he is a walking encyclopedia of aviation and someone who cares deeply about the customer experience in every business decision.
AS A TRAVELER
Tell us about a travel nightmare: I was stuck in Japan a few years ago as the worst typhoon in almost 50 years struck Tokyo over Thanksgiving. It was unclear when we would get out with everything shut down and devastation around the country. I looked at connecting via China or Europe, but everything was booked for days. Tokyo is one of my favorite cities, so I didn't mind having some extra time there.
Share a comical travel experience: I've always been an aviation fanatic. Prior to joining the airline industry, friends and I used to fly to earn frequent-flyer miles, known as mileage runs. One of the best was a Toronto–Chicago–San Francisco–Hong Kong– Singapore–Hong Kong routing. When the check-in agent in Toronto asked if there was a mistake since our final destination was Hong Kong, we convinced her we did not mind flying to Singapore and back right away!
What is your preferred method of travel — planes, trains, automobiles, cruise ships — and why? I love to fly, especially ultra-long-haul flights where you can have a good meal and catch up on work and movies with just enough time to squeeze in a nap!
What has been the best example of customer service you've experienced during your travels?
I get to witness many examples of great customer service when I fly as a customer on Air Canada! In other industries, when a hotel proactively goes the extra mile to take care of my family, I appreciate those moments. W Hong Kong comes to mind. My wife and I traveled there for one of our anniversaries, and [ever] since, they've remembered us. If our trip coincides with our anniversary, they remember and put something special in our room. Sometimes it's the little things that matter the most.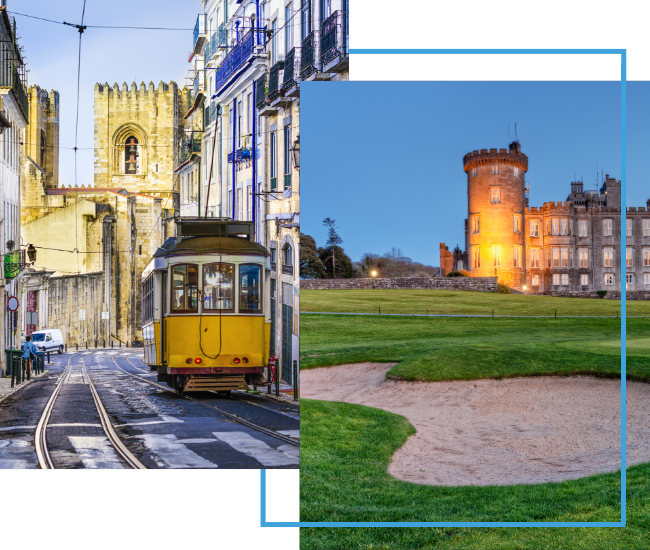 FX Excursions
FX Excursions offers the chance for once-in-a-lifetime experiences in destinations around the world.
Explore Excursions
Pleasant weather, autumn foliage and vibrant flowers are among the many delights awaiting nature lovers at botanical gardens and arboretums across the United States. However, some of these green spaces take on additional color this month and through Halloween when enterprising gardeners, landscape architects, management and other creative minds cast a spell with themed environments running the gamut from spooky to utterly bewitching.
Sponsored Content
The Global Business Travel Association (GBTA) believes business travel is a fundamental force for good and brings the industry together to connect, innovate and set new standards. With members from across the globe, GBTA engages the many voices of business travel to build a collective future, providing a platform for buyers and suppliers to come together, connect with peers, grow their network and shape the future of the industry.
For travelers who love all things autumn, Crystal Springs Resort, New York City's closest destination resort, features special offers and experiences to meet the demands of everyone's fall bucket list. Located only 80 minutes outside New York City in Sussex County, New Jersey, Crystal Springs Resort offers a quick getaway to enjoy fall foliage. Are any of these new offers or experiences on your bucket list?