No roads lead to Churchill. Freight trains haul loads of grain to boats at the Hudson Bay dock on the edge of town, Canada's only Arctic seaport. But the road ends at Thompson, 250 miles away, and travelers can arrive only by train or plane. Unsteady tracks restrict locomotive speed to 15–20 mph, so the VIA Rail trip from Winnipeg, 1,000 miles south, takes about 46 hours, and only local puddle jumpers Calm Air and Kivillaq fly in from the likes of Winnipeg, Calgary and Thompson. Yet for six weeks every year, tourists flock to this remote outpost in northern Manitoba because it is one of the only places on Earth to watch polar bears in the wild.
"The Lords of the Arctic," unlike humans, do not observe the daily regimen of three meals a day. Polar bears gorge from November to June, surviving on seals which they stalk on ice all winter until they retreat inland and lower their metabolism to subsist through the summer months on the fat they've consumed. Hungry again by mid-October, they assemble back at water's edge, waiting for the bay to refreeze. It's during this vigil that they serve as an internationally acclaimed tourist attraction.
Churchill owes its ultra bear appeal to a unique geographical situation: The town is located on a promontory which traps water from nearby lakes and the Churchill River at the point where they empty into the bay. Since fresh water freezes sooner than salt water, ice forms here first. Instinct leads the bears to this early hunting ground, with spectators in close pursuit. Concerned that the bears' numbers are dwindling, people around the world are booking excursions up to two years in advance, scrambling to secure transport to Churchill, accommodations and — above all — a seat on one of the essential tundra buggy vehicles.
Originally concocted by a local resident who patched together a gravel truck, snowplow and crop sprayer, these unwieldy boxcars elevated 10–12 feet high on mammoth all-terrain tires are designed exclusively to bounce and jounce over the rocks and pit pools of the rutted taiga and tundra terrain. Only 18 of them exist, and only two companies are licensed to operate them, offering day-long safari-like excursions ($300 per person) in search of migrating bears.
Despite travel agent admonitions that we should have planned months ahead, in late September we managed to book a last-minute trip and flew to Winnipeg to board the Northern Express train which wends west into Saskatchewan before forging north to Churchill. Although inching along with frequent stops, the train was comfortable, providing sleeper compartments and berths fitted out with crisp, white sheets, a dining car with three-course meals and an observation club car with bar service and a glass dome view of the retreating track.
Two days later and only five hours late, the train pulled into the picturesque Victorian depot of the "Polar Bear Capital of the World." We retrieved our bags, spent a few minutes perusing informative exhibits on local lore and fauna at the station's Parks Canada Interpretive Center, then taxied our luggage two blocks to one of the city's glorified motels. The Bear Country Inn was perfectly satisfactory with a view past the tank cars out toward the bay. Free WiFi service in the lobby was welcome, since cell phone service was nonexistent.
Although it describes itself as a quaint little town, the frontier outpost of about a thousand locals is a bleak two-by-nine-street grid of prefab houses and shacks; a few stores, restaurants and trading posts line Kelsey, the one main street, running perpendicular from the water's edge. Street signs warning "Polar Bear Alert" and "Never Approach a Polar Bear" make it clear that hungry creatures are known to stray into town. After a few serious incidents in the 1960s, residents began to lock up both garbage and occasionally troublesome bears, who are tranquilized and detained in the "bear jail" out near the airport until the ice freezes and they can be released. Since Halloween occurs in the height of bear season, trick-or-treating is pretty much out of the question.
Meanwhile, visitors are cautioned to leave cars unlocked (so anyone being pursued can jump in) and advised of the hotline, 657-BEAR. Stepping out cautiously to explore, we purchased inevitable "bear minimum" T-shirts, but resisted taking home "bear claw" salad tongs, "bearly there" skivvies, "bear-back" backpacks and cocktail glasses for when "you can't bear to be thirsty" stocked at several accommodating souvenir shops. After devouring musk-ox sirloin and Arctic char in mushroom sauce for dinner, we settled into bed to the sound of the howling wind.
Promptly at 7:30 the next morning Lionel from Tundra Buggy tours collected us and two dozen other sightseers from Italy, Germany, Australia and the United Kingdom, all lugging multiple cameras, binoculars and other gear. At the launching area 10 miles out of town we transferred into Tundra Buggy No. 2. Propelled partly by the 40 mph winds, we lurched off across the Cape Churchill Wildlife Management Area on remnants of "roads" left behind by the Canadian Space Agency when the area was a rocket research range.
Versed by now in polar bear lore, we knew the weather conditions of the day would forestall much animal activity. Running low on fat, the bears can't squander their residual energy, and we didn't expect to see them moving around. Sure enough, the first two creatures we came across were hunkered low on the sheltered south side of scraggly patches of willows, avoiding the chill of the freezing north wind. Not pure white, but a kind of buttermilk shade, they blended into the rocky environment, causing several subsequent false-alarm sightings of "polar bear" rocks. Eventually we came across a thin male nestled into a scrap heap of kelp which he readjusted restlessly. Finally, our fourth bear actually put on a show, shifting positions, stretching in the yoga warrior position and eventually lumbering right past our buggy to settle into a grove of willows.
Unable to pursue animals in the cumbersome vehicles, our guides parked in optimal viewing positions and then stayed put so we could crowd around the fog-free windows or go outside onto the buggy's observation deck — beyond the bears' 10-foot reach — to study their behavior. The bears did little more than stretch their long, powerful necks and continually open and close their eyes. At the top of the food chain, they have nothing to fear and are somehow adorable — giant beasts with tiny tails and ears minimized to conserve heat. Lionel warned us that as far as the bears were concerned, we passengers were "meals on wheels," but it was all we could do not to jump out and hug them.
While we were monitoring the routine of bear No. 4, Lionel brought out a canteen of soup, followed by chicken sandwiches, soda and chocolate chip cookies, each course served separately to prolong the experience. Huddled around the propane heater at the back of the buggy, we tried to keep our toes and fingers warm, happy we'd dressed in all the recommended layers and dreading having to peel through them to use the "honey bucket" facilities on board.
In addition to bears, we came across a termagant, a triplet of gulls and a gigantic Arctic hare foraging somewhat fruitlessly at dry brush and twigs. Camouflaged snow-white, the big rabbits are black only at the tips of the long ears they fold down, giving the appearance of a pair of watchful eyes to scare off stalkers who might be creeping up from behind. Other tourists who'd gone out in calmer weather reported seeing snowy owls, Arctic foxes and up to a dozen bears per day.
Remote as Churchill is, it makes sense that wildlife is its main attraction. At other times of year the region lures tourists for bird watching, kayaking, hiking, dog sledding, observing the northern lights and snorkeling with beluga whales. But polar bears
are the big show, and we flew home with a new appreciation for the preeminent creatures of lower Hudson Bay.
---
Info To Go
While we booked our own transportation, lodging and excursion, it is simpler to contact one of the specialized outfitters. Packages including round-trip airfare from Winnipeg (YWG), an overnight in Churchill and two days on the tundra buggy start at about $1,990 from Frontiers North Adventures/The Tundra Buggy Adventure (tel 204 949 2050). Visit www.travelmanitoba.com.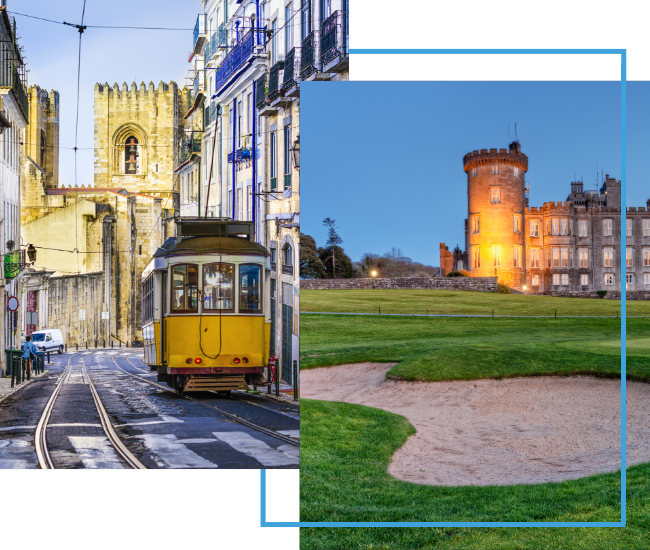 FX Excursions
FX Excursions offers the chance for once-in-a-lifetime experiences in destinations around the world.
Explore Excursions
Less than five years ago the world's first hybrid cruise ship, Hurtigruten Expeditions' MS Roald Amundsen, set sail for Antarctica in November 2019 with 450 passengers. The battery-hybrid-powered ship, named for the first man to cross the continent and reach the South Pole, was built specifically for voyages in polar waters. Its battery-hybrid power reduces the ship's consumption and CO2 emissions by 20 percent compared to equally sized ships.
Sponsored Content
Whether it's the people, the craic (fun) or the coasts, travelers always find something to love about the island of Ireland. What fills your heart?
A few months ago, I flew Polaris business class on a United flight from Dulles (IAD) to Paris (CDG). It was only when I got to my hotel in Paris I realized that I didn't have my iPad or its bag or accessories. Since I had been working on it in the restaurant in the Polaris lounge and then went directly to the gate, I knew I either left it propped up on my table when I packed up or in my business-class seat. But what was the best method to alert the airline about my careless mishap and (hopefully) retrieve it? With spotty data and WiFi, searching for information on my phone was frustrating and slow. Here's what I learned from the anxiety-inducing experience (and unexpected ending) about what to do if you leave something behind on your flight: