Lying on your stomach, experienced hands working your back, birds flying overhead and sea breezes keeping you cool, you look over at your spouse, or partner or friend and smile a relaxed smile. Surely, you will be rewarded in kind.
Welcome to the luxurious new spa at Reid's Palace, the very British resort on the Portuguese island of Madeira, 300 miles off the coast of Africa.
The resort was founded by William Reid, who stepped ashore on this rugged island in 1836 at age 14, a ship's cabin boy who later made his fortune in Madeira's flourishing fortified wine trade.
For the site of his luxury hotel, Reid chose a rocky cliff just west of Funchal, Madeira's main city, where most of the island's 250,000 residents live today. Reid died before his creation was complete; his sons opened the property in 1891.
Early visitors to Reid's Hotel included Empress Elizabeth I of Austria and writer George Bernard Shaw. More royalty, political leaders and celebrities would follow. John Huston and Gregory Peck made the hotel their base during the filming of "Moby Dick." Cuban dictator General Fulgencio Batista took up residence here after his defeat by Fidel Castro in 1959. But most famously, while working on his war memoirs and pursuing his hobby of painting, Winston Churchill occupied rooms on the ground floor of the hotel. Today those rooms comprise the Churchill suite.
A recent renovation meticulously retained the hotel's classic appeal – this is a place where people dress for dinner and wear whites to play tennis. The 163 guestrooms and suites boast English country furnishings and TVs in cabinets that cleverly disappear into the floor for those on vacation from every-thing, including mass media. The new spa joins a list of luxuries that also includes formal afternoon tea on a terrace overlooking the sea, tango lessons, Portuguese lessons and a weekly dinner dance in the grand dining room.
Opened in October, the spa pavilion has four therapy rooms with ocean views and a double therapy suite with its own terrace and plunge pool where side-by-side treatments for two are offered.
Among the options are Ytsara treatments, which focus on holistic Asian healing – the word Ytsara means "freedom" in Thai – and make use of organic ingredients. They include the white orchid facial, a detoxifying ginger body wrap and bamboo shoot facial mask. Aromatherapy Associates treatments, which use oils that have skin-enhancing properties, include special treatments to combat jet lag or cellulite.
I tried the LaStone Therapy – a hot stone massage – during which the therapist made me feel like mush by applying deep massage strokes with heated basalt, the foundation stone of this volcanic island.
The spa pavilion also contains hanging rooms, sauna and steam rooms as well as a fitness area equipped with LifeStyle cardiovascular equipment. The fitness center is open to guests age 16 and up, but those as young as six can enjoy spa treatments alongside a parent in the double therapy suite.
No matter which treatment you select, afterward you can relax on a two-tiered sun deck sipping herbal tea while staring off at the sea. Reid's is surrounded by 10 acres of lush subtropical gardens and has three swimming pools, one on a platform right above the sea – from here you can jump off or walk down steps into the seawater (there is no beach).
Madeira looks like a fantasy island, green but with sharp peaks and sheer cliffs fronting the ocean. And there are pink roofs galore.
"It's an adventure from the get go," said a Canadian woman I met on the flight over. However, she neglected to warn me that the Madeira runway is built on stilts out into the water, and wind usually causes a big bump before you land.
On the way to Funchal, about 20 minutes from the airport, you'll likely spot some of the flowers for which Madeira is famous, including hibiscus. Bananas are another Madeira export, but the island's big claim to fame is Madeira wine.
Learn all about it at The Old Blandy Wine Lodge in Funchal, where wine tours are offered every day but Sunday. Visit in late August or September and you can see the harvest production and grape crushing. At other times of year, the aging barrels – all white oak from the United States – impress, as does the fact the company has four full-time coopers handy to keep the barrels intact.
In the lodge's museum are letters from famous folks, President Dwight D. Eisenhower among them, thanking Madeira for its wine. There also are displays of early crushers and other production equipment – wine has been produced here for centuries, even Shakespeare wrote about it.
The other must-do on the island is hiking a levada, one of the historic channels created to carry water down from the mountains (Reid's Palace offers group tours for a fee). On thesetrails, particularly the more remote ones, you will enjoy spectacular views of mountain cliffs, green valleys and the blue ocean in the distance – maybe even the occasional billy goat.
Funchal itself serves up quaint streets in the Old Town and a market full of flowers and bananas, but it is quite touristy with shops stocking plenty of souvenirs (lace is the nicest takehome product). Nightlife is quieter than you might imagine with pubs catering to the mostly British tourist crowd, a few discos and a casino in Funchal.
You may find the posh oceanfront bar at Reid's Palace a preferable hangout. Here I met a lovely couple fromScotland who were among the many Reid's regulars. While a pianist and singer performed, I drank a Madeira that tasted like port (other varieties taste like sherry) and listened as the couple recounted their experience hanging out with Roger Moore, onetime portrayer of James Bond, on a previous visit to Reid's Palace.
Even if you prefer to turn in early, do not miss the chance to have dinner at Reid's Ristorante Villa Cipriani, where the cannelloni stuffed with three kinds of meat and black truffles is lickyour- plate delicious and the setting truly romantic.
For more information, visit http://www.reidspalace.com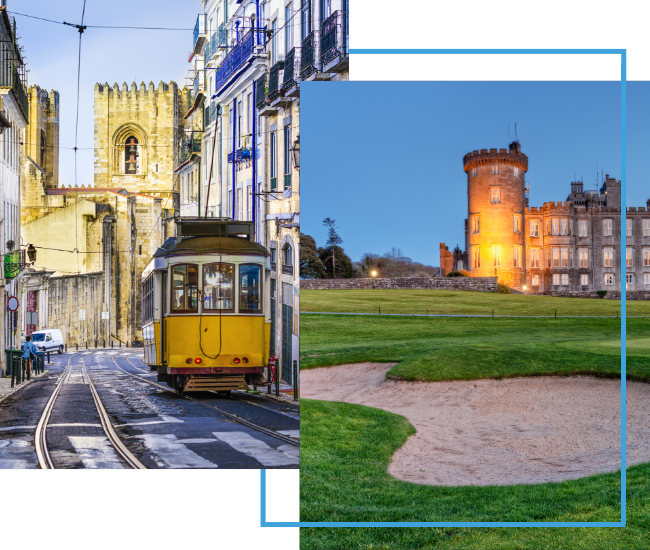 FX Excursions
FX Excursions offers the chance for once-in-a-lifetime experiences in destinations around the world.
Explore Excursions
Corsica with steep, gray cliffs overlooking the Mediterranean and sandy beaches attracting summer visitors, is a French-governed island sometimes confused with Sardinia and Sicily, Italian islands to the south. Fortunately, all three islands share the same love for good wine, food and sun-splashed beaches.
Sponsored Content
The Global Business Travel Association (GBTA) believes business travel is a fundamental force for good and brings the industry together to connect, innovate and set new standards. With members from across the globe, GBTA engages the many voices of business travel to build a collective future, providing a platform for buyers and suppliers to come together, connect with peers, grow their network and shape the future of the industry.
If you're ready to do a little holiday catch-up with your besties, make a beeline for Conrad New York Downtown. The lobby metamorphosed into a holiday forest of heavenly scented, decorated Virginia Spruce trees. Make your first stop ATRIO Barista Station in the lobby for a complimentary hot spiced apple cider (until Dec. 3) or hot chocolate (Dec. 22­–24).