Name: Lindsey Ueberroth
Title: President
Company, city: Preferred Hotel Group; Newport Beach, Calif.
Number of employees: 210
Recent project: Launch of our iPrefer Loyalty Program
First job: I worked at Anderson Consulting as a change management analyst.
Little-known fact about you: When I was 12, my mother sent me to survival camp in South Africa and Super Camp in Russia.
Your Business
Essential business philosophy: Listen closely and don't be afraid to ask questions.
Best way to keep a competitive edge: Pay attention to successful companies and trends outside of your industry. I find the greatest inspirations and innovations come from a company, product or idea that may have nothing to do with our core business. It's the times when we are able to translate those lessons or examples to something relevant within our company that we set ourselves apart from the competition.
Yardstick of success: As a family business, my best yardstick of success is that my family works together, we love what we are doing every day, and we still enjoy each other's company.
Lindsey Ueberroth as a Traveler
What is the most important item you take when traveling? Sony noise-canceling headphones, a pashmina to stay warm, Eminence lip balm and a good book. (A real paperback, not the e-version. I love the feel of paper in my hands.)
How do you spend your time on board? Usually, I spend one-third of my time working, one-third on entertainment (reading or watching a movie) and the rest of the time sleeping.
What is your favorite restaurant in the world? Impossible question to answer. There are far too many restaurants I have enjoyed, and sometimes the experience or ambience makes the restaurant more memorable than the meal.
What is your favorite destination in the world? India. People have strong opinions both ways on this destination, but it is one that leaves an imprint on your soul like no other place in the world.
About Preferred Hotel Group
Tell us about the new iPrefer program. iPrefer is the first global points-based loyalty program available to guests staying at independent hotels around the world. The program rewards the loyal traveler with points, status and special offers, and a flexible and transparent redemption process. And it is free to join.
Golf is a favorite interest of our readers; why will the Preferred Golf program appeal to them? Preferred Golf is a collection of the world's most exclusive and sought-after golf courses. For golf enthusiasts, membership to Preferred Golf offers priority access and free rounds when they stay at any of our member properties. The newest and most exciting benefit is access to the Preferred Golf Fantasy Challenge, the world's first international fantasy golf experience, which gives members the opportunity to win exceptional golf get aways, including one grand prize, around-the-world trip of a lifetime.
Preferred Hotel Group is a family-owned company. How does that translate to the hospitality experience? My family has always been in the hospitality business, so it is in our blood. The key to great hospitality is making someone feel at home. As a family, travel is an extension of who we are. We enjoy spending a lot of time on the road visiting and creating close-knit ties with our clients and associates in global offices. This has caused Preferred Hotel Group to naturally evolve into one big extended family, with a shared dedication to delivering excellent hospitality during every interaction.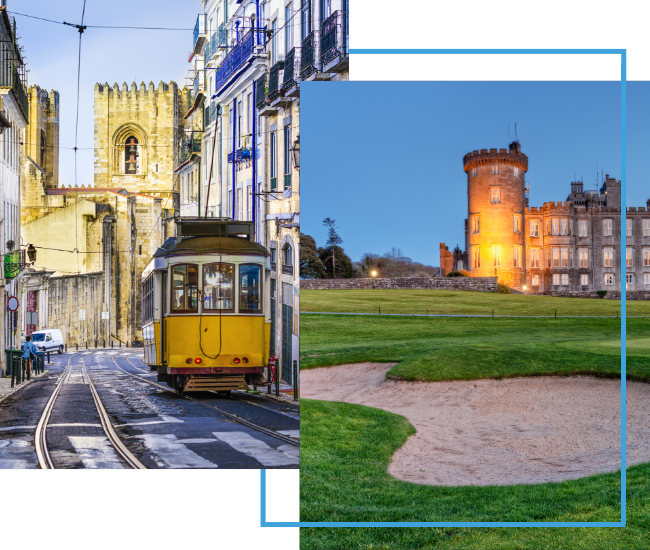 FX Excursions
FX Excursions offers the chance for once-in-a-lifetime experiences in destinations around the world.
Explore Excursions
Less than five years ago the world's first hybrid cruise ship, Hurtigruten Expeditions' MS Roald Amundsen, set sail for Antarctica in November 2019 with 450 passengers. The battery-hybrid-powered ship, named for the first man to cross the continent and reach the South Pole, was built specifically for voyages in polar waters. Its battery-hybrid power reduces the ship's consumption and CO2 emissions by 20 percent compared to equally sized ships.
Sponsored Content
The Islands of Tahiti are among the most beautiful and sought-after vacation destinations in the world. The endless images of overwater bungalows with Bora Bora's majestic peak towering over waters of every shade of blue have an intrinsic pull. But with 118 islands and atolls to explore, there is so much more to this spectacular region of the Pacific.
A few months ago, I flew Polaris business class on a United flight from Dulles (IAD) to Paris (CDG). It was only when I got to my hotel in Paris I realized that I didn't have my iPad or its bag or accessories. Since I had been working on it in the restaurant in the Polaris lounge and then went directly to the gate, I knew I either left it propped up on my table when I packed up or in my business-class seat. But what was the best method to alert the airline about my careless mishap and (hopefully) retrieve it? With spotty data and WiFi, searching for information on my phone was frustrating and slow. Here's what I learned from the anxiety-inducing experience (and unexpected ending) about what to do if you leave something behind on your flight: