In April, Global Traveler introduced the inaugural winners of our Leisure Travel Awards. Here, we bring you all the illustrious winners and a sneak peek at what to expect in the future from your favorite leisure travel providers. Congratulations to our winners! To vote in the 2014 Leisure Travel Awards, visit globaltravelerusa.com/leisure-awards-ballot-2014.
Standing, left to right: Emmanuel Jeffers, senior beach and pool manager; Cheverton Persaud, assistant food and beverage manager; Mel van den Bergh, director of food and beverage; Susie Boggie, director of housekeeping; Ingo Brieke, assistant director of rooms; Jorge Paez, food and beverage manager; Allison Smith-Mason, sous chef; Sven Wiedenhaupt, general manager; and kneeling, left to right, Fabiano Lim, assistant front office manager; Shirley Bowrin, resort assistant manager, Four Seasons Resort Nevis
Best Resort in the Caribbean: Four Seasons Resort Nevis
What's next for Four Seasons Resort Nevis?
"At Four Seasons Resort Nevis, we are all about going local! We are excited to be launching a series of unique local experiences that guests can enjoy right on property or, if they choose, on other excursions across the island. The resort will highlight the diverse natural landscape and history of Nevis with a roster of new activities designed to showcase the island's culture. Guests can move to our local beat when they sign up for Calypso dancing lessons or Nevisian dialect lessons to learn the insider language of the locals. Travelers can sample contemporary Caribbean Rim cuisine with a new menu at Mango, the resort's popular waterfront restaurant; discover marine life on a guided snorkeling tour off the resort's reef; or take a try at Ecobio Golf."
Alex Herrmann, director, Americas, Swiss National Tourist Office
Best Skiing: Switzerland
What's next for Swiss National Tourist Office?
"In 2014, Switzerland will celebrate the 150th anniversary of winter tourism — Switzerland is where it all began. We proudly accept this award, which attests to the fact that Switzerland is still the best place in the world to enjoy skiing and winter sports today and for the next 150 years."
Jonathan Reap, managing director, Tahiti Tourism
Best Island in Asia and the South Pacific: Bora Bora
What's next for Tahiti Tourism?
"We've seen tremendous growth for the islands of Tahiti over the past two years from the North American market. Our focus will be on positioning the Islands of Tahiti as the ultimate getaway for those seeking privacy and authenticity."
Alex Schneider, hotel manager, Emirates Palace
Best Resort in the Middle East: Emirates Palace
What's next for Emirates Palace?
"Emirates Palace will host a variety of guests, from government dignitaries to business and leisure travelers. Our staff is equipped to treat all of our guests equally. We envision a renaissance of hospitality similar to that found in Switzerland. We want to make it so inviting for someone who walks through our door that they feel compelled to stay the night."
Sue Kanoho, executive director, Kaua'i Visitors Bureau
Best Island in the United States and Canada: Kaua'i
What's next for Kaua'i Visitors Bureau?
"One of the all-time movie classics, Jurassic Park, is celebrating its 20th anniversary this year. Many of the iconic outdoor scenes, from the lush rainforest to the cascading waterfall to the panoramic landscapes where the dinosaurs roamed, took place on Kaua'i. We will celebrate the reprint/update of the Kaua'i Movie Book."
Sthu Zungu, president, South African Tourism
Best Safari Destination: South Africa
What's next for South African Tourism?
"South African Tourism is focused on a deepening of all of the experiences that our region has to offer. Hosting the World Cup in 2010 improved our infrastructure, and North American tourism was up 14 percent in 2012 versus 2011. Many of our business guests are mixing business with South African heritage and cultural activities."
Gregg Anderson, general manager, Tourism New Zealand
Best Hiking: New Zealand
What's next for Tourism New Zealand?
"The release of The Hobbit and its strong association to New Zealand has given visitor numbers a real boost across the summer season. This is anticipated to continue with a further two movies to be released as part of this trilogy. This growth comes on top of recent success in the cruise market, further strengthening in the luxury sector and a growing reputation for world-class facilities in areas such as golf, trekking and cycle trails."
Richard Marnell, senior vice president, marketing, Viking River Cruises
Best River Cruise Line: Viking River Cruises
What's next for Viking River Cruises?
"Viking is in the midst of its most successful year ever, and we are proud to be leading the fastest-growing segment of the travel industry. In March we set a Guinness World Record for christening the most new ships in a single day — 10 new Viking Longships — and next year we're planning to break our own record again with 14 new ships. We are also looking forward to entering new destinations in 2014, with itineraries launching in Bordeaux and on the amazing Irrawaddy River through Thailand and Myanmar (Burma). Beyond next year, we are thrilled to be working on our biggest endeavor yet — the launch of Viking's new ocean cruise line and its first ship, the 928-passenger Viking Star, which will set sail in 2015 on maiden voyages in Scandinavia and the Baltic and the Western and Eastern Mediterranean."
Paul James, senior vice president, global luxury brands leader, Starwood Hotels & Resorts
Best Resort in the United States and Canada: The Phoenician Best Resort in Europe: The St. Regis Mardavall Mallorca Resort
What's next for Starwood Hotels & Resorts?
"The Starwood brand is focused on developing new properties in emerging economies. Our guests are mixing business and pleasure, and we have adapted to that trend. Our portfolio has doubled in just 10 years, and that growth curve is expected to continue through 2016."
Bill Flora, director, United States, Hong Kong Tourism Board
Best Shopping: Hong Kong
What's next for Hong Kong Tourism Board?
"Big things are happening in Hong Kong! The new Kai Tek cruise terminal, designed by the world-renowned architect Sir Norman Foster and featuring breathtaking views of Victoria Harbour and the Hong Kong skyline, is now open and serving major cruise lines. Asia's world city is also poised to conduct the 5th annual Hong Kong Wine & Dine festival Oct. 31–Nov. 3. Firmly established as one of the world's largest and most prestigious epicurean events, the festival will move from its previous West Kowloon location to an exciting new location at the central harborfront area of Hong Kong Island."
Perla George, general manager, North America marketing and operations, BVI Tourist Board
Best Beach Destination: British Virgin Islands
What's next for the British Virgin Islands?
"BVI plans to expand its airport in 2014 to offer more direct flights into the country. Our festivals and activities are a major trend for travelers to the British Virgin Islands, and we will continue to promote this along with our great fishing, boating and adventure packages."
Ebru Ejder, director, Turkish Culture and Tourism Office
Best Historical Attractions: Turkey
What's next for the Turkish Culture and Tourism Office?
"As the bridge between the East and West, Turkey has long been one of the richest sources of history, mythology and culture, with wonders like Ephesus, Troy, Hagia Sophia and Topkapi Palace. In the coming years, Turkey will make an even bigger impact on world history with the ongoing excavations of 483 archaeological projects that are currently underway, including New York University's projects at Aphrodisias and Harvard's at Sardis. So while travelers are familiar with our most popular destinations like Istanbul, Kuşadas, Cappadocia and Bodrum, the future will highlight undiscovered beauties from all corners of the country, making it the largest open-air museum available to travelers."
Phil Otterson, chief executive officer, Abercrombie & Kent
Best Luxury Tour Operator: Abercrombie & Kent
What's next for Abercrombie & Kent?
"2013 alone was a big year for us, with the announcement of our private jet product line and the advent of Connections, offering one-on-one connections with places and cultures. More information will be coming soon as we plan to enter new markets. We also have new Arctic products as well as offerings to coastal Norway and cities in Russia, Ireland and Great Britain."
Jane Whitehead, vice president, Americas, Tourism Australia
Best Natural Attractions: Australia Best Adventure Travel Destination: Australia
What's next for Tourism Australia?
"We are proud and grateful for the recognition of Australia's world-leading nature and adventure attractions. It comes as we have seen pleasing growth in Americans visiting Australia as more and more discover why there's nothing like Australia for an unforgettable vacation. At Tourism Australia, we are looking to build on this momentum in the year ahead by increasing understanding of the range of unique and amazing food and wine and cultural experiences, together with the stunning nature and friendly people that combine to make an Australian vacation special."
Ellen Bettridge, president, Americas, Silversea Cruises
Best Small Ship Cruise Line: Silversea Cruises
What's next for Silversea Cruises?
"Next year marks Silversea's 20th anniversary, so we designed a voyage collection that matches the special sense of excitement and celebration that we'll be sharing with our guests throughout the year. Our expansive program offers fresh and intriguing journeys to all corners of the globe, including numerous overnight stays that provide plenty of time for guests to leisurely explore remarkable destinations. In 2014, our seven-ship fleet will visit over 500 destinations on seven continents."
Guillaume Epinette, general manager, InterContinental Bora Bora Resort & Thalasso Spa
Best Resort in Asia and the South Pacific: InterContinental Bora Bora Resort & Thalasso Spa
What's next for InterContinental Bora Bora Resort & Thalasso Spa?
"The next step for InterContinental Bora Bora Resort & Thalasso Spa is to continuously create new experiences for our guests and make sure their stay with us will be forever and ever a dream that our team changed to a reality."
Michael Bayley, chief executive officer, Celebrity Cruises
Best Large Ship Cruise Line: Celebrity Cruises
What's next for Celebrity Cruises?
"On behalf of the entire Celebrity team, I'm deeply honored that the readers of Global Traveler voted Celebrity Cruises as the Best Large Ship Cruise Line. We aim to give our guests a premium modern luxury vacation experience on 11 stunning ships sailing across seven continents. We pay careful attention to every detail, from one-of-a-kind culinary experiences to personalized service, from edgy entertainment to immersive shore excursions. The fact that your readers recognized this means the world to us. Thank you … and we hope to see you on board soon."
Rob Palleschi, global head, Hilton Hotels & Resorts
Best Resort in Hawaii: Hilton Hawaiian Village Waikiki Beach Resort / Best Resort in Mexico: Hilton Los Cabos Beach & Golf Resort / Best Resort in Africa: Hilton Seychelles Labriz Resort & Spa
What's next for Hilton Hotels & Resorts?
"As the world's leading hotel brand, Hilton Hotels & Resorts is a relevant, forward-thinking global leader in the hospitality industry; and we work to ensure that we continue to move ahead with our innovative thinking and push the limits of our strategies, products and services. We invest a significant amount of time in researching and understanding the needs and expectations of today's travelers so we can meet and exceed the needs of our guests and stand apart from competitors."
Sandra Estornell, general manager, The Ritz-Carlton, Santiago
Best Resort in South America: The Ritz-Carlton, Santiago
What's next for The Ritz-Carlton, Santiago?
"We just opened our beautiful newly renovated Spa; we are looking forward to position our facilities as a relaxing oasis in the middle of the city. We call it 'an earthly paradise high above the bustle of Santiago.' The hotel´s next step during 2014 will be to renovate our banquet space and all guestrooms. We want to ensure all meetings and events are memorable by offering the highest products and service standards with a combination of tradition and metropolitan sophistication."
Josephine Png, director of marketing; Katja Henke, general manager; Jitrawan Phrueksasri, director of spa; Mark Choon, hotel manager, The Peninsula Bangkok
Best Spa: The Peninsula Bangkok
What's next for The Peninsula Bangkok?
"The Peninsula Bangkok celebrates our 15th anniversary this year with many exciting projects, including a new look in the lobby, a library donation to underprivileged children, the launch of our Chef Table at our award-winning Mei Jiang restaurant and much more."
Eugenio Magnani, director, Italian Government Tourist Board
Best Island in Europe: Capri
What's next for the Italian Government Tourist Board?
"2013 has been a busy year for the Italian Government Tourist Board, involved with several promotional activities linked to the celebration of '2013 Year of the Italian Culture in the US.' An important event is 'Italy Much More,' a workshop between American buyers and Italian suppliers.
The Italian Government Tourist Board is working in collaboration with American and Italian universities supporting 'The Grand Tour,' educational and cultural tourism for young American students who travel to Italy to learn the language and the culture. A trip to Italy means one will gather an incredible number of new experiences, surprises and unforgettable emotions."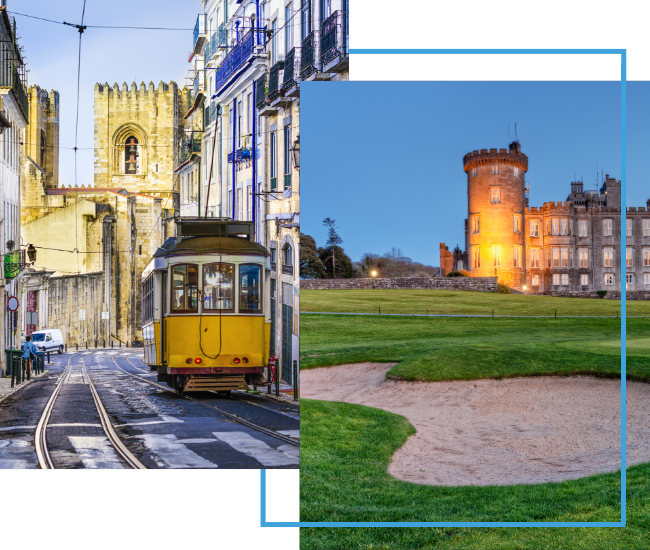 FX Excursions
FX Excursions offers the chance for once-in-a-lifetime experiences in destinations around the world.
Explore Excursions
There is something magical about sipping a glass of local wine while watching the sun slip into the Aegean Sea as the afterglow tinges traditional, white-washed Cycladic houses with glorious shades of rose, purple and gold. Ancient Greeks believed Helios, the Sun God, caused sunsets by driving his fiery chariot into the sea. Standing at water's edge in Mykonos, watching the sky slowly turn from purple to inky black, you almost believe it.
The prospect of a post-visit treasure hunting session inside the shops of landmark museums such as the Louvre in Paris, the Uffizi Gallery in Florence and The British Museum in London can be irresistible. However, some of Europe's smaller and more unusual museums boast retail spaces with a surprising "wow" factor, often as well-curated as the galleries.