Name: Javier Rosenberg
Title: Chief operating officer, Americas, and executive vice president, managed hotels
Company, city: Carlson Rezidor; Minnetonka, Minn.
Number of employees: 80,000 globally
Recent project: Opening the Radisson Blu in downtown Minneapolis
First job: I was a butler at Claridge Hotel Buenos Aires.
Little-known fact about you: I've lived in 11 cities in eight countries, and all three of my kids were born in different locations.
Your Business
Essential business philosophy: Do your job with passion, and work hard. Attention to detail is essential.
Best way to keep a competitive edge: You must be four things: customer-focused, humble, nimble and accessible.
Yardstick of success: In my industry, it's customer satisfaction and business growth.
Javier Rosenberg as a Traveler
What is the most important item you take when traveling?
All of those items to keep me connected, such as my phone, and noise-canceling headphones
How do you spend your time on board?
Working
What is your favorite restaurant in the world?
Ard Bia at Nimmos in Galway, Ireland; it's a small, typical Irish house serving great food.
What is your favorite destination in the world?
The south of Argentina in the summertime
About Carlson Rezidor
Carlson Rezidor recently introduced the Radisson Red brand in the Americas. Tell our readers about the new brand.
Radisson Red is adapted to the millennial customer — a connected hotel guest who appreciates design, social spaces and art. The brand focuses on food and beverage, offering great bars and dining outlets for the guests, while also being tech- and customer-centric. Everything is available at the guests' fingertips. We find these customers enjoy time spent mingling with other guests in the social spaces, chatting and getting to know fellow travelers; there's an emphasis on designing these areas to be welcoming and open. It's an upscale select brand, defined as an upscale product designed to adapt to select services. Our goal is to operate 60 by 2020, and there are more coming to Europe and the Americas in the next year.
The Radisson Blu brand is rapidly expanding. Where can our readers expect to see new properties?
Currently, there are 285 Radisson Blu hotels, with a concentration in Europe, the Middle East, Africa and Asia Pacific. Expansion is focused in the Americas; in Latin America, we recently opened a new hotel and announced another. Radisson Blu is also an upscale brand, and we are looking to open another 25 or 50 hotels in the near future.
How has the Radisson brand been reimagined in North America? Tell us about the improvements across the U.S. portfolio.
For the past five years, we've focused on cleaning up the brand, eliminating some properties and renovating others, with about 79 percent complete. Radisson reimagined includes more tech elements, improved products and softer components. We describe them as traditional hotels with contemporary flair, and there's been record growth. There are more than 150 properties across North and South America, with properties in Rio de Janeiro; Cartagena; New York at JFK International; Hartford, Conn.; Toledo, Ohio; Fresno, Calif.; and Calgary being reimagined.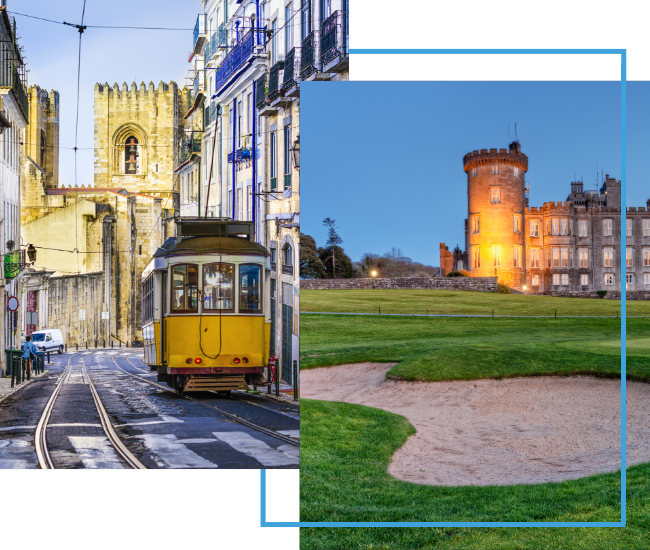 FX Excursions
FX Excursions offers the chance for once-in-a-lifetime experiences in destinations around the world.
Explore Excursions
It's time to start dreaming of your next trip. Here's some destination inspiration for you. Take a visual journey through these U.S. Christmas markets with us.
Sponsored Content
Are you looking to enhance your business trip with a little leisure? Look no further than Portugal, a country renowned for its captivating blend of history, culture and natural beauty. And with TAP Air Portugal, you can effortlessly transform your business trip into an unforgettable bleisure adventure. Discover why Portugal and TAP Air Portugal are the perfect combination for an enriching and rejuvenating experience.
Everyone loves a good Christmas tree, but these iconic hotels around the world take it one step further with designer-styled trees illuminating lobbies and public spaces, wowing all who enter. From Lela Rose to Louis Vuitton, don't miss these ultra-luxury trees redefining tree decorating as we know it.