THE BASICS
Name: Jannes Soerensen
Title: General manager
Company, city: The Beaumont; London, United Kingdom
First job: Page boy at The Adlon in Berlin, Germany
Where to next: New York City, hopefully!
A LITTLE BIT MORE
What actor or actress would play you in a movie of your life?
Alexander Skarsgård; people keep saying I somewhat resemble him.
What would you be doing professionally if you weren't in your current industry?
I could not point to another industry per se, but anything where I could care for people and add value to a great purpose.
What is your favorite book, movie or television show?
Recently I have been fascinated by Marcus Aurelius' Meditations, a series of personal notes and musings on Stoic philosophy, probably intended for his own guidance and self- improvement.
What historical figure, dead or alive, would you love to have dinner with?
Barack Obama, and I hope Michelle could join!
THE BUSINESS
What is your most recent project, and what was the inspiration behind it?
We are working on an exciting new initiative to introduce a 95 percent plastic-free solution for our bath, body and hair care products, reducing our current consumption of 32,000 single-use plastic bottles per year to zero. Tapping into the latest generation of effective bar formulations, the hotel's innovative new range by D.R. Harris will comprise a groundbreaking solid 45g shampoo bar and a solid 45g body wash bar, as well as a body cream and a hair conditioner in fully recycled and recyclable aluminum tubes, and a 70g soap, all lightly scented with rose geranium. These practically packaged, top-quality products will be air travel-friendly, last longer due to concentrated formulations, reduce water wastage and eliminate plastic packaging while giving guests a pleasurable bathtime experience and a memento to take home. The pandemic crisis delayed the introduction, but we will launch when we reopen. I hope as an industry we will take the lessons learned from the current crisis to apply to the climate change crisis, which has not disappeared in the meantime.
What is your favorite aspect of the job?
My team and guests — by far.
What's the biggest business risk you've ever taken?
As a 23-year-old I left my native Berlin with just a suitcase and arrived in Paris, not speaking French and without a job. Interestingly, I did not see that as a risk at the time; I trust my parents might have. Luckily, it all worked out for the best.
Who is someone you admire professionally in the travel industry?
I have always admired people for certain actions, rather than idealizing the person. I have been fortunate to work with such inspiring leaders throughout my career that I couldn't possibly pick one person.
AS A TRAVELER
Tell us about a travel nightmare: How about a crying baby on an overnight flight! We are expecting our first son … so am I still allowed to say that?
Share a comical travel experience: Many years ago, I took a night train to Italy and spent several months in Naples. So many things still make me smile when I think about those wonderful times.
What is your preferred method of travel — planes, trains, automobiles, cruise ships — and why? What I love most about travel is the journey and the places it takes me. Any form of transport goes … although I might still be a bit of an airplane geek.
What has been the best example of customer service you've experienced during your travels? I arrived at Ett Hem in Stockholm one afternoon, and never has a hotel made me feel so at home. There are none of the usual hotel procedures to distract from that "being at home" feeling. Where you would normally sign registration cards in a hotel, I stumbled over the chef, who just wanted to meet me to see what I would like to eat that night. That mattered more to me than signing a paper.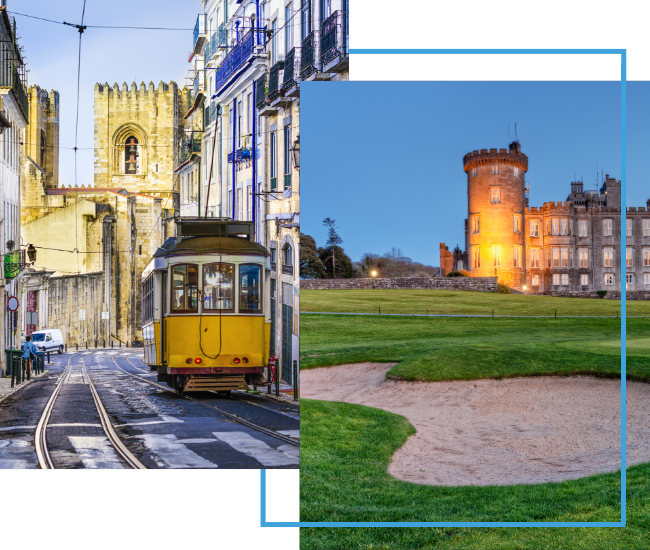 FX Excursions
FX Excursions offers the chance for once-in-a-lifetime experiences in destinations around the world.
Explore Excursions
Less than five years ago the world's first hybrid cruise ship, Hurtigruten Expeditions' MS Roald Amundsen, set sail for Antarctica in November 2019 with 450 passengers. The battery-hybrid-powered ship, named for the first man to cross the continent and reach the South Pole, was built specifically for voyages in polar waters. Its battery-hybrid power reduces the ship's consumption and CO2 emissions by 20 percent compared to equally sized ships.
Sponsored Content
Whether it's the people, the craic (fun) or the coasts, travelers always find something to love about the island of Ireland. What fills your heart?
A few months ago, I flew Polaris business class on a United flight from Dulles (IAD) to Paris (CDG). It was only when I got to my hotel in Paris I realized that I didn't have my iPad or its bag or accessories. Since I had been working on it in the restaurant in the Polaris lounge and then went directly to the gate, I knew I either left it propped up on my table when I packed up or in my business-class seat. But what was the best method to alert the airline about my careless mishap and (hopefully) retrieve it? With spotty data and WiFi, searching for information on my phone was frustrating and slow. Here's what I learned from the anxiety-inducing experience (and unexpected ending) about what to do if you leave something behind on your flight: