Most visitors to Bora-Bora spend their time in this island paradise relaxing by the beach with a fruity cocktail and doing nothing more adventurous than a sunset sail or a lagoon snorkel. Those who think of adventure in French Polynesia usually gaze at the ocean with visions of sailing across the South Seas like historic explorers. But in Bora-Bora, a journey of discovery lies inland. Bora-Bora's jagged peaks of Otemanu and Pahia loom along a ridge 2,400 feet above and miles inland from the island's smooth, white-sand beaches. With their gray, ribbed, rocky faces and ragged green plant cover, the mountains look like the spine of a giant algae-covered sea monster arisen from the depths. I decided to put down my Mai Tai and go meet the monster.
More than just a dramatic backdrop for cruise photos, these mountains mark the heartland of 2,000 years of Tahitian heritage and contain a cornucopia of botanical riches. While the bulk of the native population and all the resorts cling to Bora-Bora's coastlines, its mountain valleys and plateaus are dotted with the remains of ancient villages and temples, many of which still await discovery.
I didn't plan my journey alone. Bora-Bora's jungle trails can be narrow and confusing, and unguided visitors can easily become lost amid a tangle of trees. A tilted sign at a trailhead warned that people wishing to climb the mountains are "STRONGLY advised" to go with a qualified guide — not only for help in finding the trails but to avoid any conflict with locals who may not approve of people tramping in their backyards or on a sacred site.
Enter Azdine Oualid, the Indiana Jones of Bora-Bora. Born in Paris to Moroccan immigrant parents, Azdine left France in 2003 for the South Pacific with only a few euros and a backpack. After a decade of studying and hiking Bora's hills, he not only became fluent in Tahitian but also became an expert on mountain trails, edible plants and Tahitian history. In his constant meanderings, he's discovered a plethora of temples, villages and tombs buried beneath the thick green blanket of the jungle.
Upon meeting this peripatetic explorer — his eyes wide with excitement, mouth babbling non-stop banter in French, English and Tahitian — it was easy to understand how Azdine got his local nickname of Tama A'Tea, or "child who has come from far away." While some locals initially resisted a foreigner guiding tours, the gregarious Azdine eventually won them over with his sincere interest in their culture. It was hard to hold a conversation with him in town due to all the people shouting hello, some even addressing him as Tavana, "mayor."
Our group of 10, gathered for a day-long hike, included a few of the ubiquitous American honeymooners on Bora-Bora along with a French expat family visiting from Tahiti. We all brought small packs, our own lunches and plenty of water. The hike began up a sun-blasted road past some ramshackle homes festooned with hanging bunches of bananas, wrecked rusting cars in the yards and small packs of barking dogs.
We took our time uphill, pausing often in the stifling humidity as Azdine cited a Tahitian proverb: "A're maru, a're papu." "He who goes slowly arrives surely." The honeymooners were sweetly supportive of each other, the kids finished off their juice in the first 100 yards, the parents argued French colonial history with Azdine, and I tossed my resort-packed sandwich to the dogs.
As we entered the jungle portion of the trail, we learned that what seems to be a simple green mass of trees is actually a hugely varied ecosystem of plant life, much of which is edible. Azdine took great pride in pointing out an endless tropical buffet. Passion fruit, pumpkin, ginger, vanilla, pistachio, star fruit and even coffee grew wild on both sides of the trail. Not to mention the millions of coconuts. "It is impossible to be poor here," he said, munching on a guava he grabbed from the ground. "You do not have to shop at Carrefour! You just take a walk into nature, and you will have all you need."
The jungle is not only a supermarket but also a pharmacy. After an hour hiking through the buggy brambles, I was scraped up, bitten and bruised. Oddly, Azdine began picking wild hibiscus flowers during a break. Rather than give them to girls in the group, he crushed the pretty yellow petals into a paste. "Island first aid kit," he said with a laugh and rubbed some of the iodine-rich substance on a cut on my arm, where, true to tradition, it helped heal the wound.
Shampoo ginger is an island elixir found in Hawaii and across Polynesia, nicknamed for the soapy substance the bright, red, stalky Zingiber zerumbet plant produces. The juice squeezed from the bulbs of the plant is a fragrant, slippery substance long used as a natural soap and shampoo by islanders. We used the juice as a quick hand wipe when we stopped for a snack, and it almost magically cleaned off the grit and sap of our morning explorations.
Then we came upon a massive banyan tree estimated to be more than 1,000 years old. The trunk was a good 30 feet wide, surrounded with a tangle of vines each thicker than the thigh of the burliest Tahitian native. Inside this nest of vines, Azdine told us, lie seven ancient mummified bodies, their positions verified by an ultrasound scan. It's thought that the majesty of the tree, even hundreds of years ago, made it a fitting final resting place of kings. Restive myself, I grabbed a vine to swing Tarzan-style above the jagged rocks surrounding the tree, perhaps unwisely tempting a ghostly curse.
Azdine said James Cameron visited the site and used this tree as his model for those in the film Avatar. But he's not the only celebrity to have joined this trek. "One day, you know who arrived for my tour?" Azdine asked with eyes bulging wide. "Yes, it was Indiana Jones himself, Harrison Ford!" When Ford arrived at the tree and heard stories of past kings and spirits in the hills, Azdine said, "He was speechless! He just closed his eyes and smiled. Imagine, Indiana Jones, so impressed with my discoveries!"
Other past visitors on the tour included NBA stars Tony Parker and Kobe Bryant. Azdine, as focused as he is on archaeological research, had no idea who Bryant was. "All these kids kept following us, taking pictures on their cellphones, until I finally had to ask them why," he said.
But not all hikers are celebrities. Azdine's weekend trips have provided educational excursions for local school kids. "I teach them about their history, and they help me clear vines off of the old stone ruins."
Our pathway meandered through the area known as "Valley of the Kings." In this concentrated historic zone in the jungle, Azdine claims to have discovered seven temples, 10 tombs and 25 village sites (not to mention several clandestine farms). His prize discovery is the 1,800-year-old burial site of a noble, with one of the stone carvings now featured in the national museum.
From the burial site, we followed the outline of a stone wall to the remains of a fare to papau, a "ghost house," in which the bodies of kings and other notables were mummified for a year prior to burial. Outside the walls, an altar stone topped off an enclosure once filled with the bones of warriors, the battle-scarred femurs and skulls since reburied. You could half-imagine Indiana Jones sprinting from behind one of these rocks, fleeing a rolling boulder or a mass of angry warriors.
As our group shuffled around in the foliage, the dense greenery muffled the sound of our footsteps, and the thick tree cover overhead dimmed the sunlight. The French kids quieted down, Azdine took a breath and the honeymooners stopped cooing at each other for a second. Even the birds seemed to have gone silent in respect (or fear) of the spirit warriors and kings around us.
From the temple area, our group then climbed farther up the trail, looking toward the sheer peak above us, thankful we didn't sign up for the multiday summit trek. Azdine pointed to a lone palm tree jutting above the scrub on the mountain ridge, saying it was planted long ago as a signpost to help villagers navigate between valleys.
We emerged from the jungle to a clearing about halfway up the mountain. Brushing the sweat out of our eyes, we were rewarded with a view fit for the valley kings. Bora-Bora's inner lagoon spread before us in swaths of bright blue like a child's fingerpaints. Beyond the resort bungalows scattered along the shore, the ocean expanded infinitely into the equally blue sky. And there I stood, on the back of the monster, enjoying it all.
Info To Go
Tahiti-Faaa International Airport (PPT) is the main international gateway to French Polynesia, located approximately four miles from downtown Papeete, Tahiti. Frequent flights from Tahiti to Bora-Bora take less than an hour. Your hotel can help arrange a guided Bora-Bora mountain tour.
Weblink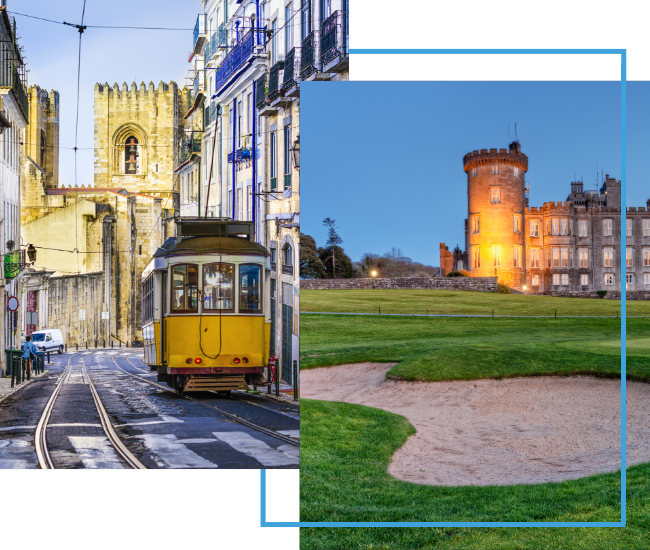 FX Excursions
FX Excursions offers the chance for once-in-a-lifetime experiences in destinations around the world.
Explore Excursions
If fabulous food and beverages are a must-have for any weekend getaway, then look no further than the City of Brotherly Love. Whether your palate has a penchant for vibrant Latin American fare or cozy French cuisine, whether you're an oenophile looking to swirl, sniff and sip your way around the globe or you'd rather sample farm-to-glass cocktails, Philly's got it all this fall. (With the exception of Bolo, which is a short taxi or Uber ride away and definitely worth the trip, the rest of these spots are all within walking distance of each other.)
From Santoríni to Dubai to New York, some hotels just have that "it" factor that draws visitors far and wide. For some hotels it's their proximity to popular landmarks and attractions, for others it's their amenities. But these hotels have something few can claim: a true room with a view.