In 1946, members of Willowbrook Country Club in Baldwin, N.Y., learned the town elders voted to revoke their lease in order to build a new high school on the 18th green. World War II was over, and returning troops were gearing up to create the biggest financial boom ever seen on the planet — the Baby Boom.
Members frantically searched for a new home and found Cold Spring Golf Club, which was in financial distress. The course was part of a large parcel of land that included Oheka Castle, the second-largest private home ever built in the United States. (Biltmore in Asheville, N.C., is the largest.)
Fortunately, the course and stables were offered separately from the castle. So in 1947, 12 members of the old Willowbrook Country Club purchased Cold Spring Golf Club and established Cold Spring Country Club.
The course was designed by Seth Raynor, whose credits include gems like Greenwich Country Club, The Greenbrier, Mid Ocean Club in Bermuda and Waialae Country Club in Hawaii. Raynor was unique among architects, as he did not play golf until he started designing courses, and he never became an avid golfer during the course of his life. Many of his signature elements can be seen at Cold Spring, where length is rewarded and a tee shot often requires a right-to-left drive. Most Raynor-designed courses require avoidance of bunkers or skill in recovery, neither of which I had the day I challenged Cold Spring. I was a guest of Rick Irwin of Clifford Paper and joined by Tim Ogden of Brown Printing Co., GT's printer.
One important note: The address of the club is confusing since there is more than one East Gate Drive in the area. Directions are on the club's website.
Hole 3 | 154 yards, par 3
This was Rick's shining moment to show off to his pals at his home course. Traps and grass surround the green for an island effect. The green runs very fast left to right away from Oheka Castle. Rick landed just off the left side and chipped close enough for par, showing the rest of us how the game is played at Cold Spring.
Hole 5 | 418 yards, par 4
This is the No. 1 handicapped hole, long and sloping uphill and away from Oheka Castle, and an example of Raynor's two characteristics: length and a right-to-left drive. I drove a decent drive but too far right of the fairway, which doglegs left. I then punched out for a clear shot to the green, making sure I took enough club to carry uphill. Tim hit a monster drive and put his game together for par. Rick showed some "member knowledge" off the tee but came up short on his approach, landing on the right in front of the green, which is pitched right to left away from the castle.
Hole 6 | 368 yards, par 4
This is not a particularly challenging hole, but because of Tim's lousy drive and incredible recovery, it makes my review. The hole runs downhill from an elevated tee box next to Oheka Castle and turns slightly right about 130 yards before the green. A sand trap lies in expectation of drives that drift to the right. Tim wanted to kill his drive but sent his ball into the side of the left embankment about 110 yards from the tee. We searched and searched; and when he was ready to give up, I found the ball nestled low in the grassy hill. Tim chunked his next shot and put himself in an even worse position with a tree blocking his escape. He had little to lose, and believing in that old golfism, "Trees are 80 percent air," he 4-ironed a power shot through the tree, never touching a branch and landing off the green — a nice shot that kept him in the game.
Hole 9 | 539 yards, par 5
A par-5 finishing hole on the front nine ranks the fifth-most difficult hole on the course. Like all long par 5s, you need three really decent shots, two with distance, to score. Perfectly place your drive so you can power your second shot to the crest of the hill in front of the green. As my previous holes were nothing to remember, I was pleased I got myself together to par here. From the tee box I landed right but in play, without any trees blocking me from selecting my 3-wood. I slammed a shot with just enough power to get within 180 yards of the green. My next shot landed on the green, which breaks from front to back. My putting game was on track, and I two-putted for par. Rick took an extra shot to make the green, walking away with a bogey.
Hole 13 | 175 yards, par 3
This is a beautiful hole with a pond that must be cleared and two bunkers the course managers say will "eat you up." I felt the hole played even longer than the card indicated, with an elevated tee box to an even more elevated green and a low fairway in between. The team took this in stride and carded a trio of bogeys — and said hello to a red fox sunning herself by the green, unafraid of our presence.
Hole 15 | 424 yards, par 4
On this second-most difficult hole, I stepped up my game and walked away with par. From the tee box, aim to the right fairway bunker and away from the tall tree on the left, which might block your shot. Even with a good drive, you will need a powerful second shot, taking into account the false plateau of fairway in front of the green. Rick had some issues and carded a double bogey while Tim walked away with a bogey.
Hole 18 | 402 yards, par 4
Drive off the final tee of Cold Spring as you make your way back to the 19th hole at the clubhouse. Avoid the right side, as the rough drops off and balls are often lost. Tim came close to falling into this trap, "living on the edge" but in play. Your approach to the green must avoid a gully which sits in front. If you are unable to clear this with your second shot, lay up about 100 yards from the green and make a more calculated approach.
Cold Spring Country Club
22 East Gate Drive
Huntington, NY 11743
tel 631 692 6550
coldspringcc.org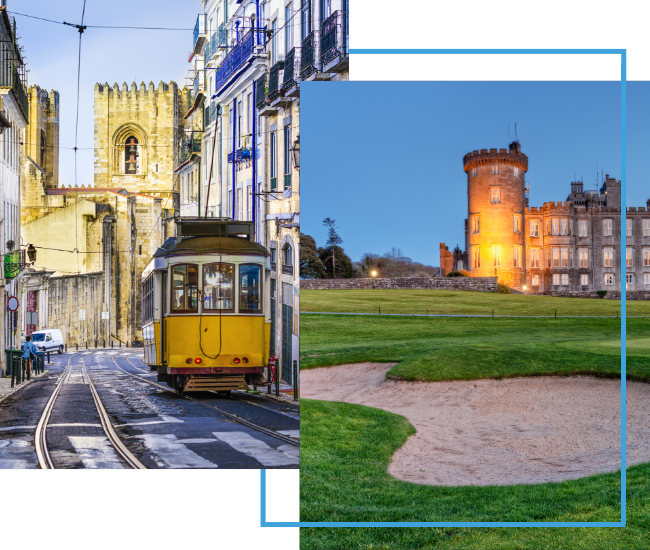 FX Excursions
FX Excursions offers the chance for once-in-a-lifetime experiences in destinations around the world.
Explore Excursions
Mazatlán, Mexico, has long been an attractive home destination for Canadian and American retirees, but, in recent years, young, digital nomads have also discovered the charms of this coastal city, finding inexpensive accommodations, beautiful weather and plenty of bandwidth for working remotely. The laid-back beach scene definitely eases the transition of relocating to Mexico's West Coast.
Sponsored Content
The Islands of Tahiti offer a range of captivating activities for travelers with diverse interests, from hiking to breathtaking waterfalls, riding horses on secluded beaches; swimming with sharks; or immersing in Polynesian culture through traditional dance, music and art. For watersports enthusiasts, the crystal-clear lagoons offer exhilarating experiences like surfing, kiteboarding and paddleboarding. And if you're looking to relax, the pristine beaches, overwater bungalows and tropical sun offer the perfect setting. With 118 islands and atolls to explore, island hopping is an excellent way to experience the full diversity of The Islands of Tahiti. With its blend of adventure, culture and relaxation, The Islands of Tahiti offer a truly unique travel experience.
For its third year, Global Traveler awards the airline, cruise line and hotel brand best representing diversity, equity and inclusion within the travel industry. Over the past year Global Traveler analyzed many airlines, cruise lines and hotel brands to determine which companies prove most committed to changing the world through diversity and inclusion.