As hotels continue to embrace cutting-edge technology like mobile apps, online check-in and keyless entry, the magnetic swipe room key card may soon become as outdated as the brass key it replaced.
Starwood Hotels & Resorts introduced SPG Keyless, a new mobile access solution created in conjunction with major access control vendor ASSAY ABLOY, as part of its SPG app last year. Initially launched at 10 hotels across three brands (Aloft Beijing, Aloft Cancun, Aloft Cupertino, Aloft Harlem, W Doha, W Hollywood, W Hong Kong, W New York-Downtown, W Singapore and Element Times Square), SPG Keyless is now available at most Aloft, W and Element hotels around the world.
With the new technology, Starwood Preferred Guest members with Bluetooth Smart-enabled smartphones are able to check in online, receive their room number 24 hours before arrival, completely bypass the front desk and go directly to their room. After ensuring Bluetooth is enabled, guests can simply open the SPG app, hold the smartphone to the door lock, wait for the solid green light and directly enter their room.
At the time of the announcement, Frits van Paasschen, the former CEO of Starwood Hotels & Resorts, told The Wall Street Journal, "We believe this will become the new standard for how people will want to enter a hotel." And now it seems as though that may be the case, as major hotel companies Hilton Worldwide and Marriott International also partnered with dock lock vendors to develop technology-enabling smartphones to function as keys.
Following beta testing this past summer at the Hilton Alexandria Old Town in Virginia, the new Digital Key feature of the Hilton HHonors app is scheduled to give HHonors members the ability to use their smartphones as their room keys at more than 170,000 rooms at 250 U.S. properties within the Hilton Hotels & Resorts, Waldorf Astoria Hotels & Resorts, Conrad Hotels & Resorts and Canopy by Hilton brands by early 2016.
The day before arrival, Diamond, Gold and Silver HHonors members using the HHonors app can note if they would like to use Digital Key. They then can head straight to their room without stopping at the front desk and press the virtual "unlock" button on the app to enter their room.
Marriott International also shakes up traditional hospitality with keyless entry, piloting the service at the Baltimore Marriott Waterfront Hotel last summer and planning to offer the tech-forward amenity at each U.S. hotel in its new and contemporary Moxy Hotels brand.
While the hospitality industry has created a number of innovative services and amenities in the digital age, maintaining guest safety and security is key in the age of the hacker. To drive acceptance and usage of mobile technology like keyless entry, Starwood and Hilton elaborate on the safety and security features of their respective keyless entry systems for hotel guests.
"We have been working in close collaboration with our lock manufacturer … and have developed a software and hardware solution that is safe, reliable and design-forward, and just as secure as today's key card," said Chris Holdren, senior vice president of global and digital, Starwood Preferred Guest, in a Hotel News Now report.
SPG Keyless uses secure software involving a two-part key system. For added security in regions where local law requires identification verification, guests need to make a quick visit to the front desk to show ID and receive their room number. Upon check-out, the virtual key deactivates and disappears from a guest's SPG app.
When asked about the testing done before new keyless entry technology is deployed, Hilton Worldwide asserted its commitment to maintaining the well-being of its guests as a top priority. According to the hotel company, security experts vetted Digital Key, and the program underwent comprehensive testing. A leading security assessment firm performed a thorough evaluation of the technology; and to ensure Digital Key remains safe for guests to use, Hilton vows to continue to review the security precautions within the new system.
"We've been testing Digital Key for months and, overall, we are very pleased with how the technology is working. Yet there have been a few nuances we sorted out during the implementation process. As an example, we learned that integrating the mobile app with property systems, such as elevators and parking garages, could sometimes prove challenging due to the multitude of vendors and configurations," responded Hilton Worldwide when asked if any issues have come about since Digital Key's launch.
In response to hurdles, Hilton Worldwide assured its technology team works closely with hotel teams and third-party vendors to combat challenges and guarantee a positive keyless entry experience.
The Waldorf Astoria Orlando became the first luxury hotel in the Hilton Worldwide portfolio to launch Digital Key in summer 2015. John Carns, general manager of the luxury resort near Disney World, revealed Digital Key implementation has been smooth since the property began testing the service in July 2015.
"Overall, the technology team has continued to work closely with our property to solve any issue and help maintain a seamless and secure Digital Key experience for our guests," said Carns.
Members of Global Traveler's well-traveled Globility Board have yet to experience this new type of lock, and some, like Jean-Christophe Murat, have no desire to try the new service. Murat says his aversion to trying keyless entry is not a matter of security but due to other concerns.
"I like to talk to someone at check-in, tell them about my room preferences and check on an upgrade. Half the time the room I end up in is not the one that was originally assigned," said Murat.
Globility Board member Frank Brightwell, director, Somos Amigos Medical Missions, said he would be curious to try it but also expressed concerns similar to Murat's. "I wouldn't want to lose the contact with the front desk at check-in," said Brightwell. "There's where I ask about the room I have been assigned, inquire about upgrades, etc."
When told about concerns over losing valuable interactions with the front desk upon arrival, Carns highlighted the Orlando property's goal to engage guests through the platforms they prefer most, whether that be digital, physical or a combination of both.
"More and more, our guests are relying on their mobile devices as their remote controls to their experience. We're committed to providing the digital tools these guests desire to simplify and streamline their experience. However, our digital tools are by no means mandatory," said Carns.
"Guests are always encouraged to engage with the friendly, attentive team members at the Waldorf Astoria Orlando for requests or recommendations. We've noticed that some guests are even choosing to augment their stay with the HHonors app while also interacting with the front desk upon arrival. Whatever a guest prefers, we're simply offering technology as a convenient alternative for those who opt to take advantage of it."
While keyless entry services become widely available and continue to tout convenience and security, Globility Board member Sue Castorino, president, The Speaking Specialists, is not yet sold. Said Castorino, "I see it as less convenient and more cumbersome. Personally I don't want to take my phone with me every time I leave my room, especially if I'm going to the health club/pool or restaurant or outside to run/explore/etc. I love just about everything my phone does otherwise when it comes to travel, but in this case, the keycard is just easier. Also, it's fun to keep the ones from the really elegant places like the Waldorf; it's the perfect souvenir and reminder of a special stay."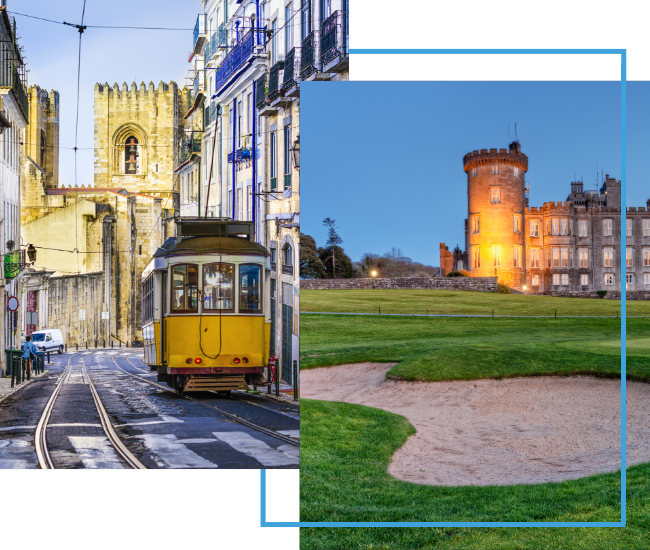 FX Excursions
FX Excursions offers the chance for once-in-a-lifetime experiences in destinations around the world.
Explore Excursions
Did the new film Oppenheimer rouse your interest in the nefarious world of international espionage? You can go straight to the real-life setting for covert actions this November (Nov. 10–12), when La Fonda on the Plaza in Santa Fe hosts a specially themed "Spies, Lies and Nukes" weekend. The hotel actually served as the retreat location for Manhattan Project scientists, who stayed at La Fonda on the Plaza to take a break from the stress of their work. During the weekend, the property's La Fiesta Lounge will make a tasty nod to those days by serving up a special Atomic Martini.
Sponsored Content
Are you looking to enhance your business trip with a little leisure? Look no further than Portugal, a country renowned for its captivating blend of history, culture and natural beauty. And with TAP Air Portugal, you can effortlessly transform your business trip into an unforgettable bleisure adventure. Discover why Portugal and TAP Air Portugal are the perfect combination for an enriching and rejuvenating experience.
Ever want handcrafted martinis and freshly shucked oysters delivered straight to your room? The Read House's New Martinis & Pearls service has you covered. Shining in 1920s-themed decor, the historic hotel in the heart of Chattanooga offers a true Gatsby-esque experience, now further elevated with this upscale amenity. Guests can now indulge in their perfectly chilled martini, made to order, and "pearls" (oysters) in the comfort of their room.