Traversing cultural differences draws many of us to travel. We love to explore new foods and new customs in new places. But sometimes, navigating those differences proves confusing and downright embarrassing when we don't know the proper etiquette.
When it comes to things like tipping, keeping track of the who, when and how much remains a bit tricky. Tipping norms and expectations not only vary from country to country but also from industry to industry. Doing it wrong can insult those who provide valuable services and can greatly impact your travel budget if you haven't properly planned ahead.
Within the United Kingdom, tipping cultures vary slightly. While restaurant tipping in Scotland, Wales and Northern Ireland averages around 10 percent but isn't mandatory, it is very much expected in England, where you should plan on at least 15–20 percent. Tipping for other services, such as taxis, is less standard, with no set range. For these services, round up your total bill to a number you are comfortable with. For doormen and porters, gratuity is not necessary but is always appreciated and should be in the £1–5 range.
In Ireland, tipping is common (but not mandatory) in large cities like Dublin but not commonly done in smaller towns. For hotel staff, small tips of €1–2 are appropriate. Restaurant bills often build in a service charge, so tipping isn't necessary; but if you wish to show your appreciation for excellent service, add a small gratuity of 10 percent. For tour guides, the rare occupation which expects a gratuity, approximately 10 percent of the cost of a tour is standard.
For other countries in Europe, such as Italy, Greece and Germany, tipping was once unheard of but gained popularity in recent decades to the point where it is standard for many service industries. A safe guideline to follow in these countries is to leave a few euros in casual restaurants and at least 5–10 percent of the total bill in higher-end establishments. Note that in many countries you will find a small service charge on your restaurant bill. In Greece, however, that charge covers the bread and bottled water automatically served with each meal and is not considered a built-in tip; therefore, do not assume this charge covers gratuity.
Although many European countries follow similar tipping guidelines to those in the United States, a few holdouts don't encourage it. Spain and Switzerland, for example, still maintain the no-tipping culture that once existed throughout most of Europe. In these countries, tipping is not expected within any service industry, but that does not mean it's not appreciated, nor is it considered rude. It is safe to follow your instinct and tip when you feel the service warrants it.
The same holds true in Scandinavian countries like Norway and Finland, where restaurant servers and hotel workers often are paid well. While tipping wait staff is not considered mandatory and tipping hotel staff remains uncommon, gratuities are not considered rude and are generally appreciated when given for quality service. There remains the possibility, however, staff will refuse a tip, in which case you should not insist further at the risk of insulting someone.
Asian countries such as China and Japan come with their own category of tipping guidelines with which travelers should familiarize themselves before visiting. In many Asian cultures tipping is not only uncommon but considered rude. In Japan, for example, it is generally expected good service is mandatory and should always be rendered, not based on an expectation of gratuity. In addition, a tip can be misconstrued as an implication a business doesn't pay its employees a living wage. For this reason, it is best not to tip while traveling through Japan.
In China, tipping is not only frowned upon but forbidden by the government and can be misinterpreted as an attempt at bribery. The exception to the rule is with organized tour guides and professional tour drivers who not only accept tips but expect them. In this situation, plan on tipping around 75–100 yuan per day for the tour guide and 40–50 yuan per day for the driver. Give these tips directly to the recipients at the end of the tour. To respect the local culture, use discretion by placing tips in an envelope rather than overtly handing over cash.
In other Asian countries such as Thailand and Vietnam, tipping is not illegal or insulting and is often greatly appreciated by service staff. Customers generally do not tip street food vendors, but leaving a 5–10 percent tip in restaurants is becoming increasingly common.
In India, expect to tip your server 10–15 percent of your total bill in restaurants, but tipping street food vendors is not common and therefore unnecessary. Riders usually do not tip taxis (including traditional rickshaws), especially if paying by card, but a small amount in cash will surely be appreciated. For porters, tip the customary 20–50 rupees per bag. Tour guides and tour drivers expect tips in the range of 100–300 rupees per day. During your travels throughout the country, be wary of anyone offering assistance you don't want or expect, such as someone offering to show you the way to a destination. If you don't plan on tipping for the assistance, do not accept the help to begin with.
When visiting Australia and neighboring New Zealand, travelers should follow their instinct when it comes to compensating providers for excellent service. However, the norms in this region, traditionally a no-tipping culture, are slowly changing, and service staff often appreciate a gratuity — generally 10–15 percent.
In many Central and South American countries, such as Brazil, wait staff do not expect a tip. Often, restaurants in these countries charge a service fee which takes the place of the tip. To be certain, check your bill before leaving your tip; but if you still wish to leave a gratuity, consider 5–10 percent of your bill appropriate. In other countries, like Mexico, tipping 10–15 percent in restaurants is more appropriate as servers often receive low wages. Other service providers, such as taxis and porters, appreciate small tips, while you can expect to pay tour guides a 10 percent gratuity.
Middle Eastern countries vary from destination to destination when it comes to tipping ranges, but tipping is generally welcomed. In Egypt, all types of service staff greatly appreciate and anticipate tips. They expect a gratuity of at least 10 percent of the total bill for food and services, but you can safely leave more if you feel you received exceptional service. In Dubai, on the other hand, restaurants charge mandatory service fees but still expect customers to tip 10–15 percent in addition to this fee.
While tipping norms are far from universal, a handful of tools can help you navigate a confusing situation. At restaurants, always check your bill. If you see a service charge, it is safe to assume the fee takes the place of a tip, making an extra gratuity unnecessary. If you are in doubt, ask your server to explain the charges so you can make an informed decision. It is also helpful to leave your tip in cash in the local currency. This ensures the tip is more likely to go directly to the intended recipient and they don't need to bother with exchanging currency.
Finally, when in doubt, follow your instincts. While you should never feel obligated to leave a tip if you were dissatisfied, if a service professional goes above and beyond, go ahead and acknowledge that individual for making your experience memorable.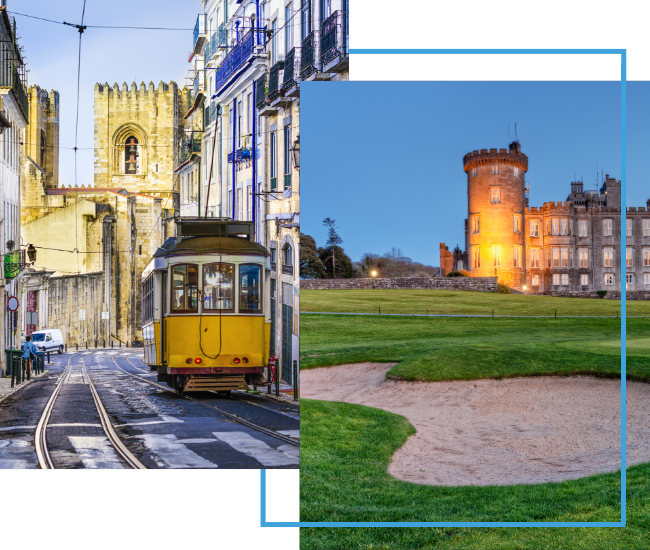 FX Excursions
FX Excursions offers the chance for once-in-a-lifetime experiences in destinations around the world.
Explore Excursions
Pleasant weather, autumn foliage and vibrant flowers are among the many delights awaiting nature lovers at botanical gardens and arboretums across the United States. However, some of these green spaces take on additional color this month and through Halloween when enterprising gardeners, landscape architects, management and other creative minds cast a spell with themed environments running the gamut from spooky to utterly bewitching.
Sponsored Content
Whether it's the people, the craic (fun) or the coasts, travelers always find something to love about the island of Ireland. What fills your heart?
For travelers who love all things autumn, Crystal Springs Resort, New York City's closest destination resort, features special offers and experiences to meet the demands of everyone's fall bucket list. Located only 80 minutes outside New York City in Sussex County, New Jersey, Crystal Springs Resort offers a quick getaway to enjoy fall foliage. Are any of these new offers or experiences on your bucket list?