As the daughter of an airline pilot, raised during the glory days of standby travel when seats were free and plentiful, road trips always remained a novelty to me. Our family buckled into pressurized cabins when traveling between European hubs and opted for aircraft landings when traversing Asian and African destinations. Only when traveling on American soil did we load up the car with blankets, snacks and tunes for motorized journeys across state lines. I lived for those few-and-far-between road trips, begging to pull over to sample fruit from roadside stands and calling out any off- kilter scents from the in-between places we passed on the way to family reunions or national parks.
Our family played road trip games and belted out epic ballads with the windows rolled down, all while creating inside jokes and memories that would last a lifetime. I fell in love quickly with road trips at an early age, which is why, when I moved overseas as an adult and was granted an International Driver's License, the call of the Autobahn proved too strong to pass up. It often sent me off on adventures around Europe and beyond.
Before long I found myself joyfully stuck behind herds of sheep in the Caucasus Mountains of Georgia, bartering for homemade jams from Romanian vendors set up along the winding roads of the Carpathian Mountains, boarding ferries bound for obscure Estonian islands and, yes, more often than not, returning home to a handful of speed camera tickets from a long drive through the Champagne region of France. I quickly justified the extra time it took to drive between major destinations — like Paris to Marseille — with the gorgeous countryside and off-the-beaten-path sites and landmarks I could take in along the way. I often stopped to grab lunch near a UNESCO World Heritage site or pulled into a local vineyard to purchase lesser-known wines from the owners themselves.
On a solo road trip through Lithuania, I stumbled upon an entire hill decorated with more than 200,000 wooden crosses of varying sizes and decided to pull over to check it out. The short detour into Kryžių Kalnas, as I later discovered was the hill's name, cost only two euros and an extra hour toward my arrival time but granted me the chance to discover a place I would likely have never known existed.
Most frequently I didn't use my own car for road tripping internationally, and I was introduced to Citroëns, Peugeots and Euro-spec Audis at rental agencies, along with gleeful reactions that I would even consider spending extra on a manual transmission. I learned a lot in those early days of road tripping abroad. For example, just because the other European drivers parked on the sandy Albanian beach doesn't mean your cheap rental car won't get stuck and require six German tourists to help push it out. Lessons learned: 1) Know how to say "help" and "thank you" in every language, and 2) spring for the rental upgrade. The misadventures became the adventures themselves, and my international road trips are now some of my most cherished travel memories, as they allowed me the opportunity to slow down and truly feel present in each destination.
International car rentals are just as tricky to procure as domestic ones, but thankfully an increase in Uber services overseas as well as international car sharing apps like TURO make it easy to get around abroad when traditional car rental agencies are short on inventory. Find more information at uber.com or turo.com.
POPULAR ROAD TRIPS
The years 2020–2021 have been the time of the Great American Road Trip … and for good reasons like natural social distancing, freedom to change plans and so on. But as international travel restrictions ease, many Americans take their road trips abroad for the chance to soak in new sights and create new memories on international soil. The most popular routes include the 4,860-mile stretch of the Trans-Canada Highway (the second-longest national highway in the world) between Victoria, British Columbia, and St. John's, Labrador; and the 925-mile trip between Buenos Aires and Salta in Argentina, as it traverses the country's famous wine region and showcases some of the most scenic vistas in South America.
While the Ring of Kerry in Ireland and the Amalfi Coast in Italy still prove as popular as ever with day-tripping roadsters bound for Europe, longer journeys throughout the continent are gaining momentum as well. In France, La Route des Grandes Alpes passes through four national parks and 16 mountain passes in as little as three days, where views of the French Alps are just as stunning as the mountain lakes and streams between them. The Black Forest High Road (B500) in Germany — often regarded as one of the most beautiful drives in the world — stretches 40 miles between Freudenstadt and Baden-Baden, past cuckoo clock makers and stunning forested landscapes. When combined with the Fairy Tale Loop in the north (372 miles from Hanau to Bremen), the journey shows off some of Germany's most magical scenery.
PLAN YOUR ROUTE
"Taking a road trip is as much about the destination as it is the journey," said Ellen Edmonds, public relations manager, AAA. "An international driving vacation comes with additional planning considerations and paperwork for which travelers need to be prepared. Travelers should understand the laws and requirements for driving in other countries, which can vary from country to country."
Travel agents make a great resource for mapping out an international road trip, but a little research can go a long way to planning out your own truly epic adventure abroad. Start by researching your destination country through the U.S. Department of State's international travel country information search tool, keeping in mind road conditions, signage, fuel stations and laws likely will differ from those in the United States. The info will guide your journey and prepare you for what may be ahead, but AAA also recommends getting a driving permit for international travel.
"An International Driving Permit, or IDP, is a legal document that translates U.S. driver's license information into 10 foreign languages," Edmonds explained. "More than 150 countries accept IDPs; many countries do not recognize U.S. driver's licenses without an accompanying IDP, and it is illegal to drive without a valid license and insurance in most places. Why risk ruining your vacation, being denied a rental vehicle or, worse, being stopped and fined for not having the authorized IDP in the designated language?"
Obtaining an IDP is easy, and you can do it online at aaa.com/ idp (available for members and nonmembers), and you'll just need two passport photos and a valid U.S. driver's license to accompany the short form. From there it's a matter of mapping out your route and hotels on paper or downloading any international driving apps and maps — like Google Trips — to make sure you've thought out your journey before arriving on foreign soil.
For the most part, U.S. auto insurance policies do not cover international routes, so check with your insurance company before travel to see what's covered and what you may need to do to ensure you're insured abroad. Many overseas car rental companies offer temporary insurance, but coverage can be minimal and varies from country to country, so know your insurance needs and be prepared to supplement extra coverage if wanted.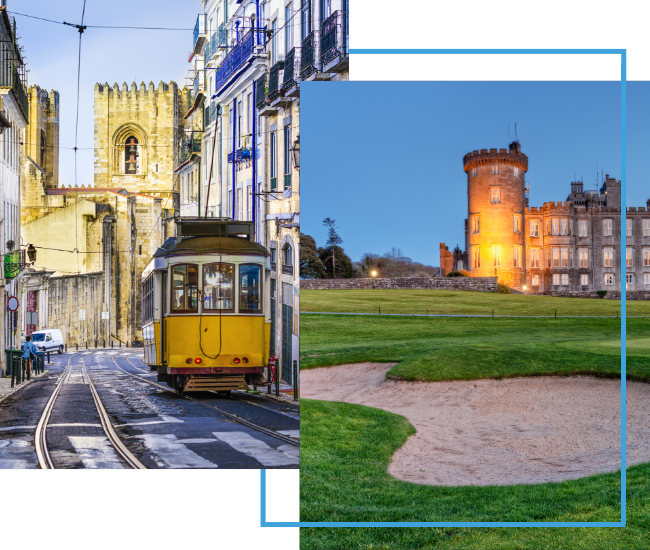 FX Excursions
FX Excursions offers the chance for once-in-a-lifetime experiences in destinations around the world.
Explore Excursions
If fabulous food and beverages are a must-have for any weekend getaway, then look no further than the City of Brotherly Love. Whether your palate has a penchant for vibrant Latin American fare or cozy French cuisine, whether you're an oenophile looking to swirl, sniff and sip your way around the globe or you'd rather sample farm-to-glass cocktails, Philly's got it all this fall. (With the exception of Bolo, which is a short taxi or Uber ride away and definitely worth the trip, the rest of these spots are all within walking distance of each other.)
Sponsored Content
Many small- and medium-sized businesses face time and budget constraints when organizing corporate hotel travel for employees. To address this problem, IHG® Business Edge emerged as a cost-free business travel solution for small- to medium-sized enterprises, offering travel managers exclusive access to enticing perks, handpicked educational resources and comprehensive company travel metrics. IHG Business Edge connects our loyal customers to our portfolio of 5,800 hotels and resorts across 18 brands in more than 100 countries.
From Santoríni to Dubai to New York, some hotels just have that "it" factor that draws visitors far and wide. For some hotels it's their proximity to popular landmarks and attractions, for others it's their amenities. But these hotels have something few can claim: a true room with a view.