From sleepy Southern villages lined with blossoming magnolias to mountain hamlets hosting quirky festivals, small towns are enjoying their day in the sun. Popular television shows like HGTV's Home Town, filmed in beguiling Laurel, Mississippi, make millions of people aware of the charms of non-urban life. It turns out an ever-growing demographic is more than happy to trade the prospect of bright nights and city lights for more local, personalized experiences — a preference that applies not only to where real estate roots are planted but to where tourism dollars are spent.
Set upon the banks of the Hudson River an hour north of Manhattan — and easily reachable by direct train from Grand Central Terminal — the sweet little town of Cold Spring, New York, looks like a film set, whatever the season. From the picturesque train station with its track-side restaurant to the ice cream parlor just across the street, the riverside gazebo and the fun mix of high-end branded shops and locally owned stores filled with unique wares, Cold Spring offers an easy city getaway or a serene destination all on its own.
Much like Cold Spring, the waterside town of Narragansett, Rhode Island, lies an easy distance from a city (this time, Providence) but feels as though it's a million peaceful miles away. Bordered by the Atlantic Ocean, Narragansett boasts more than 18 miles of beaches and nearby hiking areas with routes that include Whale Rock Trail and Black Point Trail. You can order a cabinet (Rhode Island's take on a milkshake; coffee-flavored is a local institution) and a "stuffie," featuring local clams called quahogs, then stroll over to the stone Towers on the waterfront to count the sailboats. Later, enjoy a sunset cocktail at The Coast Guard House restaurant, located between The Towers.
Maybe it's an essence of connectivity — an innate feeling of "I could belong here"— that makes small towns so enticing. Sometimes, it isn't just the town but its context that makes it exceptional. While Cody, Wyoming, offers a truly authentic Western-vibe small town experience, its position on the threshold of Yellowstone National Park also makes it a relaxed, welcoming base for a huge array of super-sized adventures.
Musician Dan Miller of Dan Miller Cowboy Music Revue has called Cody home for nearly 25 years. "For me," said Miller, "Cody has the best of everything to offer recreationally and spiritually. There's a genuine sense of community. We tend to care for people that we see every day on a deeper level."
It's a sentiment that permeates among small-town business owners and residents, who relish the familiarity and camaraderie of smaller settings. The enviable coastal address of Amelia Island in northeast Florida consistently draws visitors to its wide, sandy beaches and picturesque streets, but it's the ambience and friendly nature of the community that keeps visitors coming back.
Part of the Sea Islands chain, this small barrier island is known as Isle of Eight Flags, thanks to a tumultuous early history of ever-changing foreign control. Each spring, the town erupts with food, fun and more food during the Isle of Eight Flags Shrimp Festival. Regardless of the season, visitors can meander through the shops, partake in a craft beer and distillery tour, pop up to the window for fresh catch at Timoti's Seafood Shack, or book a luxury catered beach spread provided by Luxe Picnics by Les.
Experiencing the town's watery location comes with options: Visitors can unwind on the lovely beaches, take a sunset river cruise with Amelia River Cruise & Charters, or set off on a kayaking expedition with Amelia Island Kayak Excursions to view native birds and foliage at a relaxed pace.
Closer to the other end of the climate spectrum and once known as New Archangel, the town of Sitka, Alaska, straddles the west of Baranof Island and the south of Chichagof Island roughly 90 miles from Juneau. Rimmed by rain forest and home to roaming wildlife that includes brown bears, humpback whales and bald eagles, Sitka proves a winning choice for small-town travel that offers enormous adventure. Outfitters with a deep knowledge of local terrain offer kayaking, fishing, hiking and camping experiences; in town, museums and galleries such as Artist Cove Gallery offer basketry and woven works, sculptures and jewelry created by local Alaskan artists including Inupiat Eskimos and Northwest Coast Natives.
On Sitka's Lincoln Street, native-owned and -run Xút'aa Hídi gallery stocks fine arts crafted by indigenous artists. Shoppers can catch their breath over a coffee and something sweet at Sitka Flowers & The Chocolate Moose, embark upon a wildlife boat tour, or take in a performance by the Naa Kahidi Dancers, who regularly perform at Sheet'ka Kwaan Naa Kahidi Community House.
Sometimes, great small towns lie comfortably in the shadow of a great big town, as is the case in Franklin, Tennessee. Located just 20 or so miles from Nashville, this quaint Southern destination's size belies a huge array of things to see, do, listen to and nosh on. The Cork & Cow, located off the main square in the historic district, holds a venerable Wine Spectator's Award of Excellence — just one of several restaurants to have received national recognition. Come during the annual Main Street Festival, where perusing arts and crafts booths comes with a soundtrack of live music. Local activities include bourbon and whiskey tastings and seminars, trunk shows and live music weekends at 1799 Kitchen & Cocktails in the historic Harpeth Hotel (you never know what big- name Nashville act may show up unannounced).
There's an atmosphere inherent to small towns that simply can't be replicated by a big, shiny city and which can be truly hard to define. Small-town dwellers know that … and want you to know you're welcome to stop by.
"It's hard to put into words what it is that makes Manitou Springs so special — at least for me; I write menus, not poetry," offered Farley McDonough, owner, Adam's Mountain Café in Manitou Springs, Colorado. "Locally we talk about doing things the 'Manitou Way,' which means a lot of different things but is understood to mean we put people and our community first. We celebrate differences here and embrace quirky characters. We promote art and beauty all the way down to our public works; you can tell when you've crossed the city line by the change in the sidewalks and streetlights. What makes Manitou special isn't any one thing; it's a feeling you get when you're here and sharing in the community."
Set at the foot of Pikes Peak in Colorado, Manitou Springs was founded in 1872 as a health resort, thanks to the numerous natural springs burbling up from beneath its rocky surface. A great way to become immersed is to stroll along a dedicated route that leads to each of the town's springs, where you can sip the healing waters. Manitou Springs also serves as a great base for nearby sites that include Rainbow Falls, Pikes Peak Railway, Cave of the Winds and Manitou Cliff Dwellings.
For many travelers, there's something particularly alluring about small mountain towns, especially when they're tucked into a valley or bordered by a river that makes them feel as though they're in a completely separate world. Each March, visitors flock to the high mountain valley town of Nederland, Colorado, to take part in the annual Frozen Dead Guy Days Festival, while scenic Lewisburg in Greenbrier County, West Virginia, lures travelers with its collection of art galleries, period architecture and winding streets lined with charming shops and antique emporiums.
In Lewisburg, explorers can take a guided tour or cemetery walk or spend a morning discovering the collection of Civil War artifacts at North House Museum. A seasonal farm-to-table dinner featuring authentic Appalachian cuisine enjoyed beneath the wood-beamed ceiling at The Livery Tavern on Washington Street will keep you deliciously immersed in the region's historic atmosphere.
While the entire state of Hawai'i beyond Honolulu might feel like one big, peaceful escape, the village of Waimea on Hawai'i Island has a distinct character rooted in its history as a paniolo town of Hawai'ian cowboys and ranchers. Wrap up a day of horseback riding or touring the green-covered volcanic landscape by ATV by booking dinner at Hawaiian Regional Cuisine, founding member and multi-James Beard Awards finalist chef Peter Merriman's restaurant, before heading off to enjoy An Evening at Kahua Ranch to learn about the town's colorful past.
Whatever your geographical choice, a small-town escape provides a different kind of experience … one you'll likely savor. Deb Cunningham, a yoga and meditation instructor on Amelia Island who's also lived in cities including Los Angeles, Denver and Chicago, summed it up when she said about small towns, "What comes to mind immediately is perhaps a bit cliché, but it's the opportunity to slow down. If you live in a place where you are surrounded by serenity, it becomes contagious."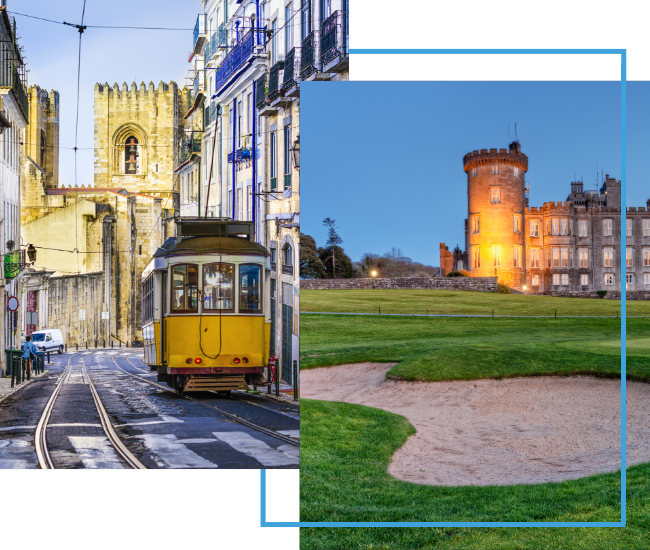 FX Excursions
FX Excursions offers the chance for once-in-a-lifetime experiences in destinations around the world.
Explore Excursions
Did the new film Oppenheimer rouse your interest in the nefarious world of international espionage? You can go straight to the real-life setting for covert actions this November (Nov. 10–12), when La Fonda on the Plaza in Santa Fe hosts a specially themed "Spies, Lies and Nukes" weekend. The hotel actually served as the retreat location for Manhattan Project scientists, who stayed at La Fonda on the Plaza to take a break from the stress of their work. During the weekend, the property's La Fiesta Lounge will make a tasty nod to those days by serving up a special Atomic Martini.
Sponsored Content
Experience the life-changing destination of Greece by exploring its island gems in the Ionian Sea. Scattered off the western coastline of Central Greece, to the south of Peloponnese, the Ionian Islands are an island group comprising large and small islands.
Ever want handcrafted martinis and freshly shucked oysters delivered straight to your room? The Read House's New Martinis & Pearls service has you covered. Shining in 1920s-themed decor, the historic hotel in the heart of Chattanooga offers a true Gatsby-esque experience, now further elevated with this upscale amenity. Guests can now indulge in their perfectly chilled martini, made to order, and "pearls" (oysters) in the comfort of their room.