Art travel is a growing passion among artists, art aficionados and collectors. From Manhattan to Marrakech, global galleries exhibit works by modern masters and emerging talents. While a few fairs feature Old Masters, most concentrate on contemporary works; some feature a myriad of movements, mediums and styles while others expand to include decorative objects, jewelry, antiques or photography. Typically, they gather in one central venue; often, a group of concurrent satellite shows invite attendees to nearby galleries, museums, foundations and other culturally rich settings. Notably, according to the Art Basel & UBS global collectors survey, buyers "are still eager to travel to view works in person at art fairs … nearly three-quarters (74 percent) had done so in the first half of 2022."
Art Basel — the prestigious, for-profit, privately owned and managed international art fair — is the best-known. At shows staged annually in Basel, Hong Kong, Miami Beach and Paris, blue-chip galleries represent the most celebrated artists who attract a high-net-worth clientele. At Art Basel Hong Kong in March 2023, Gladstone Gallery sold two Alex Katz paintings for $1.2 million and $1.3 million each; and Hauser & Wirth reported sales of individual works for $3.5 million and $4.75 million. Dealer-auctioneer Simon de Pury commented about this, the first fair since 2019. "There is a feeling of euphoria over this edition," he said. "International visitors are elated, locals are equally excited with the mask obligation having been dropped. Hong Kong is clearly back!"
Going forward, high-caliber marketplaces seem to be thriving. According to a report authored by Dr. Clare McAndrew, founder, Arts Economics, and published by Art Basel in partnership with UBS, "Global art sales increased by 3 percent year-on-year to an estimated $67.8 billion, bringing the market higher than its pre-pandemic level in 2019."
Art Basel 2023, set for June 15–18, expects 200 galleries and 4,000 artists in Switzerland, and Zurich Art Weekend, just an hour's drive away, takes place a week earlier. Art Basel Miami Beach — considered North America's most comprehensive international contemporary art fair — returns for its 21st edition Dec. 7–9 at Miami Beach Convention Center. Located off Lincoln Road, the fair transforms the early December shoulder season at the resort city to high season.
The legendary Venice Biennale, dubbed the "Olympics of the Art World," extends throughout prime tourist season, with the 60th show planned April 20–Nov. 24, 2024. The event dates to 1895, when The International Exhibition of Art of the City of Venice promoted "the most noble activities of the modern spirit without distinction of country." In 2022 more than 800,000 ticketholders came to see works by 213 artists from 58 countries at the 30 permanent pavilions in Giardini, the Napoleon-built gardens; at 15 national pavilions at Arsenale, the former shipyard; and at approximately 50 venues throughout the city, from the inimitable Peggy Guggenheim Collection to the Grand Salon of The St. Regis Venice. That's where famed artist Ai Weiwei created White Chandelier, a Venetian sphere of light made of iridescent crystal, in collaboration with the hotel, Berengo Studio1989 and Murano Glass artisans.
Art Fair Magazine's annual calendar lists 400 international art shows around the globe which span the gamut from Old Masters to futuristic, tech-centric art. For traditional Old Masters, collectors flock to The European Fine Art Foundation known as TEFAF; 270 dealers from 20 countries convened in Maastricht in March 2023, and the eighth edition just took place in New York in May. British dealer Charles Beddington claimed, "There is no shortage of interest in Old Master paintings. … Indeed, one just has to look at the fact that the Vermeer exhibition at the Rijksmuseum sold out almost immediately, while there are routinely queues to get into the Prado in Madrid or the Louvre in Paris." In time, dealers hope this interest will trickle down to the market. Beddington continued, "I think that there is an increasing feeling that Old Master paintings are undervalued compared with just about everything else, not only contemporary art but also sculpture and drawings."
Paris remains significant for its many top art exhibitions, including the Paris International Antique Fair which will present its collection of antiques, jewelry and decorative elements at Le Grand Palais Nov. 21–26. The City of Light's premier art fair, La Foire Internationale d'Art Contemporain, known as FIAC, appears at Grand Palais Éphémère, with concurrent pop-up events appearing throughout the city. And Biennale Paris has been a regular there since 1956. The MENART FAIR 2023 spotlights modern and contemporary Middle Eastern and North African artists in Paris Sept. 15–17. To see more talent from that region, visit Art Dubai, "the Middle East's leading international art fair," taking place every March in Dubai.
The only international fair dedicated to contemporary art from Africa and its diaspora is 1-54, a name that reflects the total number of countries on the continent. The Financial Times asserts this show is "now a leading voice for African modern and contemporary art world-wide." In 2013, 1-54 was introduced in London, then New York in 2015, Marrakech in 2018 and in Paris with pop-ups since 2021. The next 1-54 show assembles in London Oct. 12–15. To see and buy art from all over South Africa, collectors head to Art Joburg (Sept. 9–11) in Sandton, a chic Johannesburg neighborhood.
Other top international shows include ARCOMadrid, launched in 1982 and now one of Europe's preeminent contemporary art fairs, taking place each winter (March 6–10, 2024). India Art Fair, Feb. 1–4, 2024, in Delhi, is South Asia's premier arts and culture event, while Zona MACO International Contemporary Art Fair in Mexico City — recognized as the most important art fair in Latin America — will return Feb. 7–11, 2024. For its 20th anniversary, in February 2022, 137 galleries from 21 countries attended, and the show presented a Woman Artist Residency Award 2023.
For stateside experiences, New York — considered the art capital of the world — lures aficionados to a multitude of annual art shows. The Armory Show, named for the first modern art exhibition of its kind in the States (in 1913), will run Sept. 8–10 and is also produced in Miami. New York's fairs focusing on the contemporary market include the Artexpo fine art trade show in April; SCOPE, an innovative and more tech-driven contemporary show (also scheduled for Miami Beach) Dec. 5–10; and the principal Frieze Art Fair, which also appears in London, Los Angeles, Seoul and Paris. Since 2010 New York has also hosted Independent New York, luring an audience for contemporary art, and Independent 20th Century, premiering in 2022 as a champion for international avant-garde movements.
At least two art fairs sell artwork where ultra-rich collectors live or vacation: Art Market Hamptons lures the elite to Bridgehampton, Long Island, Aug. 10–13, and to Dallas, San Francisco and Seattle; and to Art on Paper New York Sept. 7–10. In Santa Fe, New Mexico, The International Folk Art Market honors handmade items crafted by about 150 artists representing nearly 60 countries July 6–9. Remarkably, approximately 16,000 attended a recent IFAM fair, and each booth earned about $20,000 … funds that primarily return to the artists in their native countries.
One art show stands apart by selling affordable artwork by independent artists.  The Other Art Fair connects independent artists with thousands of art buyers. The show is presented by Saatchi Art and founded by Ryan Stanier; since 2011, it has worked with about 3,000  artists from more than 20 countries. Its 11 annual productions run in Australia, the United States and the United Kingdom (where the London show is scheduled June 29–July 2.). According to The Other Art Fair, "When the art world as you knew it went one way, we went the other. Where elitism is the norm, we dared to deviate. Art isn't confined to convention or rule, and how you enjoy it shouldn't be, either."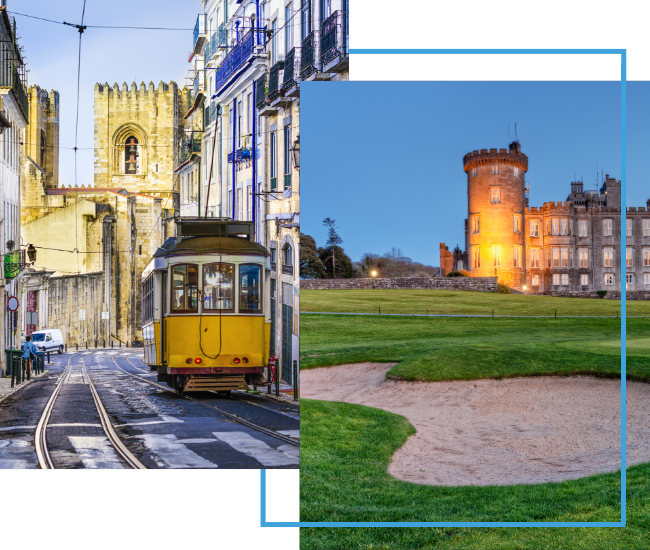 FX Excursions
FX Excursions offers the chance for once-in-a-lifetime experiences in destinations around the world.
Explore Excursions
There is something magical about sipping a glass of local wine while watching the sun slip into the Aegean Sea as the afterglow tinges traditional, white-washed Cycladic houses with glorious shades of rose, purple and gold. Ancient Greeks believed Helios, the Sun God, caused sunsets by driving his fiery chariot into the sea. Standing at water's edge in Mykonos, watching the sky slowly turn from purple to inky black, you almost believe it.
Sponsored Content
Learning more about our readers' travel habits and preferences ensures Global Traveler delivers the content you desire. As the travel industry has adapted and changed over the last few years, it's more important than ever to connect. To best meet your short- and long-term travel content needs, please help us!
The prospect of a post-visit treasure hunting session inside the shops of landmark museums such as the Louvre in Paris, the Uffizi Gallery in Florence and The British Museum in London can be irresistible. However, some of Europe's smaller and more unusual museums boast retail spaces with a surprising "wow" factor, often as well-curated as the galleries.