"Where are you from?" It's an innocent enough question. How do you answer it? Do you respond with where you live now? Or where you were born? Or where you spent your formative years?
Or perhaps you are one of the growing number of people conscious of the ancestral implications of this apparently simple query.
For those of us who travel, it is a question that can take on additional layers of meaning. By citing our current nationality, we can expose ourselves to prejudice based on politics, religion or race. But if we have knowledge of our ancestry, unlikely friendships can be forged or altercations avoided. Our genetic heritage can be more important than our passport.
Travel itself opens up opportunities to discover forgotten branches of our family trees. As we move around the world, we often cross paths with our forebears, and in many places they will have left behind a documentary trail.
Fragments of our family history can be found in record offices, churches, synagogues or mosques. Once we embark on a journey into our past, even the most routine trips can provide us with the chance to uncover new chapters of our personal story.
My own search began with the death of my last grandparent. All too often, we don't fully appreciate our bonds with the past until they have been severed. When my grandfather died in 1993, he left behind boxes of photographs and letters, but he was no longer around to provide a narrative for these precious relics.
If you are fortunate enough to have living grandparents or great-grandparents, make the most of their knowledge. Record their anecdotes. Ask them for help in identifying individuals in old family photographs. Find out what they know about the family tree. Firsthand accounts are priceless.
My own grandfather talked little about his origins. But when, at the age of 19, I booked an adventurous holiday to what was then the Soviet Union, I was exposed for the first time to the consequences of ancestry.
My grandfather was beside himself with worry, and did everything he could to try to dissuade me from going. "The Russians will never let you out," he insisted.
"Why?"
"Because you're Estonian."
Who knew? Certainly not me. I was born in northeast England and grew up in Africa. I didn't even know where Estonia was. In subsequent years, as I learned more about the little Baltic nation's troubled history, I began to understand exactly why my grandfather had been so concerned.
As I grow older, so my curiosity about my ancestry increases. It is a common pattern and one which, with access to the Internet, can quickly lead to the discovery of long-lost relatives and to a significantly lengthened Christmas card list.
One of the best starting points for genealogical research trace the various strands of my family back to the beginning of the 20th century before they diverged into non-English-speaking countries.
In England and Wales, a national census is conducted every 10 years, with the collected information embargoed for a century. Last year, the 1911 Census published online for the first time. For the price of a short-term subscription, I printed copies of the actual census forms filled in by my ancestors.
My grandfather was just 3 years old at the time; his details were recorded in the spidery hand of my great-grandfather, Kristian Alberg, a boot maker recently arrived from Estonia. On the other side of the family, I discovered my Swedish great-grandfather had been absent at the time of the census, sailing the Baltic as a ship's steward.
As I became more serious about tracing my origins, I subscribed to Find My Past, a genealogy company with dedicated websites in the United States, Ireland, the United Kingdom, Australia and New Zealand. Here, many of the essential records — census forms and BMD (birth, marriage and death) certificates — are easily accessible.
Soon my family tree expanded to such a size that I needed to spread out 12 sheets of letter-size paper to accommodate all the branches. Much of the Swedish side had already been uncovered in previous research by my late uncle, but the Estonian line only went back as far as my great-grandfather. As luck would have it, I had a trip scheduled to Estonia. It was time to take my research to the source.
And so it was that I found myself leaning against the rail of a ferry sailing into Tallinn. The church spires of the old walled city punctuated the horizon. More than a century earlier, this was Kristian Alberg's departing view of his homeland.
Although this was my first-ever visit, I was stirred by a primal feeling of déjà-vu. It would never leave during my stay. Generations of my family lived here, and their genetic legacy gave rise to an unexpected sense of belonging.
"This is where my family is from," I needlessly told the Russian taxi driver en route from the dock to the hotel. The driver reciprocated by grossly overcharging me for the short journey. It was the first hint of the historical enmity between the Russians and Estonians that had caused my grandfather sleepless nights during my trip to the Soviet Union all those years ago.
Estonia endured centuries of subjugation by the Swedes and then the Russians, yet the people defiantly retained their sense of national identity, largely thanks to their uniquely impenetrable language. In 1920, Estonia finally achieved independence, though it was short-lived. The Germans overran the fledgling nation in World War II, and after 1945 it was absorbed into the U.S.S.R. Independence was restored in 1991.
Through online research on the English-language website of the National Archives of Estonia, I traced Kristian Alberg to the small town of Haapsalu, which occupies a peninsula jutting out into the Gulf of Finland. It took a pleasant bus journey from Tallinn to reach this pretty settlement of pastel-painted wooden houses. I couldn't help but look for familiar features in the faces of the locals. How many of my relatives remain here?
Online, I had read the church records relating to my ancestors. Some of the documents were in Russian Cyrillic, which I was painstakingly able to decipher thanks to my previous trips to that country. Most were in German, the language of the Lutheran Church. They revealed just how deep my family roots are in this tiny corner of northern Europe.
Returning to Tallinn, my latent Estonian patriotism began to emerge. I felt undeniable pride at the sight of the blue, black and white national flags fluttering in Freedom Square.
On my final afternoon, I visited the Museum of the Occupations, which commemorates Estonia's repression by the Nazis and then the Communists. My natural English reserve was punctured, and I was moved to tears by two exhibits in particular.
First, on one side of the entrance hall, there was a line of battered suitcases. "These represent all of the Estonians who were forced to leave their homeland," the curator told me. My own great-grandfather was one of them.
And then, more shockingly, I found a sequence of photographs taken during the brutal Nazi occupation. One was of a line of dead bodies. I peered close to read the caption. It was like a body blow. "Haapsalu." For the first time in my life, I faced the horror of European history on a personal level. There was a real chance my own relatives were among those executed by the Nazis.
Many of the worst atrocities of human history have been caused by rampant nationalism, resulting in periods of history in which the answer to "Where are you from?" becomes a matter of life or death.
I left the museum with new perspective. My diverse ancestry is not exceptional; it's the norm. The more we investigate our origins, the more we discover that, ancestrally, there is one logical answer to the question "Where are you from?"
"Nowhere in particular."
Weblinks
1911 England and Wales Census
Find My Past
Museum of the Occupations
National Archives of Estonia
U.S. National Archives
WorldGenWeb Project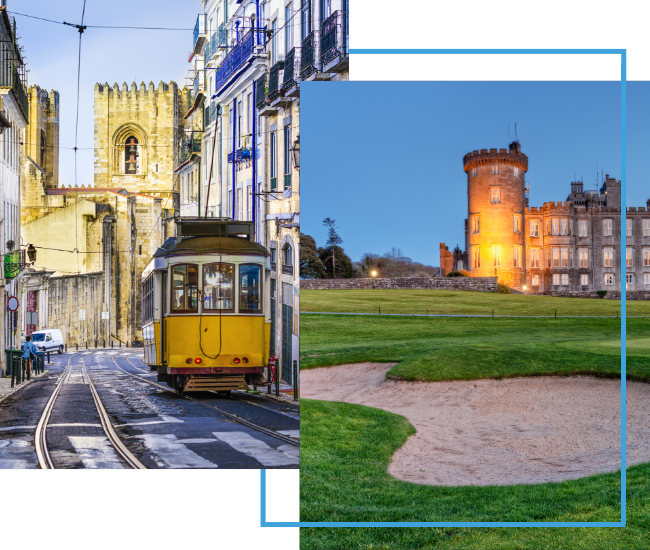 FX Excursions
FX Excursions offers the chance for once-in-a-lifetime experiences in destinations around the world.
Explore Excursions
There is something magical about sipping a glass of local wine while watching the sun slip into the Aegean Sea as the afterglow tinges traditional, white-washed Cycladic houses with glorious shades of rose, purple and gold. Ancient Greeks believed Helios, the Sun God, caused sunsets by driving his fiery chariot into the sea. Standing at water's edge in Mykonos, watching the sky slowly turn from purple to inky black, you almost believe it.
Sponsored Content
Are you looking to enhance your business trip with a little leisure? Look no further than Portugal, a country renowned for its captivating blend of history, culture and natural beauty. And with TAP Air Portugal, you can effortlessly transform your business trip into an unforgettable bleisure adventure. Discover why Portugal and TAP Air Portugal are the perfect combination for an enriching and rejuvenating experience.
The prospect of a post-visit treasure hunting session inside the shops of landmark museums such as the Louvre in Paris, the Uffizi Gallery in Florence and The British Museum in London can be irresistible. However, some of Europe's smaller and more unusual museums boast retail spaces with a surprising "wow" factor, often as well-curated as the galleries.