STARING INTO THE JADE SEA on the way to Caye Caulker, I thought of The Sea Around Us, Rachel Carson's classic biography of the oceans. "The deep blue water … far from land is the color of emptiness and barrenness," writes the great marine biologist. "The green water of the coastal areas, with all its varying hues, is the color of life."
On this tiny Caribbean paradise, really more of a sandbar just off the coast of Belize, you can walk from main pier to northern tip in less than 20 minutes, and in only a few minutes across, though nothing ever inspires such urgency. Walking is the only option, other than renting a golf cart, since there are no cars. My husband and I rode one of the many daily water taxis from Chetumal in Mexico with 50 other young travelers, mostly European, and a few children lugging backpacks home from school on the mainland.
Stepping from the dock onto the white sand among the palm trees, I took off my shoes like everyone else as a pelican swiveled off a post and glided away over the surf. "Go slow!" signs preached to the choir as I passed a woman I later came to know as the "Cake Lady" and a smiling man in a banana-leaf hat. Pink conch shell vendors and sizzling grills dotted Front Street all the way up to the Split, a channel left by Hurricane Hattie decades ago.
The swift current might wobble your kayak, but it's worth crossing to the north side's 100-acre Forest Reserve full of mangroves, exotic birds and "wish willies," slang for the local iguanas. I skirted the tangled roots as I maneuvered a standup paddle board from local outfitter Contour Ocean Ventures, counting herons and turtles.
Snorkeling outfits like Caveman Tours and Tsunami Adventures offer full- and half-day excursions starting from $35. The price includes a mask and flippers as well as entrance fees to the Hol Chan Marine Reserve, where you can see coral, tropical fish and the odd manatee. They also serve fresh ceviche and rum punch en route. Our shirtless guide flashed a gleaming smile as he stretched himself off the boat and flipped a hunk of fish up into the air for a frigate bird to catch.
"The face of the sea is always changing," Carson writes. This part of the Caribbean can flicker from vivid sapphire to the carved greenstone mask of a Mayan king but always remains like some precious stone.
I found myself staring at the water again just before plunging in to join the nurse sharks that fed on the chum our guide tipped over the side of the boat. We had reached so-called Shark Alley, and their jostling mouths greedily breaking the surface like giant carp belied their true nature, which I discovered underwater and up close to be gentle.
For such a small community, Caye Caulker teems with fine restaurants and laid-back nightlife. The range of options from sophisticated Italian charm and live music at Pasta per Caso to beachfront drinks at The Lazy Lizard overlooking the Split — and even gourmet wine and cheese at the more secluded Dreaded Grape — made it impossible to choose. So, at the urging of some new acquaintances, we sat at a table on a small dock next to Maggie's Sunset Kitchen.
Tucking into the stir-fried conch, a Londoner raved about the nearby Great Blue Hole, a 500-foot-deep diver's dream at the center of an atoll only a daytrip away. A Canadian told us about Caye Caulker's storied place on the Hippie Trail stretching down from Tulum on Mexico's Cancún Riviera and on to the Mayan ruins of Tikal and the natural splendor of volcano-ringed Lake Atitlan in Guatemala.
"Want to see a crocodile?" a voice whispered out of the night. We cautiously followed a local farther onto the dock until we saw it floating under our smartphone glare, a tiny caiman with beady eyes.
That didn't deter me from heading out again for night snorkeling. Bobbing in my four feet of light that kept the inky blackness at arm's length, I watched a translucent octopus crawl over the rocks until the guide told us to turn off our flashlights. None of the wild creatures that suddenly populated my imagination could compare to what happened next. He said to wave our hands in the water, and as I did, a glittering storm of bioluminescence materialized around my fingers. When I flailed, the water shimmered green.
The effect happens when bacteria, algae, protozoa and other floating animals congregate in warm-water lagoons. Again, Carson illuminates the experience: "Since they drift where the currents carry them, with no power or will to oppose that of the sea, this strange community … are called 'plankton,' a word derived from the Greek, meaning 'wandering.'"
Our last night at Wish Willy Bar & Grill lingered under the glow of Christmas lights strung over the backyard where my toes curled beneath the table in silky sand. Through the reggae I could hear the waves nearby. When the cook, Mama Star, recognized us, she brought over two generous rum Cokes. "What time ya got?" I tried out my Creole. She just laughed and brought huge ginger-buttered shrimp and jerk chicken still sizzling from her grill, with blackened yellow peppers and plantains on the side.
We ended up walking down Front Street with a New Yorker from the next table who dubbed herself "a 74-year-old woman living the life of a gypsy." Belize was her 79th country. When I asked what she was doing on Caye Caulker, she replied, "Becoming part of the universe," and wandered into the night.
Caye Caulker Info to Go
Daily 45-minute water taxis run morning to night from Belize City, with easy connections to the airport and other nearby islands and even Mexico. Everywhere you'll need to go on the island is within a 15-minute walk.
Where to Stay in Caye Caulker
BLUE WAVE GUEST HOUSE This newer accommodation with all-important balconies stands near the Split, so you'll have an incredible view and a fully equipped outdoor kitchen for lazy nights in. Front Street, Avenida Hicaco $$
CAYE REEF Lounge in luxury at this boutique apartment hotel with its rooftop hot tub and hammocks. Enjoy the local artwork on display. Caribbean Seashore, Playa Asuncion $$$
COLINDA CABANAS This laid-back beachfront mini-resort offers reverse osmosis purified water, two bicycles with each unit and a private 175-foot pier. Playa Asuncion $$
Restaurants in Caye Caulker
AMOR Y CAFÉ Lots of homemade foods including yogurt and bread make this breakfast spot the ideal place to start your day. Enjoy fresh juices from local fruit. Front Street $
PASTA PER CASO You'll think you're in Italy when you find your way to this prime spot on Front Street. It has a great wine selection and a pizza spinoff at the Split. Front Street, Avenida Hicaco $$
WISH WILLY BAR & GRILL Grab a seat and relax in Maurice's backyard while he fires up the grill. The jerk chicken and jerk shrimp — well, jerk anything! — are worth the wait. Park Street $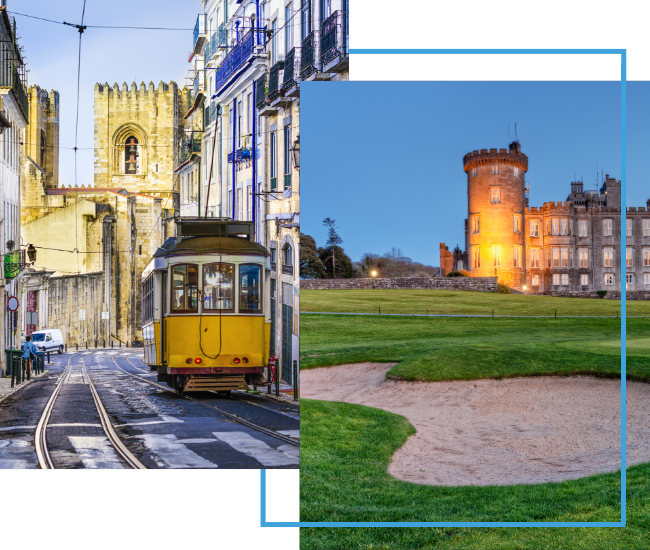 FX Excursions
FX Excursions offers the chance for once-in-a-lifetime experiences in destinations around the world.
Explore Excursions
If fabulous food and beverages are a must-have for any weekend getaway, then look no further than the City of Brotherly Love. Whether your palate has a penchant for vibrant Latin American fare or cozy French cuisine, whether you're an oenophile looking to swirl, sniff and sip your way around the globe or you'd rather sample farm-to-glass cocktails, Philly's got it all this fall. (With the exception of Bolo, which is a short taxi or Uber ride away and definitely worth the trip, the rest of these spots are all within walking distance of each other.)
Sponsored Content
Don't risk losing all the money you've spent if you must cancel your trip at the last minute. Allianz Travel Insurance can give you:
From Santoríni to Dubai to New York, some hotels just have that "it" factor that draws visitors far and wide. For some hotels it's their proximity to popular landmarks and attractions, for others it's their amenities. But these hotels have something few can claim: a true room with a view.