Nestled deep in a valley just beyond the foothills of the Andes Mountains, Chile's capital city of Santiago is a cultural destination that means business. Don't be fooled by the relatively small population of 6 million: This petite metropolis recently transformed itself from an unassuming Andean mountain town into one of the most important financial centers in Latin America.
Boasting more free trade agreements than any other country except Singapore, Chile has become one of the world's foremost centers of business. As one of the most stable and prosperous of the developing nations, Chile's democratic development makes it an ideal location to do business, especially in Santiago.
Despite the astounding urban rebirth and new position in the modern market, Santiago remains true to its South American roots, maintaining its charming customs and idiosyncratic ways of doing business.
It's been more than 20 years since Santiago felt the first business boom, welcoming numerous multinational corporations within the city limits including LAN Airlines, Microsoft, Nestlé and Yahoo. The city rallied to embrace the new additions by creating an urban scene with fashionable restaurants, mammoth museums and, most notably, South America's most extensive metro system. The system boasts more than 64 miles of revenue service, making it easy for business travelers to get the most out of a short trip to the city. However, it's wise to avoid using the transit system during rush hour, or horario punta — 7–8:59 a.m. and 6–7:59 p.m. — due to packed trains and more expensive ticket prices.
Luckily, transit times aren't normally an issue for business workers, as Chile has one of the highest averages of working hours per person in the world. Although a typical office may post hours from 8:30 a.m. to 6 p.m., it's generally frowned upon to leave work on time, and most workers stay until around 8 p.m. Despite the long hours, the working scene is generally relaxed, and siestas are still widely practiced throughout the city. Many businesses lock their doors during this time, and lunch breaks generally last one to two hours, depending on the level of worker.
Lunch is the main meal in Santiago, and for workers who don't go home for the break, most restaurants serve a fixed-price special (menú del día or menú ejecutivo) for business workers, costing $6–11 and including an appetizer, main course, beverage or wine, coffee and dessert. One of the most typical lunch places in the city is Osadía, off Avenida Nueva Costanera, where the service is delightfully slow, giving you and your associates plenty of time to unwind with a glass of wine on the patio. (Alcohol during lunch is not taboo in Santiago and generally consists of a single glass of wine or a Pisco sour per person.) For a more upscale lunch, Km0 is a favorite among the business crowd for its amazing wine list and consistent service in a trendy atmosphere.
Although lunches are informal in nature, hierarchy remains an important part of Santiago's culture (Chileans still use the formal "usted" for those in higher positions), and, generally, higher-level executives do not associate with lower-level co-workers or employees outside of the office. While in the office, interacting with co-workers is important, and it's essential to start any meeting with a handshake and exchange of business cards. Kissing on the cheek for women and embracing among men is reserved for closer associates and longtime colleagues. Most Chileans include two surnames on their business cards (father's and mother's), but they only go by their father's surname, which is listed first on the card.
Not surprisingly, aside from the frequent dining that takes place throughout the typical Santiago week (with afternoon tea normally observed 5–7 p.m.), the biggest cultural difference to adjust to in the office is communication. For instance, in Chile, "yes" doesn't necessarily mean "yes." Chileans tend to avoid unnecessary confrontation and use the word "yes" to mean they understand that point of view — not necessarily that they agree. For this reason, it's important to follow up with co-workers and clients to make sure you're on the same page. As it's not a common practice to acknowledge receipt of emails or phone calls, you may find yourself following up more frequently, anyway.
Dinners are rarely scheduled before 9 p.m. and often last well until midnight during the normal working week, giving plenty of time for you and your guests to fill up on all the delicious seafood and wines for which this city is famous. One of the best spots for Chilean seafood is Aquí Está Coco restaurant in the Providencia neighborhood, where the raw bar starts the evening before courses of fresh seafood prepared in Chilean sauces and spices grace the table (along with delicious Patagonian beef for the meat lovers). After dinner, the best way to wrap up the night is with a glass (or a flight) of Chilean wine at the hip Bocanáriz Vino Bar in Lastarria. Note that a 10 percent tip is standard in Santiago, and although it's not necessary to tip your cab driver, it is customary to tip your parking and gas station attendant 100 to 200 pesos.
Santiago isn't all business, though; with nearby vineyards, internationally acclaimed ski resorts, fresh seafood markets and beautiful beaches acting as the natural frame for this scenic city, Santiago offers an immersion into a delicious world of flavor and adventure.
After business hours and on weekends, find sightseeing and cultural options within walking distance of the major business districts and hotels, like the newly opened 5-star luxury hotel The Singular. Located in the Lastarria neighborhood near Iglesia de San Francisco, Gran Torre Santiago and the Museo Nacional de Bellas Artes, The Singular is one of the top-rated hotels for business travelers and features high-speed WiFi, a full-service spa, 24-hour room service and a great onsite restaurant. At the Plaza de Armas, visitors can feel the pulse of the city as they walk around the sculptures and fountains while sipping the local street food favorite mote con huesillo, a fruity and filling peach juice with wheat kernels and dried peaches.
The absolute must-visit for anyone looking to get a taste of Chile's signature flavor is the famous Mercado Central, consistently rated one of the best markets in the world and showcasing the country's diversity with seafood stalls, grocery stores, herbs, butcher shops, liquor stores, restaurants, delis, bakeries, pharmacies, dairy stands, jewelry makers, artisans and more. It's a great place to take adventurous clients to sample local delicacies like caldillo de congrio (conger eel soup), ceviche and empanadas de mariscos (seafood empanadas).
Although U.S. travelers to Chile do not generally need to obtain a visa, most are required to pay a reciprocity tax at the airport (about $131). But even the small tax is worth every penny to discover the delicious side of doing business in this Chilean city.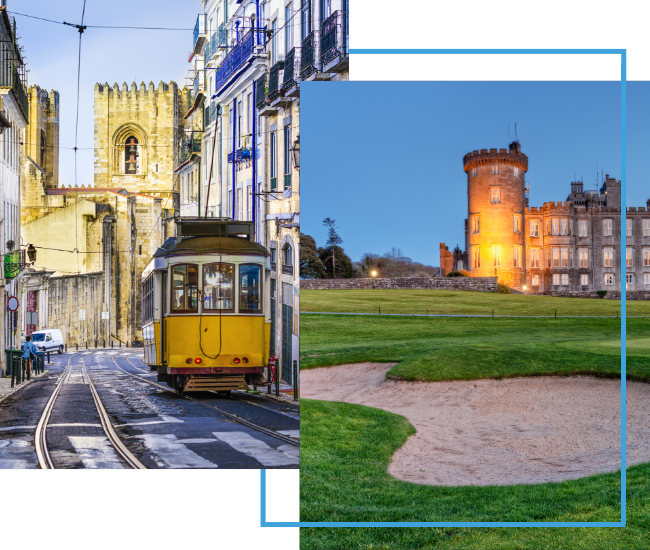 FX Excursions
FX Excursions offers the chance for once-in-a-lifetime experiences in destinations around the world.
Explore Excursions
There is something magical about sipping a glass of local wine while watching the sun slip into the Aegean Sea as the afterglow tinges traditional, white-washed Cycladic houses with glorious shades of rose, purple and gold. Ancient Greeks believed Helios, the Sun God, caused sunsets by driving his fiery chariot into the sea. Standing at water's edge in Mykonos, watching the sky slowly turn from purple to inky black, you almost believe it.
Sponsored Content
Whether it's the people, the craic (fun) or the coasts, travelers always find something to love about the island of Ireland. What fills your heart?
The prospect of a post-visit treasure hunting session inside the shops of landmark museums such as the Louvre in Paris, the Uffizi Gallery in Florence and The British Museum in London can be irresistible. However, some of Europe's smaller and more unusual museums boast retail spaces with a surprising "wow" factor, often as well-curated as the galleries.