Honeymoons reign as the ultimate reward. They stand out as your prize for a love well-tended, pay you back for months of wedding planning stress, and seal your commitment with an unforgettable experience that signifies the beginning of your new path together into the future. Honeymoons, you might say, represent the threshold to the next chapter of your life. Ready to step into the next phase? We propose some places that promise to fuel your amore for a lifetime.
While planning a honeymoon in the COVID-19 era presents a challenge for engaged couples, experts advise staying flexible and indefatigable … but don't be afraid to reach for the stars.
FOR ADVENTURERS
After all those pre-wedding deadlines and indoor fetes, nothing sounds better to adventure-addicted honeymooners than a self-guided ramble through the rugged hinterlands of Patagonia in a Jeep. While you hit the highlights by day (from Torres del Paine National Park in Chile to Los Glaciares National Park in Argentina) at your own pace, Quasar Expeditions works behind the scenes to organize characteristic lodging, unforgettable meals and VIP experiences along the way. In between steering along curving mountain roads and fording rivers, partake of Quasar's unique, add-on honeymoon experiences to enliven your South American road trip: ice hike with a Champagne reward, sunrise hike with private breakfast, Patagonian cooking classes, a sunset barbecue dinner for two, a professional photo shoot in nature.
EASY ALL-INCLUSIVE
Don't stop reading. Not every all-inclusive feels like a bargain table at a flea market with a throng of shoppers fighting over the deals. In fact, Mexico's jungle-ensconced, beachside Grand Velas Riviera Maya achieves the opposite: It's elegant, pampering, luxurious and brimming with options. Having paid up front, lovebirds need only take advantage of immense suites, 24-hour room service, eight restaurants, a bevy of bars, adults-only infinity pools and a gorgeous spa kitted out to evoke a sacred cenote. Customize your days to include romantic activities such as private mariachi concerts, beach movies and cooking classes. Don't miss lunchtime in a cavern, with three-course meal service 65 feet underground in the heart of one of the property's actual cenotes.
ROMAN HOLIDAY
Think about it: The word "romance" comes from the same Latin root word as "Rome." No wonder the Eternal City tantalizes lovers so. From the moan-worthy food to the dazzling fountains to the splendiferous piazzas, every Roman experience awakens the senses. Put yourselves at the center of the city's effusive amore vibes at Sofitel Roma Villa Borghese, a former 19th-century Roman palazzo nestled within walking distance of such landmark attractions as Trevi Fountain, Villa Medici and the Spanish Steps. Just having an aperitivo at the rooftop restaurant Settimo seems sultry enough, but the hotel can arrange custom jewelry shopping experiences, helicopter tours to one of Rome's countryside vineyards, private viewing of Caravaggio's only fresco — even a bath for two in Roman donkey milk, legendarily considered an aphrodisiac … but certainly good for the skin.
EAST AFRICAN SAFARI
Discover why everyone says a foray to the African bush will change your life. It's not just the animal sightings — though dazzles of zebras and towers of giraffes will steal your heart. It's equally the vastness of the golden-grassed terrain, the hugeness of the sky and the sense of being part of something primeval and eternal. You'll sip sundowners with Hemingway-style bravado with elephants in sight, stay in glamping tents or indigenously styled huts, and bump along dirt roads in a Jeep with binoculars in hand. Trust SkySafari's East Africa 13-day foray, which whisks you to various camps across Kenya and Tanzania in your personal SkySafari plane. From Elewana Tortilis Camp Amboseli, in the foothills of iconic Mount Kilimanjaro, to the 56,000-acre conservancy surrounding Elewana Loisaba Tented Camp, you'll experience a range of terrain styles, each abounding in wild beasts.
PACIFIC PARADISE
That sound you hear? It's your startled outcry of awe and delight upon seeing the thousand hues of blue that compose the waters around the various islands and motus of Bora Bora, French Polynesia's dreamiest destination. Poised on a limpid lagoon on its own isle beneath the watchful, ancient eye of Otemanu (one of the world's most captivating volcanoes), Four Seasons Resort Bora Bora pampers newlyweds with Polynesian style and barefoot opulence. Jaw-dropping overwater bungalows fulfill post-nuptial fantasies, with ample decks hovering above a plentitude of kaleidoscopic fish in motion; plunge pools; and huge, Tahitian art-filled rooms. Get smoochy after a private dinner on Sunset Motu, a tiny isle located just off the resort's beach, then wake to breakfast delivered to your room by outrigger canoe.
GREEK IDYLL
Legendary for its world-class sunset, Oia, a perfect village in Santoríni, draws you into its old-school, glossy magazine rendition of what you imagine Greece to be. Wedgwood blue seas hypnotically demarcate a horizon that must have been hewed by Greek gods making metaphor. Classic white domes and Santoríni's famous caves cling to hills with nooks perfect for musing and canoodling. Tuck into Andronis Luxury Suites, as quintessentially Cyclades as it gets. Twenty- nine mythic suites, each with private pool, each grotto-like, overlook the ancient caldera and surrounding islands. Cruise the sea like an Onassis aboard Andronis Ferretti, the hotel's own sleek yacht; let the sommelier lead you on a tasting with wines gleaned from grapes grown steps away; and dine at Lycabettus, famed as the island's most coveted balcony reservation.
ELEPHANT WHISPERING
You're already in love with one another, but do you have space in your heart for one more? Sashay farther afield to the remote jungles of far northern Thailand to experience Anantara Golden Triangle Elephant Camp & Resort. You won't leave without falling head over heels for a pachyderm — it's inevitable. Home to a herd of rescued elephants, well-protected among lush vegetation on the lips of a river overlooking Myanmar, this rustically swank resort allows compassionate interaction with the great beasts while unveiling the beauty of Thailand's graceful culture. Book a Jungle Bubble suite, rooms with see-through walls set amidst the leafy terrain, complete with plunge pool. Swoon from within as you glimpse grand "ellies" going about their business, trunks a-swaying while the two of you cuddle in awe.
VILLA HAVEN
After all the wedding hubbub, you may want just to be alone. That can happen on Ambergris Cay. On the southernmost end of the Bahama archipelago, this private island in the Turks and Caicos stretches just three miles. Untrammeled, intoxicatingly tropical, with more friendly iguanas than humans in residence, it holds just 10 private beachfront villa suites, replete with plunge pools, each with the turquoise sea at its front door. All-inclusive, each villa reservation comes with gourmet meals, premium drinks, ensuite dining, one massage per person per stay, water sports galore (sailing, kayaking, snorkeling) and a golf cart for scuttling from villa to main island restaurant and pool area. If you can tear yourself from your villa, let the concierges organize a catered lunch outing to a deserted island or a visit to the floating Tiki Bar for refreshing rum cocktails.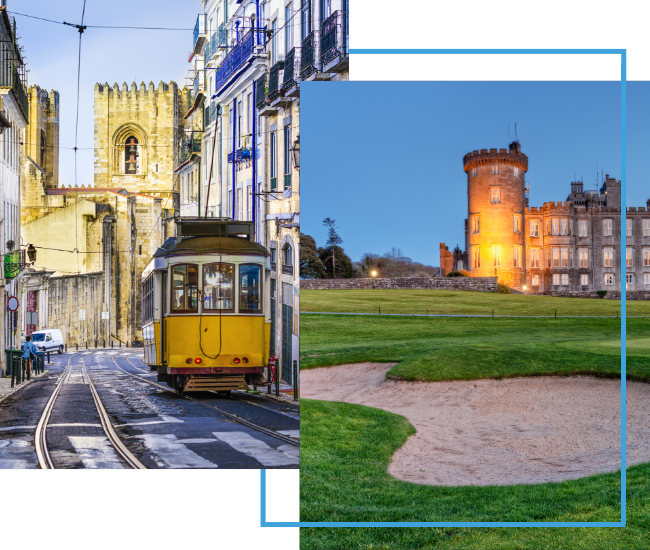 FX Excursions
FX Excursions offers the chance for once-in-a-lifetime experiences in destinations around the world.
Explore Excursions
If fabulous food and beverages are a must-have for any weekend getaway, then look no further than the City of Brotherly Love. Whether your palate has a penchant for vibrant Latin American fare or cozy French cuisine, whether you're an oenophile looking to swirl, sniff and sip your way around the globe or you'd rather sample farm-to-glass cocktails, Philly's got it all this fall. (With the exception of Bolo, which is a short taxi or Uber ride away and definitely worth the trip, the rest of these spots are all within walking distance of each other.)
Sponsored Content
Exclusive Sailing with Global Traveler
From Santoríni to Dubai to New York, some hotels just have that "it" factor that draws visitors far and wide. For some hotels it's their proximity to popular landmarks and attractions, for others it's their amenities. But these hotels have something few can claim: a true room with a view.