Arrival/Check-in: I arrived by car after being picked up at Abu Dhabi International Airport (AUH) just an hour or less away. It was quite late, close to midnight, and I had a full day ahead of me the next morning. Check-in was swift; and as I gazed around, I wished I had less time scheduled for work and more time to relax at this beautiful resort oasis in Dubai. Before going to my room, I arranged a driver for the next day, which was simple to do. I have used this same driver many times in Dubai.
Guest Quarters: The room was unique; immediately to the right upon entering was a massive bath with a large shower and tub. The tub was almost dead center with long, sheer drapes that acted like a door, offering a tented effect. Twin sinks, separated by a hanging vanity, were shaped like large bongo drums that tapered at the bottom into the wall — interesting design.
Walking out of the bath from a second entrance, I discovered a workstation and storage hallway, which on the other side acted as the headboard for the king-sized bed and night stands. On the wall was a large, flat-screen TV; a sofa, chair and small table were on the opposite side in a little alcove. The best was a small balcony where you could watch the polo ponies practicing. The room made good use of the space, and I found the accommodations comfortable.
Services/Amenities: There is nothing like having a refreshing drink and watching the polo team practice — a great plus for this property. What an entertaining end to the day I had at the Polo Bar, watching the sun set over the polo fields! Breakfast was located at Epicure, which also serves lunch and dinner in a bistro atmosphere. I had the absolute best homemade marmalade at breakfast. Guests enjoy Rare, the property's contemporary European grill; I was too busy coming and going to partake.
The beauty of the property for me is the ability to use it as a business destination, while others use it as a traditional resort. A car to downtown is only about 10 minutes, so the Desert Palm is fine for wherever your business takes you in Dubai. I suggest you book your own horseback riding excursions, as the property has 150 acres, and riding lessons are available. Desert Palm also offers an outdoor pool, a fitness center, four outdoor tennis courts, two indoor squash courts and, I hear, some exquisite bird-watching.
The Experience: An Arabian experience in a relaxing setting.
GT CHECKLIST
Doorman/valet
Less than 10 minutes for check-in
Separate tub and shower
Large vanity
High-quality towels
Powerful, unattached hair dryer
High-quality bed linens
Large, flat-screen television
Large desk with convenient outlets
Large, complimentary laptop safe
Complimentary in-room WiFi
Complimentary bottled water
Stocked minibar
Ample lighting
In-room coffeemaker
Iron and ironing board
On-site restaurant and bar
24-hour room service
24-hour state-of-the-art fitness center
Turn-down service
Desert Palm Dubai
Desert Palm Retreat
P.O. Box 119171
Dubai, United Arab Emirates
tel 971 4 323 8888
desertpalm.peraquum.com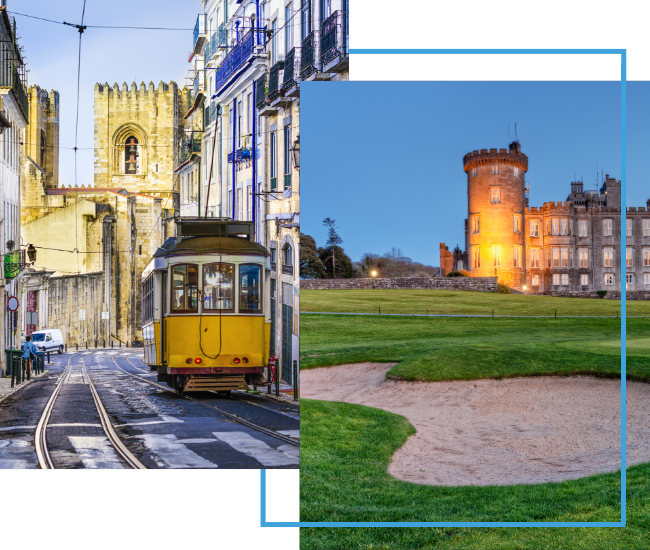 FX Excursions
FX Excursions offers the chance for once-in-a-lifetime experiences in destinations around the world.
Explore Excursions
Corsica with steep, gray cliffs overlooking the Mediterranean and sandy beaches attracting summer visitors, is a French-governed island sometimes confused with Sardinia and Sicily, Italian islands to the south. Fortunately, all three islands share the same love for good wine, food and sun-splashed beaches.
Sponsored Content
The Saronic or Argo Saronic Islands of Greece call travelers to explore its seven small islands and islets brimming with history, natural sites and more. With most easily accessible by boat, the islands' proximity to ports of Athens make the Saronic Islands an ideal destination for those preferring shorter boat rides. In fact, trips from Athens ports to the islands take only between 10 minutes and two hours, depending on the island you choose, making them perfect for day or weekend trips. From Piraeus port, you can access Hydra, Spetses, Aegina and Poros directly. Come explore these stunning islands with us and find the inspiration to plan your next trip to these islands. Hydra Hydra town curves around a slope overlooking the Argosaronic Gulf like an amphitheater and is considered one of the most romantic destinations in Greece. Most unique to the island is its lack of vehicles. People on the island get around on mules and donkeys as well as water taxis, making for a peaceful and laid-back day. Hydra lies a two-hour ferry ride from Piraeus port in Athens.
If you're ready to do a little holiday catch-up with your besties, make a beeline for Conrad New York Downtown. The lobby metamorphosed into a holiday forest of heavenly scented, decorated Virginia Spruce trees. Make your first stop ATRIO Barista Station in the lobby for a complimentary hot spiced apple cider (until Dec. 3) or hot chocolate (Dec. 22­–24).