Name: David W.J. Hsieh
Title: Direct-general
Company, city: Taiwan Tourism Bureau, Taipei City
Number of employees: 1,626
Recent project: Taiwan's 2015–2018 Tourism Action Plan, emphasizing diversity and lifestyle
First job: Section chief and senior engineer, Department of Public Housing, Taipei City Government
Little-known fact about you: I graduated from Chinese Culture University and National Cheng Kung University; while getting around campus, I developed a passion for riding bicycles that I keep up with today.
Your Business
Essential business philosophy: Teamwork and an environment of harmony
Best way to keep a competitive edge: Creativity, innovations and friendly services
Yardstick of success: Since 2008, when Taiwan received 3.84 million tourists, the number has increased by 1 million visitors per year. In 2014, we celebrated 9.91 million annual visitors.
David W.J. Hsieh as a Traveler
What is the most important item you take when traveling? My smartphone, to stay connected and record good memories, and items (vitamins, energy bars) to keep myself in good condition
How do you spend your time on board? I review the upcoming business talk and content and relax by reading the in-flight magazine or watching a movie.
What is your favorite restaurant in the world? Pingtung's seafood restaurants, serving sergestid shrimp, crab and mullet plus seasoned maguro and toro each May
What is your favorite destination in the world? Taiwan, my lovely hometown
About Taiwan Tourism Bureau
What events are planned in Taiwan for 2015 and 2016?
Taiwan Tourism Bureau selects 34 annual events for international visitors to gain an understanding of Taiwan culture and customs as well as opportunities to taste renowned Taiwanese food and experience the spirit of "Time for Celebration – Taiwan Tourism Events." The Taichung City Mazu International Festival centers on one of the world's great religious pilgrimages, when hundreds of thousands escort Mazu, goddess of the sea, to temples around the central plains. During the Pingxi Sky Lantern Festival, thousands of glowing lanterns carrying blessings fill the night skies. The Miaoli Hakka Food Festival supplies an endless table of the proud Hakka people's distinctive cuisine. The most popular event is the New Year's Eve celebration with its tremendous midnight Taipei 101 Fireworks Show.
What can business travelers expect from a visit to Taiwan?
The beauty of Taiwan, in addition to its people, is that visitors find all kinds of happenings in every corner of the island. The nostalgic historical spots, old streets, lifestyle aesthetics and old-fashioned village cultures move visitors' emotions and senses. Taiwan is recognized as the capital of gourmet food, with high-end dining, night markets and themed restaurants full of surprises and perfect for entertaining business guests and hosting meetings. Travelers are always impressed with Taiwan's safety and convenient 24-hour environment. By the end of 2015, the MRT will take visitors from Taoyuan Airport into Taipei city center in just 20 minutes. New 4- and 5-star hotels are coming as well.
What are your favorite sights and activities in Taiwan?
A favorite is Dapeng Bay, the biggest lagoon on the southwest coast of Taiwan, measuring about 2.2 miles long and 1.1 miles wide and offering canoeing and windsurfing. As the head of Dapeng Bay Scenic Area Administration for a decade, I participated in planning and building it up. Another favorite, the Taiwan Lantern Festival, was first held in 1990 and features a main theme lantern based on the Chinese horoscope. Traditional lantern cultures combined with modern technology make it one of the world's top 10 most amazing festivals.
In Taiwan, walking is too slow, driving is too fast, and cycling is the right pace. Popular in both cities and countryside, visitors can rent bicycles at metropolitan and national scenic areas. We also promote Taiwan's KOM (King of Mountain) Challenge, one of the world's 10 toughest races. Watching lantern festivals and cycling are not only my favorite activities, but also they can be your unforgettable experiences in Taiwan.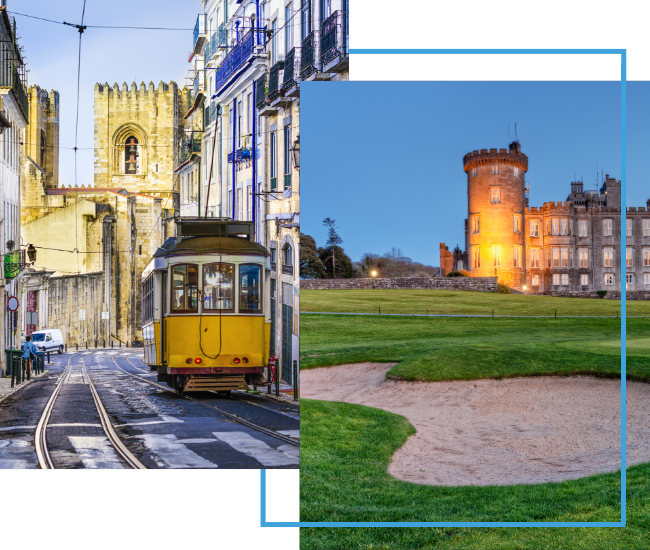 FX Excursions
FX Excursions offers the chance for once-in-a-lifetime experiences in destinations around the world.
Explore Excursions
The Perelman Performing Arts Center (PAC NYC), the cultural cornerstone and final public element of the World Trade Center site, opened this September.  The new performing arts center in Lower Manhattan provides a dynamic home for the arts, serving audiences and creators through flexible venues enabling the facility to embrace wide-ranging artistic programs.
Sponsored Content
Whether it's the people, the craic (fun) or the coasts, travelers always find something to love about the island of Ireland. What fills your heart?
Whether you call secondhand fashion treasure troves "thrift stores," "fripperies," "charity shops," "vintage boutiques" or something else, shifting the paradigm from "old clothes" to "new finds," you may find the best, most conversation-starting souvenirs inside these shops and neighborhoods located in the world's most fashionable cities and a few unexpected places.