CHENGDU, THE CAPITAL of China's Sichuan region, is having a moment. In fact, the city is booming, both as a business and leisure destination — so much so, a second international airport is under construction. When it opens in 2020, it will be the country's third-largest airport, after Beijing and Shanghai.
How did a city that not so long ago was a mere blip on the radar for a lot of Westerners become such a hot spot?
Smart investment choices played a role, spurring strong growth in such sectors as international manufacturing — Toyota and Microsoft maintain a presence here, as do food companies like Nestlé and Danone — as well as pharmaceuticals and aviation. The city is also attractive to startups, particularly in the area of software design and application.
Access also plays a part. Even before the addition of the new airport, Chengdu already ranked as the largest international hub in the Central and Western regions of China and the fourth-biggest in the country overall. Most flights from the United States require an extra stop, but some airlines introduced non-stop flights, including United Airlines from San Francisco International and Hainan Airlines from New York's John F. Kennedy International Airport. Rail access from other key destinations in China includes a new high-speed railway connection from Chengdu to Xi'an, in operation since late 2017.
But facts and figures only tell part of the story. What Westerners likely notice immediately on arrival in Chengdu is the relaxed and even familiar vibe that permeates the city. Yes, you'll see ancient temples and pagodas; tiny, winding streets; and signage in Chinese. But you'll also see familiar upscale franchises in prominent locations, from Hermès to Armani; young people in trendy fashions laughing in the streets; and outdoor cafés where you can stop for coffee or a glass of rosé.
Call it "China lite," although travelers looking for authenticity find plenty of that, too, especially away from the Sino-Ocean Taikoo Li district, offering a mix of high-end global and local shopping, restaurants and, incongruously, the ancient Daci Temple set among the touristy venues.
Speaking of tourists, the rising importance of tourism proves another key factor in Chengdu's growth on the international stage. According to government figures, the city's overall income from inbound visitors increased by more than 10 percent by the end of 2017 over the previous year, totaling 3 million visitors who spent nearly $3.5 billion. Interestingly, the profile of these visitors covers a broad spectrum, with key segments including corporate travelers, weekend and holiday leisure guests, families and MICE attendees.
To accommodate these visitors, luxury hotels scramble to keep up. Those that have popped up in recent years include the Fairmont Chengdu; The Temple House; The Ritz-Carlton, Chengdu; and The St. Regis Chengdu. More international 5-star hotels — like the Anantara Jinsha Chengdu Hotel and the Rosewood Chengdu — are set to open in the next three or four years, adding as many as 25,000 rooms to the city's inventory.
Also notable: the massive New Exhibition Center in Xinglong Town, functioning as the region's permanent venue to host Western fairs since October 2018.
CHECKING IN WITH KURT MACHER
General Manager, The Temple House
What is Chengdu like culturally in terms of openness and welcoming all types of visitors? Chengdu is one of the friendliest and most openminded cities [in Asia]. I don't feel like a foreigner here — everyone smiles at me and makes me feel welcome. Chengdu has one of the largest LGBTQ+ communities in China, and [couples] freely hold hands in public. Many millennials live here who are cool and fashionable, way ahead of Beijing and Shanghai. Overall, the local culture is relaxed, casual and easygoing.
How about the WiFi situation? Is that a problem? You can't access sites like Facebook, Google, WhatsApp or Instagram [via local internet], so the only way to do so is via a VPN. There is no problem with WiFi at The Temple House, and at home I also have WiFi.
If you were to arrange a business meeting with someone local, would you hold it during a meal? Are power breakfasts and working lunches acceptable? Most business meetings are conducted either at lunch, during tea in a teahouse or at dinner, which could include a hot pot meal. With locals, no one would have a power breakfast.
What is your favorite off-property leisure activity? I love exploring Taikoo Li especially if there are new stores opening, and visiting Daci Temple, so serene and quiet in the center of Chengdu. I also walk with my dog to parks and have local tea and enjoy the local community and culture. Peoples Park is my favorite. I also love to go to Jinli Street, where you can eat the best local street food and shop for local souvenirs to bring home to family and friends. You can also buy a great variety of local spicy sauces. Next door is the Temple of Marquis Wu, always a great spiritual visit.
What about for families? I suggest a daytrip to the mountains outside of Chengdu — Qing Cheng Mountains — a 1.5-hour drive from The Temple House. Taoism originated there, and it's great to go up the mountain to see many Taoist temples. A cable car takes you up, and you can hike down or even take the cable car back down if the kids are too small. Local teahouses are attached to many temples, and the views are stunning.
Things to Do in Chengdu
Locals in Chengdu seem to have a handle on work-life balance; you'll likely see them enjoying the same leisure attractions and sites as visitors. For a stroll through the city's past, for example, set aside time to visit Wide and Narrow Alley, comprising two parallel streets full of tiny shops and eateries, with traditional crafts, produce and artisanal wares on full, noisy display. The streets actually consist of a collection of traditional and recreated buildings where locals, displaced when their original locations were transformed into modern structures, now run their businesses.
You can even take a hands-on cooking class here — mapo tofu, anyone? — from a company called Sichuan Gourmet Trails, promoted by the Chengdu Cultural Department. Or spend some serious time exploring the rich culinary traditions of this region. One of the best ways to do that is by partaking of a hot pot dinner at a local restaurant. Consider trying Xiao Long Fan Da Jiang Hot Pot — you'll know it by the giant dragon by the front door — where costumed singers, dancers and sword fighters entertain as you dine. Sichuan cuisine is known for its fiery spices, and even though some hot pot restaurants offer a spicy and an allegedly non-spicy version, be prepared to set your sinuses on fire. Be aware, too, hot pot is a form of communal dining, so vegetables, meats, tofu and spices are typically tossed into a giant circular pot and cooked together — just something to think about for strict vegetarians and vegans.
Know also that few of the restaurants and local attractions boast English-language websites, so your concierge or local colleague will prove your best friend in suggesting eateries and guiding you.
Even if you have no time for any other leisure activity in Chengdu, don't even consider passing up a morning at the Chengdu Research Base of Giant Panda Breeding, about a half-hour away from the city center. The 250-acre facility, also functioning as a botanical garden, is a UNESCO World Heritage site and played a key role in first putting Sichuan on the global map.
More than 100 giant pandas of various ages live at the base, from Instagram-worthy babies climbing around their enclosures to massive adults who seemingly live to eat and sleep. Time your visit for the morning, when the adults are marginally awake; by afternoon they are mostly passed out from having dined on huge quantities of bamboo. The proceeds from the visit help support the center, with the admission price a bargain at only about $10. Give yourself plenty of time to do the center justice and save your shopping for the end, where the authorized shops and local vendors offer every imaginable panda-themed toy and accessory. Because the pandas are such an international sensation, most hotels offer packages to get you to and from the base.
Finally, enjoy the city's lively nightlife and take in some of China's most innovative hip hop and rap music culture near Sichuan University, or check out the LGBTQ+ bars in the Dongmen Daqiao district.
Chengdu Info to Go
Chengdu Shuangliu International Airport lies about 10 miles southwest of Chengdu city center. Taxi fare from the airport to the city center costs about $12 and usually takes 15–30 minutes.
Public transportation options include a direct link from the airport to the city center via the new No. 10 metro line that runs from both airport terminals. Five shuttle buses serve different parts of the city, including the main train stations, the new Convention and Exhibition Center, the U.S. Consulates and local hotels.
Chengdu: Just the Facts
Time zone: GMT +8
Phone code: Country code: 86 City code: 28
Currency: Yuan renminbi (CNY or RMB)
Key industries: Manufacturing, automobiles, IT, aviation, financial and insurance, pharmaceutical
COMING AND GOING
U.S. citizens must have a valid passport and a visa. You can obtain a tourist L visa or a business F visa through a Chinese consulate in the United States, but it's a complicated process and requires letters of invitation from your host company or hotel. Consider using a visa agency to simplify the process. Your U.S. passport must be valid for at least six months past your dates of travel and have at least two blank passport pages.
OFFICIAL LANGUAGE
Mandarin; however, the local Sichuan dialect is more commonly spoken.
Where to Stay in Chengdu
KEMPINSKI HOTEL CHENGDU Located near the U.S. Consulate and Jincheng Palace of Fine Arts, the property blends European and Asian ambience and cuisine. Relax in the indoor pool or book an event in the business facilities. 42 Ren Min South Road $$$
SHANGRI-LA HOTEL, CHENGDU Enjoy city and river views and take advantage of club floor access for your short or extended stay. Amenities include an indoor pool, spa and multiple eateries. 9 Binjiang Dong Road $$$
THE TEMPLE HOUSE The 100-room Swire Hotels property sports the posh look of a Qing temple but with a contemporary twist. The indoor-outdoor Jing bar spices up Negroni cocktails, and Mi Xun Spa makes jet lag but a memory. 81 Bitieshu St., Jinjiang District $$$$
Restaurants in Chengdu
LI XUAN Choose from Cantonese and Sichuan dishes at the fine-dining restaurant overseen by Executive Chef Martin Li. The lush setting evokes the ancient Shu civilization, and seasonal menu options include vegetarian selections. The Ritz-Carlton, Chengdu; 269 Shuncheng Ave., Qingyang District $$$$
MA WANG ZI Take a break from hot pot dining at this local favorite, but be prepared to wait; it doesn't take reservations. Crispy duck and grilled shrimp in the shell are popular, and be sure to BYOB. 1 E. Kangshi St., Dacisi $$
SOCIAL Get casual at the buffet-style restaurant at The St. Regis, where you can opt for regional or international fare served indoors or on a terrace overlooking the Chinese Estates Plaza. The St. Regis Chengdu, 88 Taisheng Road S., Qingyang District $$$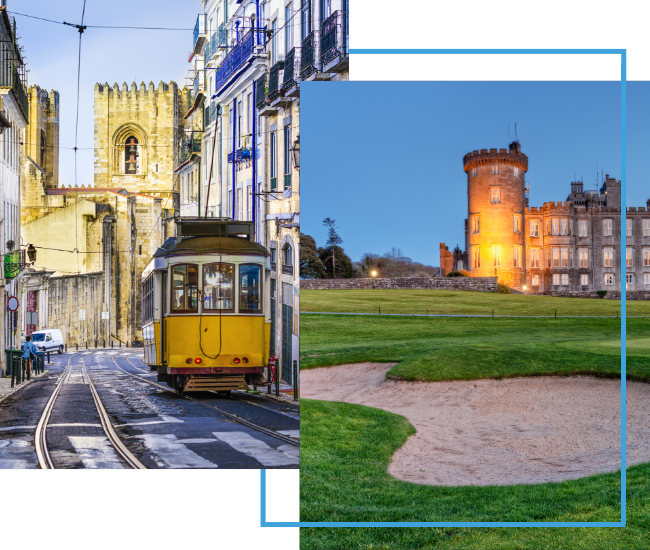 FX Excursions
FX Excursions offers the chance for once-in-a-lifetime experiences in destinations around the world.
Explore Excursions
One thing  surprising about the Prince Edward Island capital is its abundance of shops specializing in affordable, fashion-forward jewelry rendered in sterling silver, vermeil, 14K gold and semi-precious stones. Whether you prefer delicate pieces or bold wearable art, you can be assured the pieces for sale are inspired by the maritime island setting and, therefore, specific to the place where they are created. Here are a few shining, woman-owned examples:
Sponsored Content
The Global Business Travel Association (GBTA) believes business travel is a fundamental force for good and brings the industry together to connect, innovate and set new standards. With members from across the globe, GBTA engages the many voices of business travel to build a collective future, providing a platform for buyers and suppliers to come together, connect with peers, grow their network and shape the future of the industry.
Norway, a haven for visionary artists, architects and designers, showcases an exceptionally diverse array of cultural attractions. This year, the country commemorates exciting milestones and unveilings captivating enthusiasts of the arts, from iconic scenic routes to new museums to gallery openings. Up Norway features these new offerings in personalized itineraries catered to aesthetes.