Leaders from around the travel industry extend congratulations as Global Traveler celebrates its 15th anniversary.
Greek National Tourism Organization North America congratulates Global Traveler on the occasion of its 15th anniversary. May your magazine continue to inform and connect with luxury and frequent business travelers.
GRETA KAMATEROU, director, North America, Greek National Tourism Organization
Congratulations to Global Traveler on its 15th anniversary. JP Morgan Chase applauds your dedication to travelers, and we thank the readers for their preference for the Marriott Rewards Premier Plus card. Here's to many more years to come.
VIBHAT NAIR, general manager, JP Morgan Chase
Air India extends its congratulations to Global Traveler on its 15th anniversary and best wishes for the next 15!
JOHN MASSEY, manager, marketing programs and industry affairs, Air India
Congratulations on providing great information to support the frequent traveler community, especially the United Chase cardmembers. Happy 15th anniversary.
KRISTEN BOWDOIN, managing director, JP Morgan Chase & Co.
Congratulations to GT on its 15th anniversary; what a milestone! It's an honor to be recognized by the magazine for the award we won in the 15th annual GT Tested Reader Survey awards, honoring our continuous commitment to treat our increasing number of guests across the Atlantic with the best Belgium has to offer, which goes well beyond our delicious chocolates. I would like to thank Global Traveler readers for placing Brussels Airlines among the best travel options in the important North Atlantic sector.
CHRISTOPHE ALLARD, general manager business development, The Americas, Brussels Airlines
It is an honor United's MileagePlus loyalty program is consistently recognized by Global Traveler as the Best Frequent-Flyer Program. It represents our continued commitment to our MileagePlus members and credit card holders. Congratulations, Global Traveler, on 15 exceptional years!
LUC BONDAR, vice president of loyalty, president of MileagePlus, United Airlines
It's hard to believe 15 years have gone by so fast, but quality transcends time. Great to see how Global Traveler has grown and reinvented itself. Best wishes, Fran and gang, for at least another 15 years!
JOEL CHUSID, executive director, USA, Hainan Airlines
Congratulations on your 15th anniversary! Whenever we reflect on our own journey here at Asiana Airlines, one thing's clear: Global Traveler has been a constant source of inspiration for us, helping us to think about what it truly means to be a global airline. Looking ahead, we know GT will continue to play that vital role as the travel magazine that encourages the entire international airline industry to be the best we can be.
ASIANA AIRLINES TEAM
On behalf of the entire organization at All Nippon Airways, we extend our sincerest congratulations to your company for completing 15 glorious years of success. With your commitment to provide appealing content to your readers, you remain a bridge that allows companies such as ours to reveal relevant information to U.S.-based international travelers. We hope to continue our wonderful relationship for years to come. Thank you!
KEIJI OMAE, vice president, marketing and sales, the Americas, All Nippon Airways Co., Ltd.
Briggs & Riley has appreciated the connection Global Traveler has provided over the last 15 years. Our quality collection is showcased to a valued audience of leisure and business travelers, many of whom are loyal Briggs & Riley customers. We congratulate Global Traveler on this achievement and wish many more years of success!
RICHARD KRULIK, CEO, Briggs & Riley
IHG congratulates Fran and the entire Global Traveler team on 15 years of connecting and informing world travelers. At IHG, we share a passion for the very best travel has to offer. Here's to many more years of sharing the joys of world travel experiences with your readers!
DEREK DECROSS, senior vice president, global sales, IHG
LATAM Airlines would like to congratulate Global Traveler on an amazing 15 years! Two industry leaders have built a relationship since the early beginnings of the Global Traveler and new LATAM Airlines brands. We look forward to many more successful years and a continued, valued partnership with our friends at Global Traveler!
PABLO CHIOZZA, vice president, USA, Canada, Caribbean, LATAM Airlines Group
All of us at Avianca have enjoyed the content over the years of this wonderful publication. We would like to send our best wishes and congratulate the staff of Global Traveler on its 15th anniversary!
MARIO JIMENEZ, corporate sales manager, Avianca
South African Airways would like to take this opportunity to congratulate Global Traveler on 15 years of success. Over the years we have watched this publication continue to grow and develop. We look forward to reading more issues and continuing to participate in the GT Tested Reader Survey awards, in which we have won 15 years straight! Cheers to 15 more years of GT!
DAMION ROSE, manager, marketing promotions, South African Airways
2019 is a great year for landmark anniversaries — oneworld turned 20 on Feb. 1; one of our founding member airlines, British Airways, celebrates its centenary; and Global Traveler is 15 years old! Congratulations! As oneworld enters our third decade, we are rolling out a series of initiatives to make traveling with us even brighter. We've been honored to be Global Traveler's GT Tested Reader Survey Best Airline Alliance for the past nine years. We hope all the great changes we are making now will enable us to retain the title for a 10th year running in this, your 15th anniversary year and oneworld's 20th!
ROB GURNEY, CEO, oneworld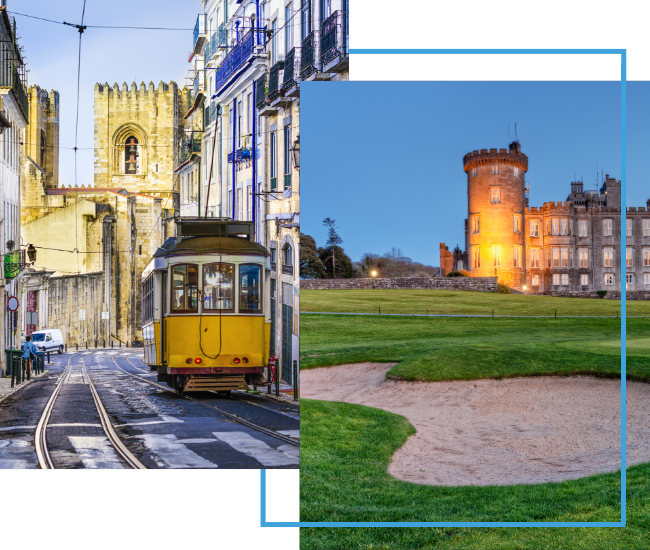 FX Excursions
FX Excursions offers the chance for once-in-a-lifetime experiences in destinations around the world.
Explore Excursions
In addition to intimate settings, smaller staff-to-passenger ratios, and personalized food and beverage options, river cruises have the advantage of providing a deeper dive into a region's culture, food and history. The Rhine, Rhône and Danube in Europe and the Mississippi River and St. Lawrence in North America have much to offer travelers with their itineraries, tying together beloved cities and lesser-known destinations along their routes.
Sponsored Content
The Islands of Tahiti offer a range of captivating activities for travelers with diverse interests, from hiking to breathtaking waterfalls, riding horses on secluded beaches; swimming with sharks; or immersing in Polynesian culture through traditional dance, music and art. For watersports enthusiasts, the crystal-clear lagoons offer exhilarating experiences like surfing, kiteboarding and paddleboarding. And if you're looking to relax, the pristine beaches, overwater bungalows and tropical sun offer the perfect setting. With 118 islands and atolls to explore, island hopping is an excellent way to experience the full diversity of The Islands of Tahiti. With its blend of adventure, culture and relaxation, The Islands of Tahiti offer a truly unique travel experience.
With the holidays right around the corner, travelers are preparing for holiday travels. For those looking for a last-minute getaway filled with holiday cheer, consider Croatia. With a variety of winter activities perfect for travelers and locals alike, the Christmas countdown in Croatia is in full swing. Leading up to Christmas, Advent in Croatia makes it even more worth your while to visit the country with free winter incentives. If you plan on visiting Croatia, here are five cities going all out for the holiday season: