LAST MONTH WE KICKED OFF VOTING for our annual GT Tested Reader Survey awards while wrapping up voting for our Leisure Lifestyle Awards. We asked our trusted Globility Board to share their thoughts on voting with us to encourage others to vote, either online or via the ballot printed on one of the following pages. The Globility Board is a vetted group of well-traveled subscribers serving as a sounding board for the magazine, offering insights into their travel habits and much more. In January they shared their thoughts on hotels, resorts and cruise lines; why they vote; and what the surveys mean to them.
This month we went back to those same intrepid travelers to learn what makes them vote for their favorite airlines and destinations. As we are also celebrating our milestone 15th anniversary this month, we asked them to share what 15 years means to them as readers, what they enjoyed or disliked during their time as a subscriber and what they hope to see in the future.
Read on as a few members share their thoughts.
For airlines, I vote based on what I like getting out of the total flight experience from curbside to curbside. I think there's room for a variety of viewpoints on best airline, depending on what a person wants. Probably the biggest differential is how a person wants the soft product service executed. I, for one, prefer not to be hovered over, whether it's in a restaurant or lounge or airplane. I like the flight attendants to notice things but not to ask the obvious. An anecdote: Last month in the Delta Sky Club Salt Lake City, there were some staff circulating who kept asking if I needed anything, which felt a bit annoying after the first time. In a lounge environment, where it's basically self-serve, staff should be able to recognize a person looking around for something or trying to get staff attention and otherwise leave them alone.
Going out of their way to help in specific cases is another service mark I rate highly. Last month, flying to Shanghai on China Eastern, I walked up to the business-class galley and asked for help with mi DiDi (a China ridesharing app), which somehow I'd set in Chinese, and there were no obvious options to change it back to English. The first attendant couldn't figure it out, and before long, it had elevated to peers who were finally able to fix it. Little things like that stick with me (and the free WiFi that actually works that China Eastern has in business on trans-Pacific flights).
As for destinations, that voting is a function of past experiences and the theme of any given trip. A beach and water holiday in Tahiti is hard to compare to a culture holiday in London or history in Israel or panda-ing in Chengdu. So it's really what you want out of a given holiday and how that destination fulfilled that specific theme and how you feel afterward. This year, I made first-ever trips to Israel and mainland China and enjoyed both for different reasons.
Finally, I love the magazine! I think you are spot-on with the slightly nonstandard physical size and selection in paper stock. The article font is perfect, and the breadth of topics is good. I enjoy the news section and the focused topics like technology. I also think GT is doing a great job with just enough of the "handwritten" comments in the margins; when they do show up, they're useful and not just a gimmick used over and over. Fifteen years is a long run for print in the current magazine/periodical world … I'm glad GT has survived as a hard product without going online only, and [I'm] confident it will continue to thrive!
— MIKE RUSSO
The 15th anniversary is crystal or, for modern times, a watch or timepiece. That seems to fit perfectly with GT as time flies. I remember early on reading it in the United Clubs. Then you had the special offer of bonus points (always look for those), and I became a full-fledged subscriber, delightfully so. While I appreciate the online versions, I still treasure the paper version. It is my required on-board reading during my flight adventures.
I love all of the areas and enjoy when there is a theme. I like the correspondence from others on their experiences. I really appreciate the hotel/airline reviews and the blurbs on what's new, who has a deal, how I can maximize my points or benefits. I appreciate the destination articles get right to the point, don't ramble and keep my interest. I'm glad to see you're branching out with those and also writing about the unexpected and not-always-obvious. The Chernobyl one is still fresh in my mind. In short: GT really is a part of my life, and here's to another 15 years.
— SUE CASTORINO
I remember the first time I came across a copy of Global Traveler more than a decade ago in an airline lounge. I started reading it and couldn't put it down! As an airline enthusiast who loves to travel the world, every article was so interesting to me, and there was no other magazine like it. I ended up swiping the only copy in the lounge so I could finish reading every article on the plane. I've been a loyal subscriber ever since and am excited each time it comes in the mail. I still take a copy from the airline lounge from time to time to give to friends, but only when there are many copies available so others can enjoy my favorite magazine!
Each year I vote for the airlines in which I am genuinely excited to fly — not just to reach the destination but to enjoy the flight experience itself. My friends and family often think it's strange I spend so few days at each destination, but to me, the travel is often the most enjoyable part. I get excited when trying an airline's new product, such as the new suites offered by Singapore Airlines and Delta Air Lines or the new Polaris cabin by United. But the single most important factor for my voting is the in-flight service, and often it's the Asian airlines that truly excel in this category.
— ERIC CHIANG
Congratulations to GT!
Fifteen years is quite an achievement in a highly competitive landscape. I recall that in some Latin countries 15 years marks the passage to adulthood (la quinceañera). To me as a subscriber, it is an adult publication yet has the dynamism that goes with its youth. It is always great to see the team get personally involved and continuously network with both the travel industry and your readership. The publication is always my first choice and a pleasure to read.
Going forward, I would like to see GT share additional aspects of your and your readers' combined experience on travel matters, i.e., not only the good but also sometimes the bad and the ugly, mistakes or places to avoid, why not …
— JEAN-CHRISTOPHE MURAT
Voting in the GT Tested Reader Survey gives me a chance to do two things. First, I get the chance to share an exciting travel experience with others or to show my loyalty to a particular hotel, airline or cruise line that consistently delivers the best service. Most of us just rely on Instagram or Twitter to comment on how nice our room is, how beautiful our favorite island is or how amazing a certain city is, but you can tell the entire world through the GT Tested Reader Survey. It's immortalized in print, not just the digital ether.
With airlines, admittedly, it is getting trickier. Unless you're flying to Singapore regularly, you have to accept even first class is not what it used to be. Still, public recognition for airlines is important; and if one has a loyalty program worth something, actually takes responsibility for a cancellation or handles a lost bag well, be sure to vote for it. Airlines that do put effort into customer service need to get recognition because, let's face it, bad publicity doesn't seem to have any effect on airline service.
The best thing about Global Traveler articles is the level of detail. With some travel magazines I flip through the pretty pictures, but with GT, I read, note and dog-ear every issue. The GT Tested reviews have practical reviews and points for places I regularly go, including at hotels where I can find a good price on a room. The featured stories inform me and give new insights even to places I have been to many times. For instance, İstanbul is a city I've been to several times and to which I will return. The destination story on Turkey in February 2016 pointed out things I still need to see and proved useful when I returned just this past summer. GT stories often end up torn out of the magazine, highlighted and put in a file. They're worth keeping!
— BENJAMIN DELEE
The familiarity with a website, mileage program, properties and airplanes are the reasons we vote for certain airlines. In the event things do not go well, I think my loyalty helps me get a better resolution to the problem. I see how proud the companies are when they receive awards at the ceremonies GT holds. Industry executives fly in from around the world to accept the awards, which I think is impressive. The awards are used in their company advertisements, and I think it helps their business.
Angela and I first picked up the magazine in an airline lounge and decided to subscribe. I remember maybe 10 years ago we got an invitation to an awards event at the Biltmore Hotel in Los Angeles. We were frankly surprised, and I remember asking one of the GT executives why we were invited, and they said they invite local subscribers to their events. We thought that was special, and it gave us a chance to talk to industry executives, which I felt was cool. I remember talking to the brand manager of the Boeing 747, a special conversation for me. My wife loves to fly British Airways, and she was able to talk with executives from BA, which she thought was great.
Global Traveler always offers us some interesting information about destinations, airline amenities, hotels and just great information we use to plan some of our different travel. We subscribe to a lot of publications, but Global Traveler stays on our coffee table.
— STEVEN AND ANGELA WHITE
With respect to destinations I recommend, my wife and I have had some fantastic vacations, and I would recommend just about all of them.
The temples and shrines of Bangkok and Chiang Mai are amazing. I think I wrote about the Anantara Hotel we stayed at in Chiang Rai. It has an elephant rescue camp. There are also beautiful gardens and an opium museum. Phuket Island is a wonderful way to end a hectic sightseeing vacation. We stayed at Mom Tri's Villa Royale Hotel and enjoyed the beach and pools, the restaurants and the spa. We flew All Nippon Airways' business class on the trans-Pacific flights, which I highly recommend.
We took a Tauck Tour to China, visiting Beijing, Xi'an, Guilin, Chongqing, a three-day Yangzi River cruise, Shanghai and Hong Kong. The harbor skylines of both Shanghai and Hong Kong are breathtaking, especially at night when they are lit up. We traveled to Beijing from Washington Dulles Airport on United's non-stop flight in the first-class cabin. We were the only two passengers in first class. We returned on Cathay Pacific in business class from Hong Kong to New York, with a brief refueling stop in Vancouver.
We will be returning to Asia this month, visiting Vietnam, Cambodia, Laos and Singapore. We will have the opportunity to sample the business- class cabins of Austrian Airlines, Thai Airways and Air China.
A trip to southern Africa is also an exciting vacation. We visited Cape Town and the Sabi Sabi Sands game reserve. This game reserve is adjacent to Kruger National Park but is a private game reserve. There are no fences between Kruger and Sabi Sabi Sands, so you see the same animals. The Jeeps at Sabi Sabi Sands can go anywhere the driver thinks the animals are. We stayed in the Earth Lodge, definitely not "tenting." The schedule includes an early-morning safari, an earlyevening safari and three meals. We flew to and from South Africa, and from South Africa to Victoria Falls, on South African Airways. The food was quite good.
— MARVIN SINGER
The past few years saw extraordinary entrepreneurial success with business travel for projects to Sri Lanka, Pakistan, Turkey, Mexico, Jamaica, Belgium, France and Italy.
I went on a "magical" (that is how my hosts described it, and they did not exaggerate!) trip to Paris as a guest of French fashion designer Thierry Mugler and his team to celebrate the 20th anniversary of his Angel fragrance. My host made all of the bookings; and although I had been to Paris many times before — and even lived there for a few months as a graduate exchange student — this particular trip was a completely different experience. I stayed at the Royal Monceau, now my favorite hotel in the world. I enjoyed the convenient location to Paris' central business districts and met colleagues for a drink at the hotel's Bar Long. The cocktails are memorable and service is efficient. The Royal Monceau has a Clarins Spa, a gym and indoor pool and the best breakfast service I have ever enjoyed anywhere at the hotel's La Cuisine restaurant. I had dinner at Helene Darroze's gastronomic restaurant. She is one of the leading Michelin-starred French chefs. I recommend lunch at Le Hoche restaurant. It is the perfect setting for a business lunch — be sure to order the clafouti for dessert.
I voted for Turkish Airlines, which became my favorite airline when I flew it in connection with my work on a disaster risk financing program that required me to travel to Sri Lanka and to Pakistan. I flew business class on Turkish Airlines from Boston to İstanbul and then enjoyed a layover of more than 12 hours in the airline's spectacular business lounge. The lounge features every amenity you could ever want, from great food to showers to business services. I then connected to Colombo, Sri Lanka, and returned from Islamabad to İstanbul to Boston. Turkish Airlines has the best in-fight cuisine. It manages to serve food that is moist, fresh and flavorful, rare for in-flight dining. The airline is my new choice for all of my business travel to Asia.
For travel to Europe, I favor United Airlines' Polaris business class. I just returned from a month working in Bellagio, Italy, and I flew United business class to Milan. I miss the original in-flight amenity kit it used to offer, but otherwise I love the in-flight service and, in particular, the wine selection.
— DONNA CHILDS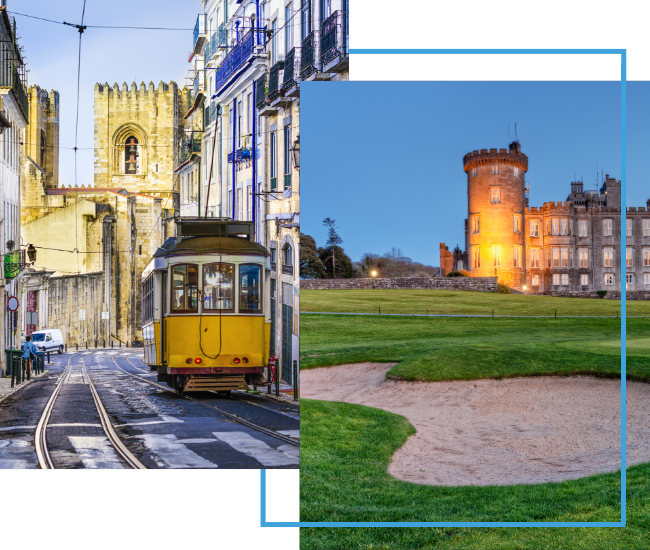 FX Excursions
FX Excursions offers the chance for once-in-a-lifetime experiences in destinations around the world.
Explore Excursions
A new and expanded campus at the Buffalo AKG Art Museum has been completed, reopening this summer and featuring new architecture designed by the architectural office of OMA New York, led by partner Shohei Shigematsu and project architects Lawrence Siu and Paxton Sheldahl, with Cooper Robertson (executive architect). The new expansion includes the Jeffrey E. Gundlach Building and extensive renovations to existing buildings. A $20-million commitment from New York State and Governor Kathy Hochul helped fulfill the expansion's budget and completes the $230 million capital campaign, the largest campaign for a cultural institution in the history of Western New York State.
Sponsored Content
Exclusive Sailing with Global Traveler
Ever since opening in 2021, Nobu London Portman Square has served as the focal point for many gatherings, stays and experiences. This fall the hotel's Nobu Bar adds four more reasons to visit with an exciting array of offerings, menus and events.