Earlier this year, travel agent Deb Krebs stood atop the Swiss Alps and checked in with her office. "I still don't get good cell phone service at home," says Krebs, who lives in rural Pennsylvania. "But there I was at 15,000 feet, reading my email and using my BlackBerry. I was extremely surprised."
Gone are the days when global business travelers had to rely on hotel phones or wait for a spot to open in an Internet-wired café to check email. Today's cell phones are sophisticated enough to operate reliably in even the most obscure locales.
"The overall wireless landscape has changed greatly over the years, and not just for international use," says Jenny Bridges, a spokesperson for AT&T. "Ten years ago, a wireless phone was still considered a luxury item for many people, and smartphones were strictly marketed to business professionals. Today, everyone is armed with a wireless device."
Not only do we call home when we travel across the globe, we also instant message, surf the Web, update our Facebook pages, tweet via Twitter and watch TV.
For independent film producer John Love, president of New Vision Communications, that's all secondary to having a solid, reliable phone connection regardless of where he may be. "For us, it's mission critical," says Love, whose work takes him to Europe, the Middle East, western Siberia and South America. "We can't not be in touch, either locally or with our office and family in the United States."
Staying in touch hasn't always been easy. When filming in Siberia a few years ago, Love rented a phone from a Russian carrier. Despite the exorbitant fees, the service was horrendous. These days, he relies on a BlackBerry Storm powered through Verizon.
"I think it's all about voice quality, email capability," Loves says. "And also service. Even in a place like France, where service is good, if there's some kind of issue in terms of configuring email with the carrier, you make one call and the issue is resolved."
Today's options for global travelers include a dizzying array of data phones, international calling cards, networking services, rentable phones and more. It's enough to make even the most experienced traveler's head spin.
Freelance writer Sonja Bjelland currently lives in India. She owns one of the latest cell phones, yet she is unable to make phone calls. Why? She didn't call her provider before she left the United States. When she arrived in India, her phone was locked.
"They did, however, temporarily suspend my service, so I pay $10 a month instead of regular rates for a phone I can't use," Bjelland says with a touch of irony. "However, I can still use the apps and Skype on the iPhone, so I can call local numbers in India." For WiFi service, Bjelland relies on hotspots at hotels and ashrams.
Phones, plans — and prices — differ among the top wireless providers. Before traveling internationally, brush up on what your provider offers. Some international calling plans can be prorated for a specific set of days, so customers aren't stuck with a higher-priced plan for a full month when their trip lasts just a week.
And while some providers offer international calling plans, not every phone they carry supports the service. "Travelers with a GSM phone (the cellular technology used by most carriers) will want to make sure they have a tri-band or quad-band phone, which works in the vast majority of countries worldwide," says Patty Raz, spokesperson for T-Mobile.
Further complicating service, some countries require different megahertz capabilities. Japan and South Korea operate on a signal that differs from Europe and other parts of Asia. Word to the wise: Check with your provider about where you're traveling before you leave on a trip.
But what if your phone isn't capable of supporting international calling plans or you travel abroad so sporadically that you'd rather not go through adding to your current plan? Staying in touch with home and office is still an option.
Subscriber Identity Modules are mini hard drives that hold data in mobile phones, including personal identity, phone books and messages. Travelers can purchase international SIM cards to make calls using local carriers and avoid international roaming charges.
One choice, the Telestial Passport International SIM Card, provides $10 in credit, a U.S. and a Global U.K. phone number and international roaming in 150 countries. International calls cost 49 cents per minute. Incoming calls are free in about 60 countries. More frequent travelers can opt for the Telestial Passport Plus SIM Card for lower airtime rates.
"Our network is up and running perfectly 99.9 percent and typically provides a superior roaming experience to that of roaming with 'home' service," says Ken Grunski, Telestial president. "The Passport SIM now offers data which three to four years ago would've been unheard of."
Travel agent Krebs recommends rent-a-phone services, such as those through Roam4Less, to leisure travelers leery of buying into the latest technology. "It's good if your phone isn't capable of international calling, or if you don't travel often and don't want to pay the money for a phone you won't really utilize," Krebs says.
Purchasing a local phone to use while in India made the most sense for Bjelland, who needed a way to contact drivers at train stations and find out if hotels had availability. She bought one in New Delhi for about $46.
"I think the service you choose depends on what you're doing in the country and how long you will be traveling," says Bjelland, who is developing a yoga travel website. "For short trips, an international plan and Skype capabilities would likely be fine … but for longer trips, it might be worth having a local SIM card in a phone at the very least."
---
Dial-up Access
AT&T
Customers may add AT&T World Traveler package plans to their service for $5.99 per month. With the plan, they can use voice services in more than 220 countries, with discounted roaming rates in about 100 countries.
Smartphones, BlackBerries and iPhones need the AT&T Global Add-on for email, browsing and social networking while abroad. Plans range from $24.99 to $199.99, depending upon the megabytes of usage. For example, $24.99 gets 20 MB; $199.99 garners 200 MB.
"We offer the largest portfolio of quad-band devices capable of operating on all four of the GSM frequencies," spokesperson Bridges says. "Our customers can make and receive calls and send text messages in more than 200 countries, including 3G in more than 125 of those countries."
T-Mobile
Before going abroad, customers just need to call T-Mobile to add international roaming to their accounts. There is no fee to turn on the service.
With T-Mobile's tri-band or quad-band phones, its international calling plans work in more than 200 countries, with customers able to use their U.S. phone number. For service in Japan and South Korea, where service is not GSM, customers need to rent phones from T-Mobile or a third party.
Roaming rates range from 49 cents to $3.99 per minute depending on the destination country. On average, phone service in Canada and in about 30 European countries falls into the 49-cent-per-minute range.
Watch for fees connected to Web browsing and texting. Sending a text, picture, video or instant message from abroad costs 35 cents per message; receiving data in any of those same formats costs 20 cents per message. Data roaming is available in 156 countries, and high-speed wireless with T-Mobile's 3G data roaming network is available in 31 countries. Customers may disable international data roaming before traveling to avoid fees.
T-Mobile also offers an unlimited international data plan for BlackBerry users at $19.99 per month.
Verizon
Last year, Tom Pica, executive director of Verizon corporate communications, got to see firsthand how his company handles global service when he traveled through Italy and Greece. From his hotel room in Palermo, on a rooftop deck in Rome and while traveling by car between Athens and Kampalato, Pica checked email, made calls, watched videos and updated his Facebook page. "It was like being at home only with better food," he says.
Verizon has several plans for business travelers. It also offers two kinds of phones for global travelers. CDMA network models work in 40 countries, and global devices (phones, smartphones and mobile PC cards) work in 220 countries. "We also offer a 30-day loaner program — no charge for global-capable loaner phones with an international roaming plan," Pica said.
Monthly access plans range from $129.99 (5 GB allowance for U.S. and Canada; 100 MB for about 37 countries) to $219.99 (5 GB allowance for U.S. and Canada; 200 MB for select countries). Customers also may add GlobalAccess to their $59.99 Mobile Broadband service plans in the U.S. for occasional use internationally. This extension allows high-speed wireless access in 200 countries, more than 105 of them with 3G coverage.
Other options include Global Phone, a phone that allows calling in more countries; GlobalEmail to access email while traveling; GlobalAccess to browse the Web while abroad; and the Global Travel Program for customers who travel abroad less frequently.
---
Get Connected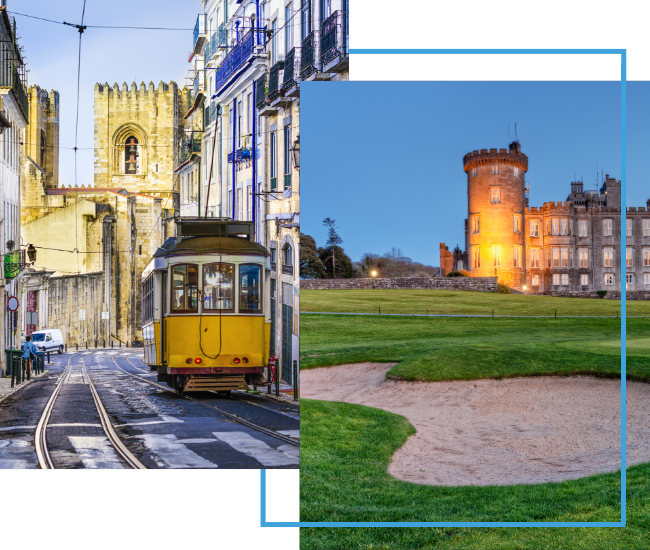 FX Excursions
FX Excursions offers the chance for once-in-a-lifetime experiences in destinations around the world.
Explore Excursions
Corsica with steep, gray cliffs overlooking the Mediterranean and sandy beaches attracting summer visitors, is a French-governed island sometimes confused with Sardinia and Sicily, Italian islands to the south. Fortunately, all three islands share the same love for good wine, food and sun-splashed beaches.
Sponsored Content
One affordable plan can protect an entire year of trips: business or pleasure, short or long, domestic or international.
If you're ready to do a little holiday catch-up with your besties, make a beeline for Conrad New York Downtown. The lobby metamorphosed into a holiday forest of heavenly scented, decorated Virginia Spruce trees. Make your first stop ATRIO Barista Station in the lobby for a complimentary hot spiced apple cider (until Dec. 3) or hot chocolate (Dec. 22­–24).