Last week I introduced you to the start of our quick, two-night trip to Seattle. We packed a lot into our one full day in the city, taking advantage of sunny weather and 70-plus-degree temperatures (and this was early May!) to walk the several blocks down to the waterfront from our hotel. We lived in the Seattle area for about 15 years but have been away for longer than that (apart from a few short visits), and we were fascinated to see all the new construction completed and underway throughout the downtown core.
The Pike Place Market draws hundreds of thousands of tourists and locals alike each year.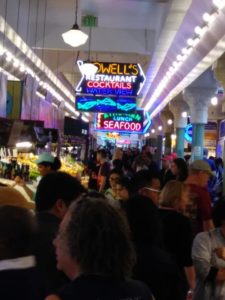 Opened in 1907, it's one of the longest continuously operating public farmers markets in the nation. Even here, since our last visit, new covered space for artists and crafters has been added to the north side of the market. Whether you're looking for unique handcrafts, jewelry or art; fresh produce or flowers; gourmet foodstuffs; abundant varieties of fresh seafood; or just a bite to eat, you can find it all here . . . along with a healthy dose of people-watching accompanied by the music of buskers.
After spending a little time soaking up the views and the sun overlooking Puget Sound, watching the ferries, freighters and pleasure boats plying the waters,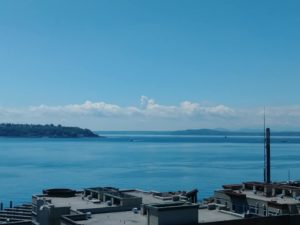 we headed inside to stroll the length of the upper market. Almost immediately we stopped at the Cyrus Saffron stall, where we purchased red thread, or red stigma, saffron, harvested from crocuses grown in Eastern Washington by an Iranian-born gentleman (Iran produces the highest-quality red saffron); if you take the time, you'll gather interesting stories from the vendors throughout the Market.
We cruised on down past the flower stalls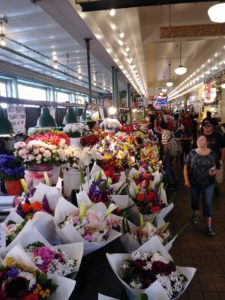 and lingered over the overflowing displays of fruits and vegetables,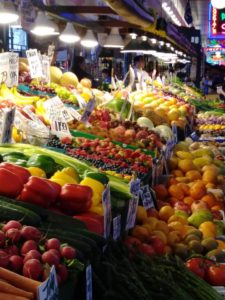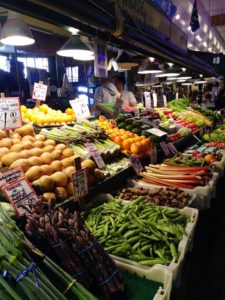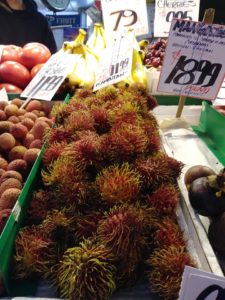 accepting offers to sample bites of some of the more exotic varieties.
Folks who've never been here have probably seen images of the famous "flying fish" at the market, where large salmon are tossed from one side of a fishmonger's stall to the other by wisecracking workers, and crowds of shoppers pause to watch the sideshow. That is only one of several seafood vendors at the Market, all boasting icy displays of crab, shellfish, halibut cheeks, scallops and all manner of fish.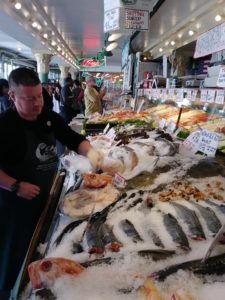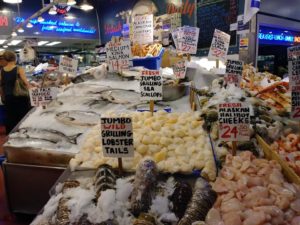 Our visit coincided with the first shipments of rich, oily, deep orange-fleshed Copper River king salmon, a pricey and much-anticipated commodity in these parts.
We stopped to admire and rub the nose of Rachel, the 550-pound bronze pig standing at one of the main entrances to the Market and one of its iconic symbols.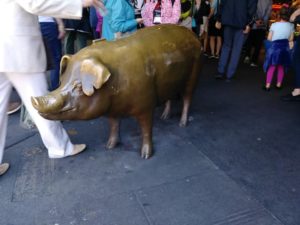 Then it was on to one of my most favorite shops in the Market, DeLaurenti Specialty Food and Wine. Operating since 1946, DeLaurenti's boasts 1,800 wines (300 Italian), microbrews, a full café and espresso bar. I love perusing the more than 200 cheeses
and impressive variety of cured meats in the deli cases,
and find the shelves of olive oils and vinegars simply overwhelming.
If they don't have it, you don't need it.
We wrapped up our morning tour of the market with lunch at Pike Place Chowder in Post Alley, just across from the Market. (They also have a place in Pacific Place Center.) They proclaim theirs is the No. 1 chowder in the country, having won, for the fourth year in a row, the "Best New England Clam Chowder" title in 2018 in Westport, Connecticut. They offer eight different varieties of chowders, bisques or soups in three sizes or take-away quarts, all using sustainable seafood. I was tempted to try their sampler but settled on the New England clam chowder, anticipating a big dinner that evening. With generous chunks of potato and bacon and plenty of clams in a well-seasoned, creamy broth, it truly was delicious. The rest of our party agreed this was a winning choice for lunch. There was quite a line when we arrived, but the efficient staff clearly knows how to deal with a crowd. We found an outside table in the sun and congratulated ourselves on a well-spent day.
— Patty Vanikiotis, associate editor/copy editor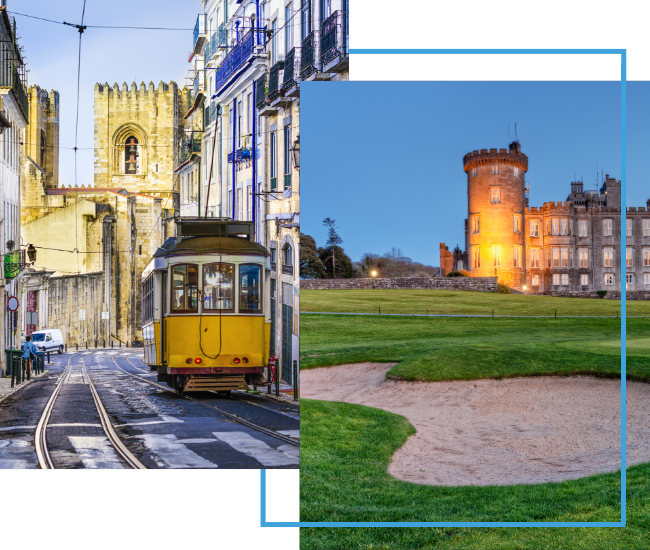 FX Excursions
FX Excursions offers the chance for once-in-a-lifetime experiences in destinations around the world.
Explore Excursions
Red Savannah launched a new series called In the Footsteps of…, which debuts itineraries of well-known figures, the first being Coco Chanel. As Chanel No. 5 celebrates its 102nd anniversary this year, the travel company invites fashion lovers, history enthusiasts and admirers of Coco Chanel to experience the new itinerary, In the Footsteps of Coco Chanel. The experience allows travelers to step into the remarkable life of one of most iconic figures in the fashion world.
Sponsored Content
The Islands of Tahiti offer a range of captivating activities for travelers with diverse interests, from hiking to breathtaking waterfalls, riding horses on secluded beaches; swimming with sharks; or immersing in Polynesian culture through traditional dance, music and art. For watersports enthusiasts, the crystal-clear lagoons offer exhilarating experiences like surfing, kiteboarding and paddleboarding. And if you're looking to relax, the pristine beaches, overwater bungalows and tropical sun offer the perfect setting. With 118 islands and atolls to explore, island hopping is an excellent way to experience the full diversity of The Islands of Tahiti. With its blend of adventure, culture and relaxation, The Islands of Tahiti offer a truly unique travel experience.
Mazatlán, Mexico, has long been an attractive home destination for Canadian and American retirees, but, in recent years, young, digital nomads have also discovered the charms of this coastal city, finding inexpensive accommodations, beautiful weather and plenty of bandwidth for working remotely. The laid-back beach scene definitely eases the transition of relocating to Mexico's West Coast.