While wine was the focus of my recent trip to the Finger Lakes, my group and I also took advantage of various nearby outdoor activities.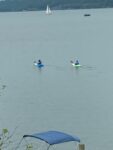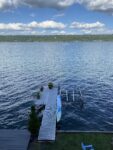 Our Airbnb on Cayuga Lake had private lake access as well as kayaks. One cloudy afternoon my friend and I decided to take the kayaks out for a cruise. I have not used a kayak in years, and I forgot how much of a workout it can be! We pushed out from the dock and paddled north. We didn't track our distance, but we were on the water for about 1.5 hours — enough time to work up an appetite for dinner!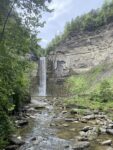 Unfortunately, we did have a few rainy days during our visit which limited our outdoor time. One non-rainy day we made our way to Taughannock Falls State Park for a quick hike and view of the stunning falls. We walked on the Gorge Trail to the falls. The waterfall plunges 215 feet through rocky cliffs, 400 feet above the gorge. The drop is 33 feet higher than Niagara Falls.
We spent a little bit of time walking around downtown Ithaca, a short drive from the house. I would like to spend more time exploring on my next visit.
— Katie Skrzek, vice president/digital director
FX Excursions
FX Excursions offers the chance for once-in-a-lifetime experiences in destinations around the world.
I imagine that when writer Hans Christian Andersen mused, "Life itself is the most wonderful fairy tale," he was standing at the edge of Copenhagen's historic Tivoli Gardens, one of his favorite haunts, enlivened by the swirl of human happiness that surrounded him: children laughing; carousels spinning; games of chance played for prizes; lovers holding hands; hungry people whispering over sweets, hot drinks, beer and towering, open-faced smørrebrød, Denmark's quintessential sandwich. That fairy tale lives on today at the second-oldest amusement park in the world, a spectacle of folly architecture, bakeries, gardens, rides, restaurants, puppet shows and joy ... and which also happens to be one of the city's most storied places to convene for business.
Sponsored Content
The Global Business Travel Association's (GBTA) Convention 2021 will be unlike any other convention before it, as we come together in person for the first time since the business travel industry drastically changed and look forward to rebuilding and reshaping the future. GBTA Convention 2021 will bring all of us together to learn from experts and each other, in-person at Orange County Convention Center in Orlando, Florida, Nov. 17–19. The safety of our attendees is our top priority. View health and safety protocols.
The restored Park Hyatt Toronto reopened its doors, bringing luxury, sophistication and glamour alongside a nod to the hotel's Canadian heritage. Alessandro Munge of Studio Munge collaborated on the hotel's refresh, drawing inspiration from Canada's seasons and natural landscapes.