I spent last week in Florida, seeing the new Global Traveler office, catching up with the GT team and meeting new members, assisting at the Global Business Travel Association convention and enjoying fantastic food and beverages.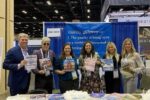 After meeting Publisher & CEO Francis X. Gallagher at the airport, we dined at Rosebud's in Osprey. The shrimp and scallop risotto was perfectly prepared. The rice was creamy and the seafood plump, juicy and fresh. I finished with an excellent cannoli.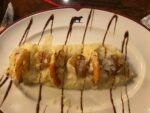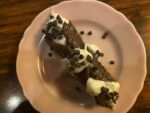 After the first day of the convention, the GT team dined at Charley's Steak House. The whole wood-grilled snapper with pineapple mango salsa looked artistic and tasted fantastic. An appetizer of cedar plank cauliflower was huge.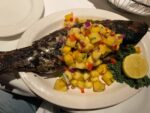 Near the Orange County Convention Center, Harry's Poolside Bar and Grill was a fun restaurant. The Jamaican jerk turkey burger with grilled pineapple and orange chili sauce was layered with flavors. The yucca fries had a crisp outside and soft inside.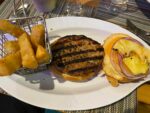 Upon our return to Osprey, Fran and I relaxed at Casey Key Fish House. I had been craving crab cakes the entire trip, and I got great ones here. A frozen strawberry margarita was a refreshing accompaniment.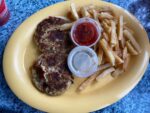 On the last night, Fran grilled a fresh tuna steak and portobello mushrooms. Grill master Fran gave it a nice char on the outside, while keeping the inside pink and tender.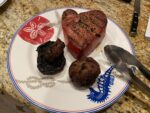 The food was awesome, but the best part of the trip was being with the other GT staffers. It's a great bunch, and I am proud to be part of the team.
— John Wroblewski, online writer
FX Excursions
FX Excursions offers the chance for once-in-a-lifetime experiences in destinations around the world.
Raffles Hotel Singapore delights guests with curated, immersive experiences. Coming off a restoration in 2019, the iconic property welcomes back international guests with unique offerings.
Sponsored Content
Without a doubt, the pandemic changed the role of airports in the travel industry. Hamad International Airport's role evolved in many ways since the pandemic hit. Now, more than ever, airports are responsible for creating a secure passenger experience. As the gateway to Qatar and the world, the safety and wellbeing of staff and passengers has always been at the core of Hamad International Airport's strategy.
The holidays are right around the corner and it's time to start thinking about gifts for your wine-loving friends. If you or someone you know is planning an upcoming trip to a wine region, check out Argaux. The all-women-operated and -owned online wine shop and educational platform offers a series of tasting sets to celebrate and introduce some of the best wine destinations. The Gaux-To Tasting Sets are perfect for travelers to experience the wine before they travel — or without having to travel.