A New Orleans Sunday
By
Patricia Vanikiotis
- February 9, 2019
Our first full day in New Orleans fell on a Sunday, and we managed to pack a lot into it, from the sacred to the hedonistic. We began with a trip to Jackson Square in the French Quarter, strolling about the park and observing the artist vendors' work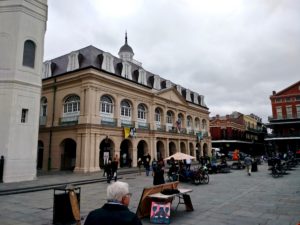 and the performers (magicians, musicians and jugglers)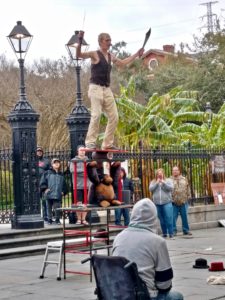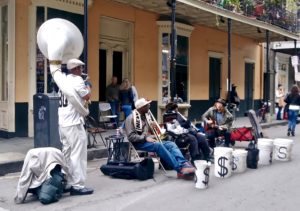 before entering the lovely St. Louis Cathedral for Mass. The square centers on a bronze statue of Andrew Jackson, hero of the 1815 Battle of New Orleans,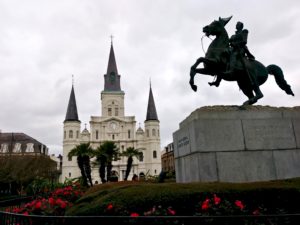 and even on this chilly, gray January day boasted blooms and greenery. Because of both the weather and the fact the Saints would be playing the Philadelphia Eagles that afternoon in the Superdome, we didn't have to fight a crowd of visitors.
The cathedral was still decked out in its Christmas finery (it was the last Sunday of the official Christmas season), but clearly it is stunning, even without the banks of poinsettias and twinkling lights.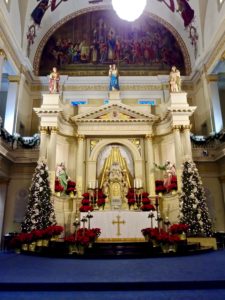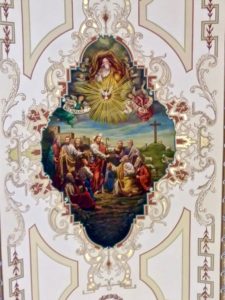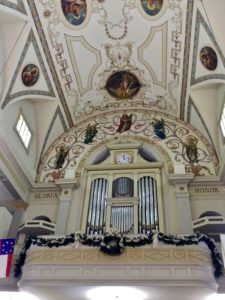 We were amused to see that both Saints and Eagles fans in attendance weren't shy about wearing some of their fan attire in the church, but I can report that they behaved very civilly towards each other!
After Mass we meandered slowly through the Quarter, poking into antique shops and boutiques and admiring the traditional architecture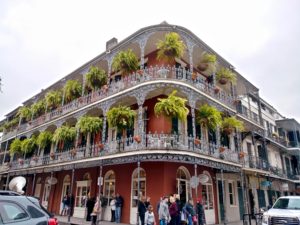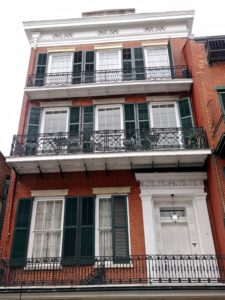 as we made our way to Brennan's for Sunday brunch. Brennan's, a New Orleans institution since 1946, is famous for its classy atmosphere, breakfast traditions and several original dishes. I loved its sunny but soothing peach and jungle green décor and could picture how delightful it would be to sit under one of the umbrella tables in the inner courtyard . . . on a warmer, brighter day than this.
With knowledgable suggestions from my brother-in-law, a seasoned NOLA visitor, our selections included some of the restaurant's most famous dishes. I started my meal with a most decadent baked apple,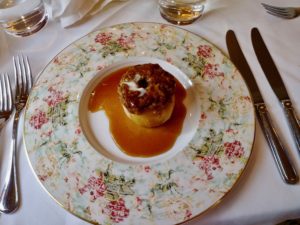 topped with an oatmeal/pecan/raisin crumble, drizzled with a brown sugar glaze and served with crème fraîche — like having dessert for a starter! Harry began with turtle soup (the real deal), a decadently rich, savory Brennan's specialty.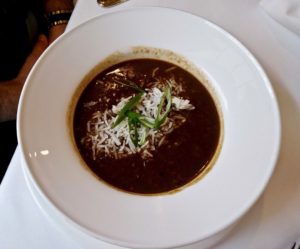 His entrée, another house original, was Eggs Hussard, a Benedict-like concoction served on housemade English muffins and served with coffee-cured Canadian bacon.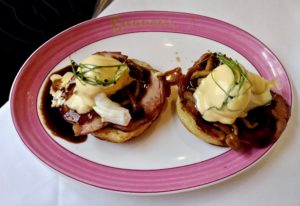 I opted for the lighter Breton Scallop Quiche with a rich, buttery crust and topped with a bit of crab and watercress salad.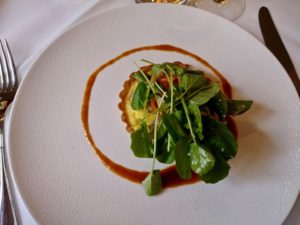 Of course, stuffed as we were, we still had to order another Brennan's original, Bananas Foster. (Yes, it was created here.) Prepared flambéed tableside with just a few simple ingredients,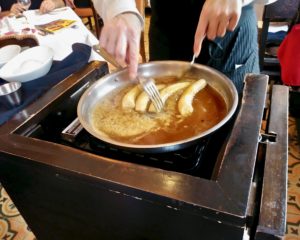 it proved a wonderful conclusion to a richly satisfying meal.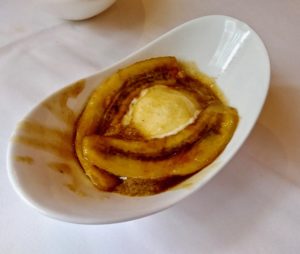 Later in the day, with most of the city focused on the action in the Superdome, we poked around the French Market and its Flea Market, picking up some pralines from Loretta's and Aunt Sally's (our group was divided about its favorites) and a few souvenirs along the way. After a hearty, diner-like meal at Mother's in the CBD on Poydras Street (more traditional fare in po-boys,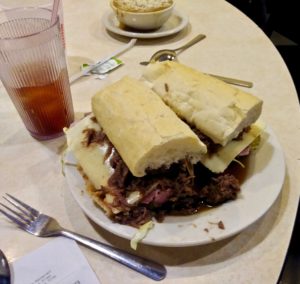 gumbo, debris, jambalaya and its famous baked ham),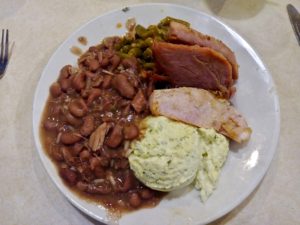 we drifted over to Harrah's along the river to try our luck. By this time, the football game had ended with a Saints victory, so the casino was buzzing with happy fans (and a few Eagles supporters hoping to forget their sorrows), some dressed in extravagant, glitzy, black and gold attire.
Although I was the only one who left that night in the black, we all agreed we'd really enjoyed a broad spectrum of the Big Easy's hospitality that day.
— Patty Vanikiotis, associate editor/copy editor