This past weekend I spent a fair amount of time having fun and basking in the joy extended by NYC's Color Factory Exhibit.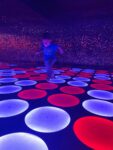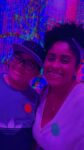 I promised my little brother and cousin an end-of-summer surprise and found myself a little bit lost on what to do. At first, we were going to grab dinner and then enjoy an outdoor movie, but it was too humid in NYC on Saturday to make that, well, enjoyable. After a few Google searches on "what to do with kids in NYC this weekend," I came across the Color Factory and decided to give it a try. I was a bit skeptical about my 12-year-old cousin actually enjoying this outing, but to my surprise, it was a really good fit for all three of us.
Located in SoHo, Manhattan, the exhibit is an experiential art display by a group of artists that plays with your senses, mind and spirit. It was first put in motion in San Francisco in 2017, and it has since expanded to NYC, Houston and Chicago.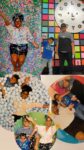 We had tickets for 6:00 p.m. but got there a bit early, which was perfect so we could enjoy our complimentary Mochi Ice Cream — the perfect treat that day! Before entering the exhibit, a team member in a fabulous and colorful overall gave us a few instructions, such as once you leave, you don't go back in. In the first room you grab a little sticker with a QR code and sign up with your email to see and review your photos at the end. Each room had one or a few cameras that allowed you to take super cool pictures of yourself and your group, and a few rooms even offered delicious mini treats like flavored popcorn, a variety of macaroons and gelato.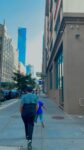 The highlights of our visit were the funfetti and ball pit rooms; the kids kept asking for more pictures and had a great time playing and just being kids. Not to mention, every room had the best Instagrammable aesthetics and vibes. I will definitely be back with my friends, as this is truly an experience everyone can enjoy.
Keep an eye out on our brand-new TikTok; I'll share more of this experience there!
— Yasser Ogando, advertising & production manager
FX Excursions
FX Excursions offers the chance for once-in-a-lifetime experiences in destinations around the world.
Galataport Istanbul, a new cruise and lifestyle destination on the Bosphorus in Istanbul, welcomed its first ship, SeaDream II, on Oct. 1. Approximately 150 passengers and crew from Bulgaria Varna arrived at 10 a.m. for a two-day homeport operation before continuing to Bulgaria Burgaz.
Sponsored Content
GBTA's Convention 2021 will bring the business travel industry together for the first time in a long time. Once again, you'll learn and connect with experts and each other, along with discussions with leading thinkers, entrepreneurs and change makers addressing the issues that matter most.
The countdown to Halloween weekend is on! Are you are still unsure about plans? Do you go to a house party? Stay in to hand out candy? Try something different this year and join Philadelphia's  The Mütter Museum at its 6th annual Mischief at The Mütter.