When I think back on my nearly decade-long tenure as the technology columnist at Global Traveler, my beloved, trusty Altec Lansing iM1 portable speakers immediately come to mind. I can't recall exactly when I got them — though a quick look at the corporate website reveals they were the first-ever iPod docking station, developed with Apple in 2003. I remember celebrating my 30th birthday with them in 2004, so that sounds about right. While the details of how and when they came to me are hazy, I haven't taken a trip without them since.
While I lost the AC adapter long ago — left, perhaps not surprisingly, in a Las Vegas hotel room after a long, festive weekend — I still power them up with four AA batteries these days, though they've admittedly lost a bit of oomph along the way. I envision them perched time and time again on the weathered porch of my favorite casita at my favorite resort in Playa del Carmen, Mexico, Rihanna blasting seemingly in time with the crashing surf nearby; on the bedside table in a cozy hotel room a stone's throw from Dublin's Temple Bar neighborhood, providing a background soundtrack as a friend and I primped excitedly for a night of merry-making at the raucous pubs on Fleet Street; and, less than two years ago, on the tiled patio of my room in a charming, pink-painted guesthouse in Capri, where my new husband and I sipped Prosecco and listened to Sinatra as we gazed out over a fragrant orchard of lemon trees awash in the late-afternoon sun.
When I first received the speakers all those years ago, I clearly remember thinking, "These are so cool — now I can listen to my iPod wherever I want!" (This was, obviously, before the widespread advent of alarm clocks equipped with docking stations.) They made listening to the music I wanted to hear so easy — and, as I am an avid music buff, they made my vacations (and occasional apartment dance parties) much more fun.
This is what technology is all about. I deeply believe its mission, in its purest form, is to make life easier — and, ultimately, to improve its quality — for everyone. There are few loftier or more altruistic goals than that.
Another way technology triumphs is that its most life-altering achievements inevitably reverberate through every echelon of society and corner of the globe. While, say, haute couture designs on the runways of New York and Paris may trickle down, in some incarnation, to exclusive boutiques and high-end department stores, high fashion is probably never going to directly impact children in the developing world. But the best technology, sooner or later, touches everyone.
For example, presently 2.7 billion people — almost 40 percent of the world's population — are online. Seventy-seven percent of the population of the developed world uses the Internet, compared to 31 percent of the developing world, according to a recent report from the International Telecommunication Union, the United Nations' specialized agency for information and communications technologies. But just five years ago, only 10 percent of the developing world was online … and thanks to technological leaps like the advent of 4G, those rates will continue to climb steeply. Mobile communications is another industry with some staggering statistics: According to the Groupe Speciale Mobile Association, an organization that represents the interests of nearly 800 of the world's mobile operators, 3.2 billion people — nearly half of the 7 billion on Earth — have a mobile phone, and another 700 million subscribers are expected by 2017. While these numbers are mind-blowing, they still leave plenty of room for further growth — and countless additional waves of innovation. According to the GSMA's report, "Mobile remains a vibrant and evolving industry constantly finding new ways to interconnect the user's world in spheres such as automotive, utilities, health and education, and new ways to manage financial transactions." Amen.
So how does this relate back to our column? While over the past decade the Web and mobile phones improved people's lives the world over in ways innumerable and immeasurable, we've tried, in our own small way, to bring our readers a range of innovations that really can make their lives easier — especially when they're traversing the globe far from home. And we've also tried to consistently look beyond the latest mobile phones, tablets, portable speakers, USB drives and such — products you'd expect to find in most technology columns — to unexpected tools that you might not think even existed, such as home security systems that let you monitor what's happening back at the ranch from your computer or phone, gizmos that convert your home TV into a "smart" TV, and even programs that analyze and record your golf swing data to your mobile phone so you can improve your performance on the links (or at least try).
And through it all, given that even consumer technology remains, to many at least, a bit intimidating, we've tried to "demystify" it by focusing on products that are accessible and describing them in terms that even an avowed technophobe can understand. A favorite editor at the first magazine I worked for, when giving me much-needed advice on how to explain broadband cable technology in Brazil in terms our average reader could understand, suggested I write the story as if I were explaining it to my grandmother. I never forgot that sage little gem of advice, and I've tried, as much as possible in an age where technology is evolving at lightning speed, to apply it to each and every column. It's helped that I was the furthest thing from a tech expert when I began — as evidenced by how dazzled I was by those Altec Lansing speakers all those years ago. I would never call myself an expert now, either, but I believe — and hope — I've picked up some invaluable knowledge along the way, and that it's helped me to become a trusted source for GT readers.
What's become of my speakers? Sadly, after an epic run spanning myriad countries and nearly a decade, I fear they may soon play their last dulcet strains. In a strange coincidence, just as I was putting the finishing touches on this column, I received an email from Altec Lansing, the first from the company in years, asking if I'd like to review its latest portable speakers (wireless, of course). I said I'd think about it, as wistful as the thought makes me on some level. But moving forward is another defining tenet of technology, so there's no real point in resisting. To quote the poet Khalil Gibran, "Progress lies not in enhancing what is, but in advancing toward what will be."
I'm sure my speakers will understand.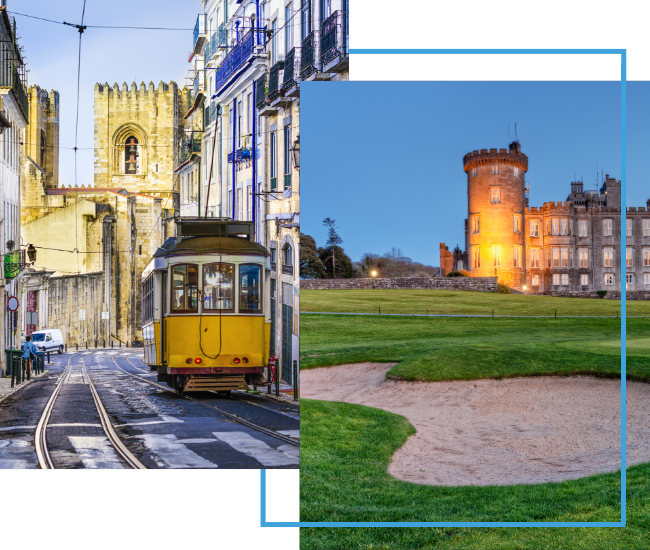 FX Excursions
FX Excursions offers the chance for once-in-a-lifetime experiences in destinations around the world.
Explore Excursions
One thing  surprising about the Prince Edward Island capital is its abundance of shops specializing in affordable, fashion-forward jewelry rendered in sterling silver, vermeil, 14K gold and semi-precious stones. Whether you prefer delicate pieces or bold wearable art, you can be assured the pieces for sale are inspired by the maritime island setting and, therefore, specific to the place where they are created. Here are a few shining, woman-owned examples:
Sponsored Content
Are you looking to enhance your business trip with a little leisure? Look no further than Portugal, a country renowned for its captivating blend of history, culture and natural beauty. And with TAP Air Portugal, you can effortlessly transform your business trip into an unforgettable bleisure adventure. Discover why Portugal and TAP Air Portugal are the perfect combination for an enriching and rejuvenating experience.
Norway, a haven for visionary artists, architects and designers, showcases an exceptionally diverse array of cultural attractions. This year, the country commemorates exciting milestones and unveilings captivating enthusiasts of the arts, from iconic scenic routes to new museums to gallery openings. Up Norway features these new offerings in personalized itineraries catered to aesthetes.