The bay of islands has long seduced New Zealanders. Its calm blue water, pierced by a string of isles as if sculpted by an artist's hand, was a secret aquatic playground for Kiwis who flocked to the Northland to swim off its golden beaches, dive to its volcanic seabed or tramp around its wild shores.
That secret lasted until 1926, when American adventurer and wildly popular Western novelist Zane Grey snared a mammoth marlin and raved to the world that the Bay of Islands is "an angler's El Dorado."
Before long, the region became a mecca for rich fishermen, their gleaming yachts and fishing rigs dotting the bay, chasing the adrenalin rush of reeling in shark, yellowtail kingfish, yellowfin tuna or striped marlin. Through the ensuing decades, the vast distance between New Zealand and the rest of the world deterred visitors — a blessing in disguise that encouraged ambitious locals to develop an economic infrastructure built on logging, horticulture and winemaking.
At the same time, they cultivated another priceless asset: an engaging character, spirited-yet-easygoing. Even today, with the area luring international sports cognoscenti — adventurers, celebrities, world leaders — to test their mettle against the big fish in world-trophy competitions or to rise to the challenge at Kauri Cliffs, renowned as one of the world's most spectacular golf courses, the locals remain unpretentious, friendly, downto- earth and eager to share their enthusiastic knowledge of everything from wine to adventure.
You'll find chatting up the locals is easy. Just ask what's happening with the All Blacks — Kiwis are passionate about their national rugby team. Or mention Sir Edmund Hillary — they revere the man who conquered Mount Everest, a New Zealand native who died recently. Mention the burgeoning development around the bay and you're sure to unleash entertaining gossip on just about anything from new eateries, wineries and resorts to quibbles over sacred Maori land. That inevitably leads to the question, "Do you know the story of our land?" and before long you're caught up in the poignant history, hastily adding cultural must-sees to your itinerary.
Imbibing the view from a café in the waterside village of Russell, it seems unfathomable that, for all its splendor, this cheerful spot fringed by brilliantly flowering Pohutukawa trees belies a history so notorious, yet so crucial, to the creation of New Zealand. For thousands of years, a Ngapuhi Tribe of the Iwi of Maori beached their wakas (long warrior canoes) here on the sheltered turf they called Kororareka. Capt. James Cook's arrival here in 1769 sparked an invasion of European sailors, whalers and lumberjacks who hacked down the kauri trees, and settlers who indiscriminately staked out plots of land, understandably aggravating the Maoris. In 1772 the arrival of French navigator Marc-Joseph Marion de Fresne ignited more conflict — probably the result of newcomers' propensity for fishing in sacred tribal waters — that left both Maoris and Europeans dead. Zealous missionaries followed, vying to save the souls of everyone from rowdy Europeans to escaped Australian convicts to feuding Maoris.
By the early 1800s Kororareka was a ravaged sewer of crime and immorality dubbed "the hellhole of the South Pacific." In 1840 ensuing cultural clashes led to a peace-making gathering across the bay where heads of the Maori tribes and William Hobson, representative of the British Crown, signed the Waitangi Treaty.
Today Kororareka is known as Russell, an elegant little village chockablock with restaurants, shops and stylish bed and breakfasts. A sheltered anchorage for yachts and big-game fishing charter boats, it is the heart of the bay as headquarters of the Bay of Islands Maritime and Historic Park. Its past is reflected in heritage buildings such as Pompallier, print house of the first Roman Catholic Mission, and Christ Church, which still shows the scars of musket balls inflicted during the New Zealand Wars.
Paihia is a wonderful holiday base for enjoying the entire Bay of Islands, with sheltered beaches and lots of restaurants. Its lively wharf is a hub for the most popular maritime excursions, land eco-tours and extreme thrills — skydiving, parasailing and bungee jumping. Conveniently accessible to the entire Bay of Islands area, Paihia is a half-hour ferry ride across from Russell and nearby Opua, a port with a marina and yachts for charter. It sits 1.8 miles from Waitangi and 14 miles from Kerikeri Airport (KKE).
Dubbed the "fruit bowl of the North" for its lush landscape of fruit orchards and vineyards, Kerikeri tickles myriad senses. Foodies and oenophiles will relish roadside stands offering citrus and kiwi fruits bursting with flavor, and vineyards with winery restaurants that beg winetastings. For art buffs, there are artists' studios and galleries brimming with paintings, sculptures and pottery. Trampers gravitate here for glorious hikes to the 89-foot-high Rainbow Falls or the Puketi Forest, dense with towering kauri trees. Marine enthusiasts will find every water thrill, from sea kayaking to swimming with dolphins. History and culinary buffs will enjoy learning that Kerikeri was the Pa (a fortified domain) of the fearsome Maori chief Hongi Hika, who terrorized other North Island tribes in the early 1800s but welcomed Rev. Samuel Marsden, whose group cultivated the soil that eventually became New Zealand's first vineyards in 1819.
The Bay of Islands revels in history. Sail through the Hole in the Rock, which marks the entrance to the bay, and your guide will recount legends of Maui, the Maori fisherman whose enormous catch inspired the creation of the North Island, and its name, Te Hiku o Te Ika (Tail of the Fish). Glance at a nautical map and you'll see — Wellington resembles the fish's head; the Northland resembles its tail.
One thing is certain: The Bay of Islands is a world treasure. And that's no fish tale.
---
LODGING
KAURI CLIFFS LODGE AND GOLF COURSE
Tucked discreetly behind an ancient temperate forest, shaded by a 900-yearold kauri tree, and set high on 6,000 acres of rolling farmland overlooking Cape Brett and the Pacific Ocean, this meandering complex feels like it's at the end of the earth. Arguably one of the world's best lodges, its English-Colonial-style suites and 11 cottages exude pristine simplicity, with whitewashed walls and comfortable upholstery. In addition to the coddling service of this Relais & Châteaux member lodge, the lovely beaches and preferred tee times at the championship golf course, superb dining is a reason to stay here: a privilege reserved exclusively for hotel guests. A new state-of-the-art spa is a serene sanctuary featuring indoor and outdoor treatment areas.$$$$
KAURI CLIFFS LODGE AND GOLF COURSE
Tipene Tablelands Road, Matauri Bay,
tel 64 09 405 1905,
http://www.kauricliffs.com
ORONGO BAY HOMESTEAD
An historic 1860 manse set amid 17 acres in the lovely bayside village of Russell, the Orongo Bay Homestead served as the first U.S. consulate in New Zealand. Lovingly restored with traditional grace by Mike Hooper and Chris Swanell, it is an intimate accommodation for discriminating guests who favor a location near the yacht marina, discreet service and delectable cuisine. The chef is acclaimed for organic meals matched to wines and a willingness to prepare the catch of avid fishermen guests.$$$-$$$$
ORONGO BAY HOMESTEAD
Aucks Road, RD1, Russell,
tel 64 09 403 7527,
http://www.thehomestead.co.nz
COPTHORNW HOTEL AND RESORT BAY OF ISLANDS
Blessed with an historic location on the Waitangi National Trust Reserve near the country's most precious relics, the Copthorne Hotel and Resort Bay of Islands overlooks the bay with a true sense of place. Tucked amid native bush and adjacent to a scenic golf course, this popular resort with a pampering spa deftly combines the elements of business and pleasure.$$–$$$
Tau Henare Drive,
P.O. Box 150, Paihia,
tel 64 09 402 7411,
http://www.copthornebayofislands.co.nz
---
DINING
KAMAKURS RESTAURANT
Celebrated for the pure flavors of his contemporary New Zealand cuisine, Chef Paul van der Molen offers tantalizing choices. Start with Orongo Bay oyst ers prepared any way you like. Choose fresh-market fish served on potato rosti with lime and papaya salsa and snowpeas drizzled with virgin avocado oil. Or go for Mediterranean beef eye filet with a port wine glaze, served on crushed potatoes with fragrant vegetables. Indulge your palate with a locally tproduced Manuka honey and raspberry parfait. The extensive wine list includes fine New Zealand wines.$$$
KAMAKURS RESTAURANT
The Strand, Russell,
tel 64 9 403 7771,
http://www.kamakura.co.nz
PURE TASTES
Located poolside at the Paihia Beach Resort & Spa, Pure Tastes tempts diners with the innovative Asian-inspired cuisine of Paul Jobin. The award-winning chef, formerly executive chef at Kauri Cliffs, layers bold flavors in unique dishes: appetizers of ostrich with watermelon, almonds, currants and black sticky rice; main dishes of black lacquer duck with green banana, lime and chiles or macadamia nut-crusted fish with green tomatoes and Chinese long cabbage. For dessert, try the warm passion fruit tart. The restaurant offers a comprehensive wine list.$$$
PURE TASTES
16 Marsden Road, Paihia,
tel 64 9 402 0003,
http://www.puretastes.co.nz
BISTRO 40
Dine by candlelight in Bistro 40, a quaint 1800s Colonial-style house with lovely sea views. The New Zealand-Pacific Rim menu features seared yellowfin tuna, linguine with a duet of Waikanae crab and prawns, and venison-and-oyster pie blanketed with flaky pastry. For dessert, a toasted panetone concocted with Belgian chocolate espresso, cognac, marinated prunes and mascarpone cheese. $$
BISTRO 40
40 Marsden Road, Paihia,
tel 64 9 402 7444
---
DIVERSIONS
Life is all about the outdoors around the Bay of Islands. Expert guides offer instruction in every imaginable nautical activity in this maritime mecca. Charter a yacht from Earl Grey Fishing Charter (23 Mission Road, Kerikeri, tel 64 9 407 7165, http://www.earlgreyfishing.co.nz ) for the exhilarating chase for kingfish, snapper, marlin and sharks. Dive through kaleidoscopic depths to volcanic reefs and underwater canyons with Carino Sailing and Dolphin Charter (1290 State Highway 11, Paihia, tel 64 9 402 8040, http://www.sailingdolphins.co.nz). The company also arranges tours to swim with bottle-nosed dolphins.
Focus your camera on a scenic wildlife cruise to the boundary of the bay between Cape Brett and Hole in the Rock, a natural rock arch, on a Fullers Bay of Islands Cruise (Maritime Building, Waterfront, Paihia, tel 64 9 402 7421, http://www.fboi.co.nz). Get an intimate sense of the islands, beaches and mangrove forests jutting into the jagged coastline on a kayaking and snorkeling expedition with Coastal Kayakers (Te Karuwha Parade, Paihia, tel 64 9 402 8105, http://www.coastalkayakers.co.nz).
If you're physically fit, join a boating and tramping expedition with a local Maori guide from Cape Brett Walkways & Kiwi Eco Tours (P.O. Box 149, Russell, tel 64 9 403 8823, http://www.capebrettwalks.co.nz http:,//www.kiwiecotours.co.nz). For a natural high, try bush-walking in the rain forest with Maori guide Fern Jobbitt(24 Kingfisher Road, Jacks Bay, Russell, tel 64 9 403 7887, http://www.fernzecotours.co.nz), who colors her tours with tribal legends. If you prefer meandering solo, pick up a trail map (available at most tourism information offices and shops) and hike Haruru, Rainbow Falls or Puketi Forest. Or follow a map to galleries and wineries. Marsden Estate Winery (Wiroa Road, tel 64 9 438 7227, http://www.marsdenestate.co.nz) in Kerikeri is a good place to stop for a glass of signature Black Rock Chardonnay.
If you love golf, Waitangi Golf Club (P.O. Box 78, Paihia, tel 64 9 402 77143, http://www.waitangigolf.co.nz) and Kerikeri Golf Club (Golf View Road, KeriKeri, tel 64 9 407 8837, http://www.kerikeri.nzgolf.net) offer beautiful views of the bay. But for the golf experience of a lifetime, play Kauri Cliffs (Matauri Bay Road, Northland, tel 64 9 405 1900, http://www.kauricliffs.com).
---
INFO TO GO
Passengers on international flights arrive at Auckland (AUCK) and transfer to Kerikeri (KKE) via a 40-minute flight. The 155-mile drive from Auckland to Kerikeri takes about 3 ½ hours on the easterly stretch of the Twin Coast Discovery Highway. For information, visit http://www.northlandnz.com or http://www.explorenz.co.nz.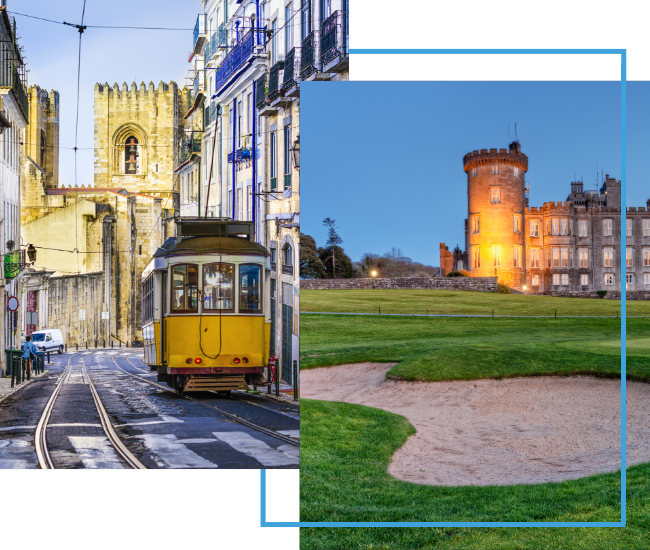 FX Excursions
FX Excursions offers the chance for once-in-a-lifetime experiences in destinations around the world.
Explore Excursions
If fabulous food and beverages are a must-have for any weekend getaway, then look no further than the City of Brotherly Love. Whether your palate has a penchant for vibrant Latin American fare or cozy French cuisine, whether you're an oenophile looking to swirl, sniff and sip your way around the globe or you'd rather sample farm-to-glass cocktails, Philly's got it all this fall. (With the exception of Bolo, which is a short taxi or Uber ride away and definitely worth the trip, the rest of these spots are all within walking distance of each other.)
Sponsored Content
Whether it's the people, the craic (fun) or the coasts, travelers always find something to love about the island of Ireland. What fills your heart?
From Santoríni to Dubai to New York, some hotels just have that "it" factor that draws visitors far and wide. For some hotels it's their proximity to popular landmarks and attractions, for others it's their amenities. But these hotels have something few can claim: a true room with a view.