At once salty and sweet, seedy and sublime, Bangkok's contrasts pair together like the flavors in a traditional pad thai. Locked-in-time temples share the streets with ultramodern megamalls; long-tailed boats glide past gridlock on the network of canals; and Michelin-starred chefs serve up gourmet cuisine overlooking stalls of cheap, delicious street food.
Also known as the City of Angels or the Venice of the East, Bangkok boasts a long, rich history thanks to its position as the capital of Siam (as Thailand used to be known) and center of the kingdom's modernization in the late 19th century. Rapid development in the absence of strict urban planning resulted in the haphazard jumble of traditional wooden structures and soaring modern skyscrapers that endears it to travelers today.
Though my husband and I hadn't planned on spending much time in Bangkok, the city has a way of pulling travelers into its orbit. Its airports and railway stations provide a natural hub for traveling to Vietnam, Laos, Malaysia or anywhere in Thailand's north or south; and with its inexpensive yet comfortable lodging and delicious food, it's an indulgent stopover while at the same time a hot and noisy city.
We found ourselves waylaid in Bangkok while waiting for the Burmese consulate to process our tourist visas to Myanmar. To accommodate ready access to the consulate, we decided to stay at a nearby Airbnb within a colonial-style wooden house, where we experienced the first of Bangkok's many contradictions: Despite being located only a few steps from the office buildings of ultramodern Sathon Thai Road, the warbling, ecstatic bird calls we heard from the surrounding trees could have convinced us we were deep within a tropical forest.
No sooner had we set down our bags and left the house than we encountered the Thai hospitality and friendliness for which Bangkok is famous. Spotting a cart along the road selling fresh-squeezed fruit juices, we made a beeline and joined a cluster of locals placing their orders. In the split second we hesitated, unsure of the protocol, a businesswoman standing next to us asked, "What do you want to order?" She relayed our drinks to the owner; and before we could reach for our wallets, she had paid for them and disappeared with a kind smile.
Food is an important part of the daily routine in Bangkok, and time and again we discovered delicious snacks available around every corner. Though its intense sweetness didn't initially appeal, we quickly developed an affinity for roti, a fried flatbread related to Indian chapatti that is stuffed with bananas, drizzled liberally with chocolate and sweetened condensed milk, and sprinkled with granulated sugar.
Because we were visiting in August, the afternoon heat and humidity became oppressive at times. And while Bangkok isn't short on air-conditioned shopping centers selling the latest in fast fashion and luxury goods, we opted for an equally ubiquitous form of therapy: massages at the behemoth Health Land spa. A longstanding local chain that grew into a small empire, Health Land offers a variety of Thai treatments without a hint of the seediness that characterizes parts of Bangkok.
An ancient style of massage that combines acupressure with assisted yoga postures, Thai massage uniquely requires no oils or lotions and allows the recipient to remain clothed throughout (typically in loose-fitting cotton shorts and a T-shirt). Our diminutive, middleaged masseuses led my husband and me back to a dimly lit room lined with floor mats and divided by flowing curtains.
Over the course of the next hour as we lay prone on the mats, our masseuses pressed and stretched our legs, arms and backs, rhythmically placing our limbs into pretzel-like positions and then unfolding them again. Feeling refreshed and ready to face the tropical temperatures again, we left Health Land intent upon seeing some of the city's most popular tourist sites, Wat Arun and the Grand Palace.
Since rush hour had descended upon the city and brought traffic to a standstill during the time we were inside, we decided to bypass gridlock on one of Bangkok's oldest forms of transportation: public canal boat. Though less important than in years past, when their use earned Bangkok its comparison with Venice, khlong ferries still ply the narrow canals at the city's heart, transporting locals and tourists alike beneath bridges and past makeshift riverside dwellings.
As the boat pulled up to the dock for only a split second, we leapt aboard, the ticket attendant pointing us to an empty space on a wooden bench before replacing the plastic tarp protecting passengers from splashes. Zipping past skyscrapers and rickety shanties, we arrived at Wat Arun just as the lowering sun was lighting the prang (tower) in a brilliant shade of amber.
Built in the 17th century but expanded to its current height during the reign of King Rama III, the central spire is encrusted with porcelain shards that lend it an iridescent look at sunrise and sunset (Wat Arun means "temple of dawn"). We mounted the steep, narrow steps of the prang past flower motifs and three-headed elephants, catching our breath at the top as we drank in the sight of Bangkok's temple-studded landscape at dusk.
Bangkok Info to Go
The city's international hub, Bangkok Suvarnabhumi International Airport (BKK), lies 18 miles east of downtown. The older Don Muang Airport (DMG), 15 miles north of the city, still serves some domestic flights. From either airport, taxis to the city center take 40–60 minutes depending on traffic; ignore the touts and follow the clearly marked signs for the taxi or airport express bus stands.
Where to Stay in Bangkok
ARUN RESIDENCE Set within a renovated Sino- Portuguese house overlooking the river, the half-dozen deluxe rooms and suites feature traditional Thai furnishings. 36-38 Soi Pratoo Nok Yoong, Maharat Road, Rattanakosin Island $$$
MANDARIN ORIENTAL, BANGKOK Beautifully preserved and sumptuously furnished, this venerable institution continues to hold its own among Bangkok's many luxury hotels. 48 Oriental Ave., Bang Rak $$$$$
THE PENINSULA BANGKOK Blending high-tech amenities with traditional touches, this sleek hotel boasts a top-floor lounge and a spa set within a colonial-style villa. 333 Charoennakorn Road, Klongsan $$$$
Restaurants in Bangkok
BREEZE Enjoy Pan-Asian dishes such as Wagyu beef ribs on the 52nd-floor alfresco terrace of this fashionable restaurant. Lebua State Tower, 1055 Silom Road $$$$
LE NORMANDIE The Mandarin Oriental's timeless French restaurant is consistently named one of Bangkok's best for gourmet cuisine in an elegant setting. Mandarin Oriental, Bangkok, 48 Oriental Ave., Bang Rak $$$$$
YOU & MEE Noodles (mee) are the highlight at this Thai restaurant, where patrons can choose from flavorful pan-fried or broth-style dishes. Grand Hyatt Erewan Bangkok, 494 Rajdamri Road $$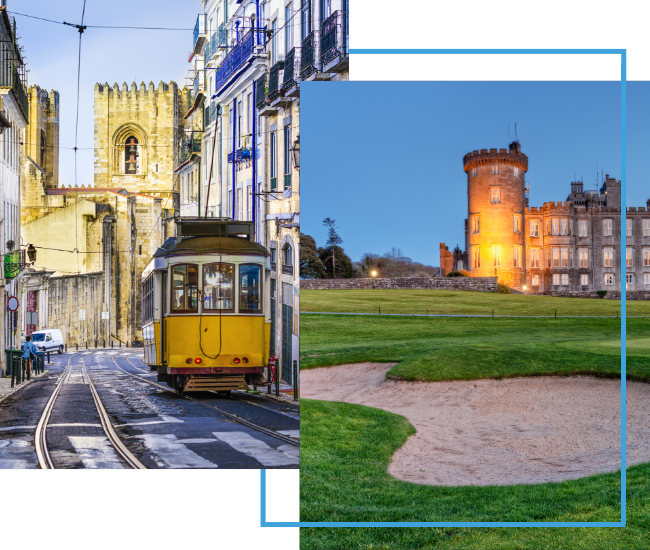 FX Excursions
FX Excursions offers the chance for once-in-a-lifetime experiences in destinations around the world.
Explore Excursions
In addition to intimate settings, smaller staff-to-passenger ratios, and personalized food and beverage options, river cruises have the advantage of providing a deeper dive into a region's culture, food and history. The Rhine, Rhône and Danube in Europe and the Mississippi River and St. Lawrence in North America have much to offer travelers with their itineraries, tying together beloved cities and lesser-known destinations along their routes.
Sponsored Content
The Saronic or Argo Saronic Islands of Greece call travelers to explore its seven small islands and islets brimming with history, natural sites and more. With most easily accessible by boat, the islands' proximity to ports of Athens make the Saronic Islands an ideal destination for those preferring shorter boat rides. In fact, trips from Athens ports to the islands take only between 10 minutes and two hours, depending on the island you choose, making them perfect for day or weekend trips. From Piraeus port, you can access Hydra, Spetses, Aegina and Poros directly. Come explore these stunning islands with us and find the inspiration to plan your next trip to these islands. Hydra Hydra town curves around a slope overlooking the Argosaronic Gulf like an amphitheater and is considered one of the most romantic destinations in Greece. Most unique to the island is its lack of vehicles. People on the island get around on mules and donkeys as well as water taxis, making for a peaceful and laid-back day. Hydra lies a two-hour ferry ride from Piraeus port in Athens.
With the holidays right around the corner, travelers are preparing for holiday travels. For those looking for a last-minute getaway filled with holiday cheer, consider Croatia. With a variety of winter activities perfect for travelers and locals alike, the Christmas countdown in Croatia is in full swing. Leading up to Christmas, Advent in Croatia makes it even more worth your while to visit the country with free winter incentives. If you plan on visiting Croatia, here are five cities going all out for the holiday season: