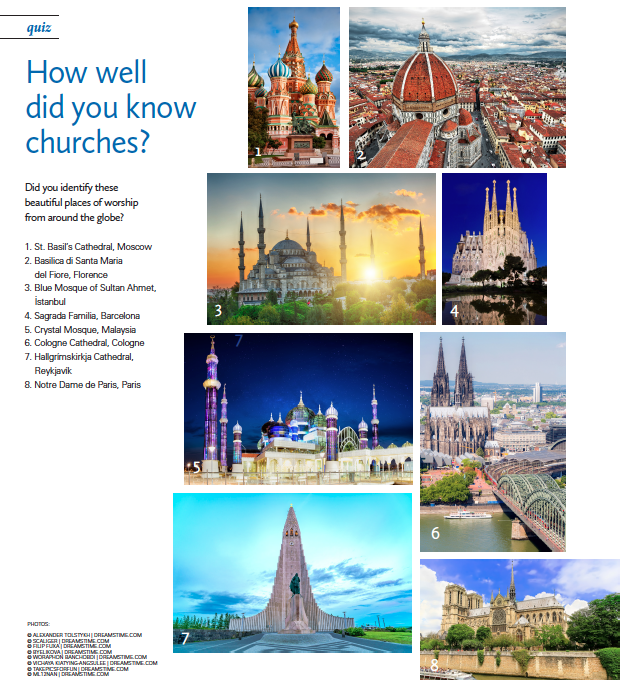 1. St. Basil's Cathedral, Moscow
2. Basilica di Santa Maria del Fiore, Florence
3. Blue Mosque of Sultan Ahmet, Istanbul
4. Sagrada Familia, Barcelona
5. Crystal Mosque, Malaysia
6. Cologne Cathedral, Cologne
7. Hallgrímskirkja Cathedral, Reykjavík
8. Notre Dame de Paris, Paris
FX Excursions
FX Excursions offers the chance for once-in-a-lifetime experiences in destinations around the world.
Golden Rock Resort, the upscale, contemporary lifestyle property, opened in 2021 on the remote Dutch Caribbean island of Sint Eustatius. Compared to many other Caribbean islands, Sint Eustatius (aka Statia) is not known for mass tourism.
Sponsored Content
Global business travel is making its way back, even as the pandemic and other world events continue to challenge its return. In a recent poll from the Global Business Travel Association, more than four in five respondents (86 percent) from across the industry said they feel more optimistic than they did at the beginning of the year. Business travel bookings, the need to travel to do business and employee willingness to travel are all on the rise.
Princess Premier, a new add-on recently launched by Princess Cruises, offers cruise-goers unlimited WiFi, premium/top-shelf beverages, photos and more. The new offer builds off the popular Princess Plus add-on to bring guests a more comprehensive bundle and savings of more than 50 percent when all the amenities are purchased separately.