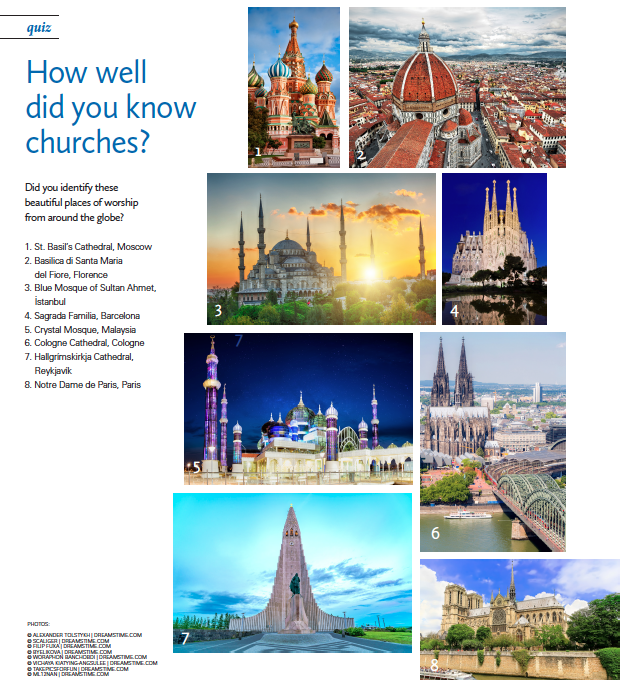 1. St. Basil's Cathedral, Moscow
2. Basilica di Santa Maria del Fiore, Florence
3. Blue Mosque of Sultan Ahmet, Istanbul
4. Sagrada Familia, Barcelona
5. Crystal Mosque, Malaysia
6. Cologne Cathedral, Cologne
7. Hallgrímskirkja Cathedral, Reykjavík
8. Notre Dame de Paris, Paris
FX Excursions
FX Excursions offers the chance for once-in-a-lifetime experiences in destinations around the world.
Copa Airlines celebrated its 75th anniversary recently by showcasing a Boeing 737-800 NG in an aircraft livery that harkened back to the airline's look in the 1990s. During that time period, Copa Airlines launched an expansion of their network to become the Hub of the Americas, connect the Americas and promote Panama.
Sponsored Content
As the travel industry finds itself in the midst of the first peak travel season since the beginning of the pandemic, Crowne Plaza® Hotels & Resorts commissioned a survey of more than 1,200 U.S. consumers to learn more about business travel habits, learning 65 percent of Millennials, aged 25–44 years old, and 59 percent of Gen Z, ages 18–24 years old, prefer to work for a company offering frequent travel or flexible blended travel as a perk. Blended travel is the combination of business travel with leisure travel.
Dubai saw more than 7 million tourism arrivals in the first half of 2022. The city offers plenty of new lodging options for travelers planning 2023 trips. Check out these hotel openings next year  in Dubai.